Catching up....Monday Movies
Howard Gets Caught in SPIDER-MAN Love Triangle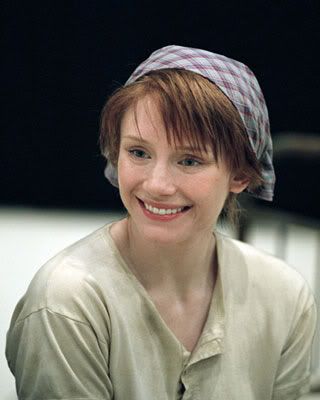 Columbia Pictures is in talks with Bryce Dallas Howard to play Peter Parker's love interest Gwen Stacy in SPIDER-MAN 3.
She joins a cast that already includes Tobey Maguire, Kirsten Dunst, James Franco, Topher Grace and Thomas Haden Church.
The character of Gwen is pivotal in Spider-Man lore as Peter's high school crush, his first girlfriend and his first love. She ended up being kidnapped by the Green Goblin and died during a bridgetop battle in "Amazing Spider-Man" issue 121.
The character will be part of a love triangle and she does survive in the story the studio is reporting.
EDITOR'S NOTE: COMING BETWEEN SPIDEY AND MJ?! NOOO!
V Will Open in Imax Too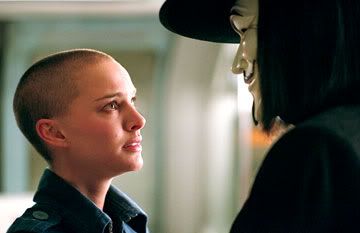 Imax Corp. has announced it will screen V FOR VENDETTA on March 17th in Imax, the day it opens nation wide at traditional cinemas, on its giant screens.
Imax will digitally remaster the movie for the special release format.
EDITOR'S NOTE: NATALIE PORTMAN...REALLY REALLY

BIIIIIIG.

(ALTHOUGH, AS PETITE AS SHE IS, IT WILL PROBABLY JUST MAKE HER LOOK NORMAL SIZE).
Deschanel Takes BRIDGE TO TERABITHIA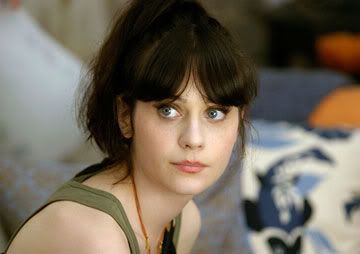 Walt Disney Pictures and Walden Media have signed Zooey Deschanel for BRIDGE TO TERABITHIA.
She joins a cast that already includes Josh Hutcherson and AnnaSophia Robb.
Hutcherson and Robb play two classmates who, because of their outsider status, create the world of Terabithia, an imaginary kingdom filled with giants and trolls and all manner of magical beings. Deschanel will be the kids' teacher, whom they admire.
Gabor Csupo will direct from a script by Jeff Stockwell.
Rothman on X-Men 3 and beyond
Is the next "X-Men" the end for our mutant ensemble? Not at all, tells Fox Studio Head Tom Rothman, to
IESB
.
"
You'll see more of the X-Men world. You know, we're developing a Wolverine movie right now, [and] we're developing a Magneto picture.
Rothman also confirmed the new title for "X-Men 3" as being "X-Men : The Last Stand", and added that it's "
the conclusion of this trilogy. These three movies work as a trilogy. These characters in this relationship, it's the culmination of that saga. It's the culmination and the resolution of those relationships laid out in the first two movies. That doesn't mean never, I would ever say never again, but I will say that this brings that saga to an end. It's quite the way the last Lord of the Rings, Return of the King, brought that trilogy to a conclusion in terms of those characters, that's what this movie does. It goes all the way back to the first one and rounds off and completes that three-part story".
Rothman also confirmed plans for an "Alien Vs.Predator 2", which he says "
They just got the script in [of]...we are making that movie, it's gonna be kick ass".
EDITOR'S NOTE: UH HUH.....
Warner remaking Gaslight
Proving that no old classic is safe these days, Warner has announced they're remaking the 1944 classic "Gaslight".
Joe Wright ("Pride and Prejduice") will direct the redo, which will again tell of a woman whose suitor has designs on her money, and after luring her to a house of horrors, he methodically tries to convince her she is insane. Abi Morgan will write.
Producer Paula Weinstein said both Wright and Morgan were eager to transplant the drama from their native Great Britain.
"(Joe) wanted to explore what goes on here (in America) with the money and the drive for it,"
Weinstein said. "
Abi is a great writer of character, and we wanted someone who'd bring a fresh take to the California setting. They will go back to the original play as a source as well."

EDITOR'S NOTE: DO CALIFORNIANS HAVE ENOUGH CHARACTER TO NEED A WRITER THAT SPECIALIZES IN THAT? (NICE THAT THEY MIGHT ACTUALLY READ THE PLAY. EVEN IF IT'S JUST TO SAY THEY DID?)



Gollum joins The Prestige
Andy Serkis looks set to be escaping from confines of the monkey suit and the I-mac.
The "King Kong" and "Lord of the Rings" fave has snagged a role in Christopher Nolan's "The Prestige", playing an assistant to a character played by David Bowie.
The film stars Hugh Jackman and Christian Bale as rival magicians who battle each other for trade secrets. The impressive support cast includes the likes of the aforesaid Bowie, Michael Caine, Scarlett Johansson and Piper Perabo.
EDITOR'S NOTE: QUITE A CAST!
Ormond reporting on Che
Julia Ormond is returning to the comfort of the big-time vehicles.
The "Legends of the Fall" beauty will co-star alongside Benicio Del Toro in "Che", Steven Soderbergh's biopic on the Latin American Political revolutionary.
Ormond will give life to a female reporter in the film, currently shooting in the Big Apple.
The film also stars Javier Bardem, Ryan Gosling, Franka Potente, Benjamin Bratt and Alex Manette.
EDITOR'S NOTE: ANOTHER GROOVY CAST!
24 Movie at the end of the current season?
According to Australia's TV Week, that much-talked-about feature film version of "24" might be in theatre projectors sooner – rather than later.
The plan is to start work immediately on the film, and have it in theatres shortly after this season's – season 5 – finale. A sixth season of the TV series would follow the film. That ol' workdog, Kiefer Sutherland, is apparently locked and loaded and ready to go.
In other words, they're taking a cue from "The X-Files", who released a feature film version of the series ("X-Files : Fight the Future") between seasons.
EDITOR'S NOTE: NOW THEY JUST NEED TO MAKE IT AS GOOD AS THAT XFILES MOVIE. A HIGH BAR WAS SET. (AND I NEED TO GET CAUGHT UP ON "24", AND SOMEONE NEEDS TO MAKE ANOTHER "XFILES" FILM)!
At the recent semi-annual Television Critics Association press tour, Sutherland said he believes the market is ready for the film version.
"I think there's always a way to actually deal with an idea of 24 as a film that would completely be separate from 24 the television show. And by that I mean the characters could be different. They could be completely unrelated, and I think that that would still be effective".
EDITOR'S NOTE: OH. SO MAYBE IT'S "24" BUT NOT ANY OF THE PEOPLE FROM THE TV SHOW? INTERSTING...
Susco on Forge and Anvil films
Warner recently optioned Greg Bear's "Forge of God" and "Anvil of Stars" novels, with Stephen Susco (The Grudge) attached to work on them at one stage.
I was over at Susco's
forum
and noticed he's offered an update on how those films are progressing.
"
I originally pitched the books in 1999 -- I had a chance to work closely with Greg Bear, he's one hell of a guy. In fact, a few of the ideas I integrated into the ANVIL OF STARS section prompted him to tell me I'd given him some thoughts about where a sequel could go ---- man, that was one of the highlights of my career! Don't know the status of that, if he's working on a third book or anything...
"
But anyway: the project got set up as a trilogy at Warner Brothers with another writer attached, and I was pretty heartbroken about that. But then many years later, they brought me back into the fold. I re-shaped the project from a trilogy to what I always originally felt it should be -- one three-hour film combining FORGE and ANVIL. I think we ended up with a pretty rockin' script at the end of the day -- -- and now the ball is in WB's court. They have a few other big sci-fi projects (ENDER'S GAME, LOGAN'S RUN, etc.), so there are surely some major internal machinations going on over there",
says Susco.
For the uninitiated, "The Forge of God" tells of two different groups of aliens that arrive on Earth concurrently. "Anvil" is the sequel, which sees a group of group of human children volunteer to board a Ship of the Law created by the alien race that saved humanity.
EDITOR'S NOTE: "THE FORGE OF GOD" IS A VERY GOOD READ. "ANVIL" DRAGS QUITE A BIT. SO COMBINING THEM IS A GOOD IDEA...CUTTING OUT THE FLABBY STUFF THAT SLOWED THEM (MOSTLY "ANVIL) DOWN.
Two of Bear's other books, "Darwin's Radiio" and "Darwin's Children", about a disgraced paleontologist and a genetic engineer both come across evidence of cover-ups in which the government is clearly up to no good, have also been optioned. Michael DeLuca and Howard Braunstein will be bringing those to the screen.
EDITOR'S NOTE: AS ALWAYS WITH GOOD SCIFI, IT WILL BE INTERESTING TO SEE IF THE DEPTH OF BEAR'S IDEAS TRANSLATES TO THE SCREEN. (OR IF THE MOVIES JUST END UP ABOUT THE ACTION ELEMENTS, WHICH ARE ONLY A SMALL PART OF BEAR'S WORK).
It's a case of Deja Vu for Iceman
It mightn't have made as much bank as some of us had hoped, but "Kiss Kiss, Bang Bang" seems to have done some good for Val Kilmer's career.
Mapother's one-time soon-to-be wingman turned B-video superstar is re-entering the big leagues to play an FBI agent in the Denzel Washington-starring "Déjà vu". The film, co-starring Jim Caviezel, Adam Goldberg and Paula Patton, reunites Kilmer with his "Top Gun" director and producer, Tony Scott and Jerry Bruckheimer.
In the film, Kilmer and Washington play FBI agents who get the opportunity to step back in time to stop a terrorist from blowing up a ferry. It's set for a shoot in New Orleans next month.
Then, Kilmer stars opposite Meryl Streep – bon voyage Christian Slater, by the sounds – in "Dark Matter", about a Chinese University student who reacts violently to being told that he's got no chance of winning the Nobel Prize.
Williams to Play Roosevelt

20th Century Fox has signed Robin Williams to play Theodore Roosevelt in NIGHT AT THE MUSEUM. He joins a cast which includes Ben Stiller, Carla Gugino, Kim Raver, Mickey Rooney, Dick Van Dyke and Bill Cobbs.
In the film, a night watchman, played by Stiller, at a museum of natural history discovers that its many exhibits awaken at night under the spell of a pharaoh's tablet. The exhibit of President Roosevelt, who founded the American Museum of Natural History in New York, is one of those that comes to life.
Marshall keen on Armstrong biopic
Uber-producer, and sometime director, Frank Marshall ("Arachnophobia") tells
IF magazine
that he's hoping to direct the new Lance Armstrong biopic.
Matt Damon is circling "The Lance Armstrong Story", in which he'd play the lead-peddler, a six time Tour de France champion who overcome testicular cancer to win six the race each consecutive time.
Marshall is producing "The Bourne Ultimatum", starring Damon, so they'll probably do the handshake thing then
Bello, Butler join Brosnan for 'Butterfly'
Maria Bello and Gerard Butler have signed on to star opposite Pierce Brosnan in the indie thriller "Butterfly on a Wheel." Directed by Mike Barker ("Best Laid Plans"), the film is produced by Irish Dreamtime, Infinity Features and Icon Prods.
The story revolves around a happily married couple (Bello and Butler) living in the suburbs whose life unravels when their 5-year-old daughter is kidnapped. Brosnan will play the kidnapper. William Morrissey penned the screenplay. Filming is set to begin in March in Vancouver.
EDITOR'S NOTE: WOW. BROSNAN HAS REALLY GONE TO THE DARK SIDE SINCE ENDING HIS BOND RUN, HUH? LOOKS LIKE HE'S HAVING A GOOD TIME INDULGING HIS DARKER IMPULSES. (YOU GO, REMINGTON!)
McG back in directing game at Warners
After a three-year absence, McG
EDITOR'S NOTE: HOLD THE PICKLE, HOLD THE LETTUCE....TEE HEE.....
is returning to the feature film directing chair to direct Matthew McConaughey in the untitled Marshall College football project for Warner Bros. Pictures.
Thunder Road's Basil Iwanyk is producing along with McG and his Wonderland Sound & Vision shingle.
The movie is based on an event that occurred in the 1970s, when members of the West Virginia-based Marshall College football team -- along with most of its coaching staff, sports commentators and many of its local boosters -- were killed in a plane crash. Struggling through the loss, a determined coach named Jack Lengyel (McConaughey) and a small group of surviving players try to rebuild the team. The screenplay is by Jamie Linden, based on a story by Cory Helms & Jamie Linden.
Bond back in Martin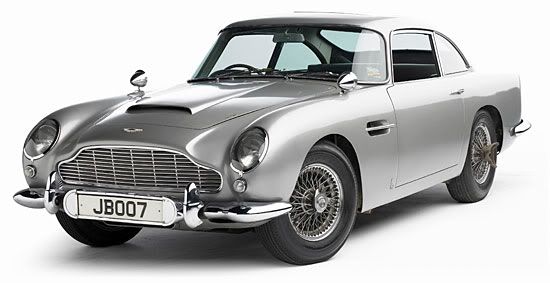 Reuters is reporting James Bond will once again drive an Aston Martin. His car in CASINO ROYALE will be the Aston Martin DBS.
EDITOR'S NOTE: PURTY!
Daniel Craig visited the Aston Martin headquarters in Gaydon, Warwickshire, last week to check out his new ride.
The carmaker stated, "
It is great news that Bond will drive an Aston Martin again and we have built him something special to enable him to do his job in style."