Catching up....Monday Harry Potter
EDITOR'S NOTE: YOUR FEARLESS QOTD IS STILL IN REHERSAL AND WORK HECK (
LANGUAGE SANITIZED FOR DELICATE SENSIBILITIES
). TODAY IS JUST ABOUT THE ONLY DAY THIS WEEK WE'LL BE ABLE TO DO MUCH POSTING. (

ALTHOUGH TOMORROW'S OSCAR NOM ANNOUNCEMENT WILL BE GIVEN DUE ATTENTION IF WE HAVE TIME

).
SO LET'S SLAP OUT SOME DWEEBING ,EH?!
Kingsley Shacklebolt and James Potter cast for OOTP
CBBC Newsround
today reports that Warner Bros. has cast the roles of Kingsley Shacklebolt and young James Potter for the
Order of the Phoenix
movie.
EDITOR'S NOTE: AND THE SLOW, DRAWN OUT TEASE TILL SUMMER OF 07 BEGINS. SIGH....
George Harris (
The Interpreter, Raiders of the Lost Ark
)

will play the Ministry auror and teenager Robbie Jarvis will play the young James Potter who Harry sees in "Snape's Worst Memory".
Katie Leung returning for OOTP
Katie Leung Fan
has received a new letter from the actress who plays Cho Chang in
Goblet of Fire
. In it, Katie states she's preparing for
Order of the Phoenix
.
EDITOR'S NOTE: OH DUMP HER, HARRY! SHE'S NO GOOD FOR YOU!
Jo updates diary and news
The Potter author today updates her
JKR.com diary
detailing a "
flood of inspiration
" she is currently having while writing Book 7.
Of course, this heavenly state of affairs will not last, it never does. I'm bound to get all snarled up in a plot tangle, or else find myself temporarily stranded on the edge of a large hole in the story. Until then, however, I shall enjoy floating along on this flood of inspiration
.
EDITOR'S NOTE: HURRY. NO. STOP. (CAN'T WAIT/DON'T WANT IT TO BE OVER)
JKR is in Bucharest, Romania, right now participating in "Romania for Europe's children," which includes a charity dinner tonight at 7:00.
Jo offers some detailed information in her news section on the event and what motivated her to take part.
In 2003 I read an article in the British Sunday Times about the use of 'cage beds' in psychiatric institutions in the Czech Republic. The article alleged that children as young as two were being kept in these beds, without physical contact or comfort, for the majority of the day and night. The photograph that accompanied the article – of a very young boy staring through wire mesh at the camera - is still branded on my memory; in fact, it was so disturbing that when my eyes first fell on it my immediate instinct was to turn the page quickly so as not to have to look at it
.
JKR to donate Black family tree to Book Aid auction
Today's Daily Telegraph has a early preview of what we will be seeing at this year's
Book Aid International
Auction, benefitting the poorest countries in the world. JK Rowling is one of the authors who are participating in the donation of a special item related to their books. Her item is a handwritten version of the Black Family Tree: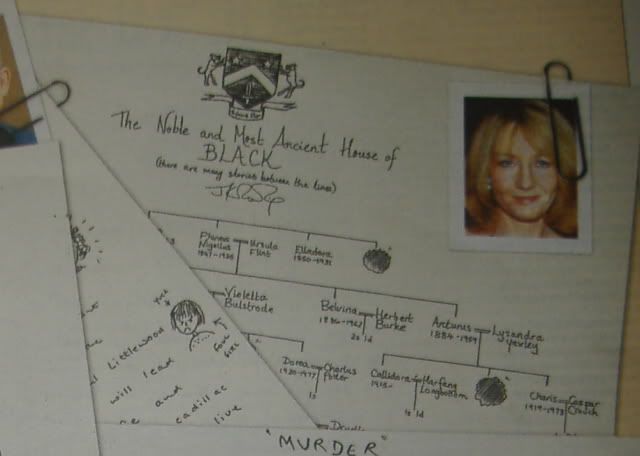 EDITOR'S NOTE: HOW COOL IS

THIS

!?
Rupert Powell, managing director of Bloomsbury Auctions (sponsoring next month's event), says,
"It's hard to guess what the lots will go for. But it's safe to say which will fetch the highest price."
He estimates that "
JK Rowling's unique family tree for the house of Black (which, for Potter-spotters, provides a genealogical link between
Harry's enemy Draco Malfoy and his dear departed friend Sirius) could go for up to £50,000."
The auction will be held in London on February 21st and tickets are priced at £75, limited to 250 seats. Bloomsbury Auctions is inviting readers of The Telegraph to a private viewing on February 20th from 6-8 PM at 24 Maddox Street, London W1. Tickets are £10 and include food, refreshments, and a short talk on collecting modern first editions.