Hump Day Star Wars News
EDITOR'S NOTE: A STAR WARS MISHMASH FOR THIS FINE (?) HUMP DAY ---
Get Ready for Star Wars Disney Weekends 2006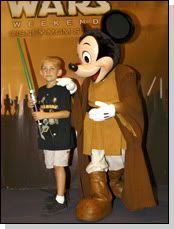 EDITOR'S NOTE: JEDI MICKEY, PERVERT? (I WAS THE ONLY ONE WHO WENT THERE?)
An anticipated tradition dating back to the summer of 2000, this year's
Star Wars Weekends
at Disney-MGM Studios in Florida will take place on four consecutive weekends (Friday - Sunday) beginning
May 19, 2006 and running through June 11, 2006.
EDITOR'SN OTE: WOOHOOOOOOO! (MAYBE I'LL ACTUALLY GET TO GO THIS YEAR???)
Star Wars fans of all ages will converge on the park to celebrate with Star Wars celebrities, costumed characters, activities, exclusive merchandise and the famous Star Tours thrill ride.
EDITOR'S NOTE: OR AS I CALL IT, THE TIME FOR QOTD TO SHOP AT TATOOINE TRADERS WHILE PEOPLE WHO DON'T THROW UP GO ON IT, RIDE.
Star Wars: The Live Concert
Fan of TheForce.net "Mike L." writes in to let others know about an upcoming concert in Dallas, Texas.
"Just a heads up to let you know that the Dallas Symphony Orchestra will present "Star Wars: The Live Concert" on Tuesday & Wednesday, Feb. 7th & 8th. It will feature all the music from the Star Wars saga.
Click the link to buy tickets.
http://www.dallassymphony.com/concert.php?cid=34
"
Epiosde III Animated Remake
Mike Reeping from Squirrels Ink Productions writes:
Hey! Squirrels Ink Productions has made a 6 minute complete ANIMATED REMAKE of Star Wars Episode III !
It's now available online and has generated ALOT of buzz!
Now featured on Animationmagazine.net! This is a great spoof/tribute to a great film! I'd love for you to check it out!
http://www.guyfishcatmovie.com/
EDITOR'S NOTE: FUNNY STUFF! CHECK IT OUT FOR SURE!
Moviephone Moviegoer Awards
Yet another poll to particiapte in!
This time Moviephone ( AOL ) has posted an online poll asking for fan favorites from the past year in film.
Revenge of the Sith
is in a few categories.
Click here to cast your vote today!
http://movies.aol.com/moviefone_moviegoer_movie_awards/2006/nominees.adp?uid=5760
Men Prefer Star Wars When Sick
EDITOR'S NOTE: WHAT THIS MEANS, I HAVE NO IDEA. BUT I MUCH PREFER THE MEN'S SICK-DAY MOVIE LIST TO THE WOMEN'S. (UNLESS THE IDEA IS TO

MAKE

ME SICK?)
DIRTY DANCING has topped a UK poll as the movie women most want to watch when feeling ill. The smoochy 1987 classic, starring housewife's heart-throb PATRICK SWAYZE, beat PRETTY WOMAN to the recuperative top spot in the Tesco Pharmacy survey.Feelgood favourite GREASE came third, with THE SOUND OF MUSIC trailing behind at number four and epic tearjerker GONE WITH THE WIND in fifth place.
Men, however, prefer comedy and action to jolt them back to good health - they voted STAR WARS as their all time favourite, followed by screwball comedies FERRIS BUELLER'S DAY OFF and AMERICAN PIE.
TOP GUN and the INDIANA JONES saga came in at fourth and fifth place respectively.
EDITOR'S NOTE: ACTUALLY, I GUESS I'D TAKE A FEW FROM EACH LIST. SO I'M BI? (AS FAR AS

MOVIES

GO AT ANY RATE?)
AND NOW....READY FOR CRAFTS TIME, DWEEBKIDDOS?
Chewie Tissue Box Cozy
Are cold and flu germs attacking your immune system like a pack of
buzz droid
s?
If so, you've probably been dragging along a tissue box wherever you go.
Now you can have everyone's favorite
Wookiee
keep you company as you get better with this
Chewie Tissue Box Cozy!
It's easy to make, plus it's fun! Just follow the instructions below!
What You Need:
1. Brown Craft Fun Fur
2. Scissors
3. Safety pins/ Straight pins
4. Needle and brown thread
5. Googley eyes
6. Tissue Box
7.
Vintage Chewie face mask
8. Craft glue
9. Black and red felt (optional)
10. Fake vampire fangs (optional)
11. Blue doll eyes (optional)
Instructions:
1. First layout your craft fur with the furry side down on a table and place a tissue box at the end. You'll want to meaure how much material you need by wrapping the box in the fur. Leave some room on top of the fabric so the fur can be folded down on the top of the tissue box.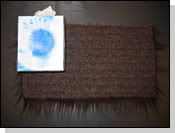 2. Once you have an idea of how much fabric you need after making the measurements around the tissue box, go ahead and cut off the extra material.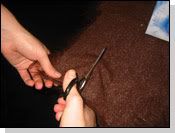 3. Have an adult attach the sides together, as well as the folds on top of the box (leaving a slot for the tissues to get through), with either straight pins or safety pins. Once that's finished, have an adult sew sides and top together. You can keep the fabric on the box for better control as the adult sews, just don't sew the cozy TO the box!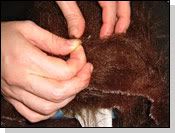 4. For Chewie's face you print out a color copy of this
Vintage Chewie face mask
EDITOR'S NOTE: GO HERE TO PRINT OUT THE MASK. (CHECK WITH YOUR MOM AND DAD FIRST?)
http://www.starwars.com/kids/activity/crafts/f20041027/chewie.html
and glue it onto the cozy with craft glue. Glue googley eyes on where Chewie's eyes should be. Or if you prefer to be even craftier, skip the paper face mask and make your own Chewie face using doll eyes, costume fangs and a felt nose!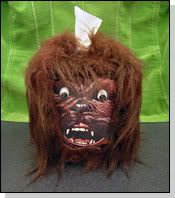 EDITOR'S NOTE: AND A BELATED HAPPY NUMBER 75 TO DARTH VADER! (JAMES EARL JONES. YESTERDAY).