Pre-Labor Day MOVIE News
EDITOR'S NOTE: AND THE ROUND-UP OF MOVIE NEWS BEFORE THE LABOR DAY HIATUS -----
Imax putting A-list voices on 3-D 'Moon'
TORONTO -- Giant-screen exhibitor Imax Corp. on Tuesday added a number of A-list voices to its upcoming Tom Hanks-narrated project, including Gary Sinise, Matt Damon, Matthew McConaughey and John Travolta.
EDITOR'S NOTE: ZOWIE!

Toronto-based Imax said the space-themed "Magnificent Desolation: Walking on the Moon 3D," a Playtone/IMAX production, also will feature the voices of Paul Newman, Rita Wilson, Morgan Freeman, Bill Paxton, Donnie Wahlberg, John Corbett, Barry Pepper, Bryan Cranston, Scott Glenn, Rick Gomez, Frank John Hughes and Tim Matheson.
"Magnificent Desolation," which uses NASA footage, live-action and computer-generated imagery to tell the story of the only 12 astronauts to walk on the moon, will bow in Imax theaters Sept. 23
EDITOR'S NOTE: VERY GROOVY!
EW meets RFK
The undeniably talented (and a bit of a chameleon of late too) Elijah Wood has joined the cast of Director Emilio Estevez's "Bobby", says Latino Review.
"
Emilio Estevez wrote a script based on the day that Bobby Kennedy was shot at the Ambassador Hotel and it's basically this really fantastic ensemble cross-section of people from all walks of life at the Ambassador Hotel on the day that he comes to give his speech and was shot, just a fantastic script. Great homage to the hotel, to that time and obviously to that man and kind of what happens to these characters as a result of that happening, and it ends with his speech, it's really extraordinary",
says the "Lord of the Rings" star.
Estevez, Demi Moore and Anthony Hopkins will also have roles.
Blanchett hesitant about making Elizabeth sequel
According to today's Variety, Cate Blanchett has dotted her i's and crossed her t's to reprise her role as Queen Elizabeth I in the "Elizabeth" follow-up, "The Golden Age", but the actress tells a different story in an interview with today's Herald Sun in Australia.
Blanchett essentially says she's not interested in repeating herself, and that a sequel to "Elizabeth" isn't really necessary.
"
No, everyone keeps asking me that. I'm really good friends with Shekhar [Kapur] and he's forever saying he's going to do this movie or that movie and I think there was talk about it",

she explains.

"There's so much there if it were to happen, but my initial instinct is, why?"
.
The trades stated today that the sequel would co-star Geoffrey Rush and Clive Owen, and start filming in April. Guess we'll wait and see though, right?
You can't Dream, while you're Awake
Apparently Jessica Alba has pulled herself out-of-the-running for the long-planned film version of "I Dream of Jeannie", and instead is biting into a role that is significantly meatier.
"Awake" is a new psychological thriller she'll co-star with Hayden Christensen in.
According to Variety, the film will star Christensen as a man who suffers "anesthetic awareness" and finds himself awake in the middle of surgery.
Alba will play his wife, a woman wrestling her own demons.
EDITOR'S NOTE: BOY…IF THESE TWO WERE REALLY MARRIED, WOULD THEY NOT MAKE INCREDIBLY ATTRACTIVE BABIES?
"This film will do to surgery what 'Jaws' did to swimming in the ocean,"
promised producer Joana Vicente.
EDITOR'S NOTE: THIS IS A

GOOD

THING? (BESIDES...SINCE WHEN DID WE EVER LOOK FORWARD TO SURGERY? NOT EXACTLY RECREATIONAL LIKE....UMM...

SWIMMING

, IS IT?)
We can add that Sigourney Weaver will also star in the movie.
Laura Linney Talks EXORCISM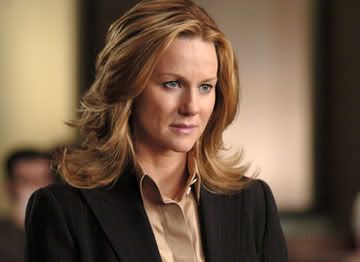 BlackFilm.com had a chance to talk with Laura Linney about her latest film, THE EXORCISM OF EMILY ROSE.
Linney noted, in terms of agreeing to be in the film, that she was "
a little concerned. I wanted to make sure that this movie would be balanced; that both sides of the argument would be fully represented. I wanted to make sure it was a movie that was not going to tell people what to think, but just have them think in general."
EDITOR'S NOTE:

BOTH SIDES REPRESENTED

? UMMMM….ABOUT SATAN AND EXORCISM? BECAUSE IT'S AN INTELLECTUAL DISCUSSION ABOUT SOMETHING

REAL

?
And in terms of the type of horror films she likes, she said, "
I tend to go for the scary creature horror films. The alien, the real sort of unknown, what are you doing dealing with; so I would sort of segway into this, but I've never seen a movie that combines these two genres before, and I really didn't know if it was going to work."
EDITOR'S NOTE: I WONDERED WHAT AN ACTRESS OF HER INDY-CRED/CALIBER WAS DOING IN A BOOGEYMAN/CREEPYCRAWLY FLICK WHEN I SAW THE TRAILER. (

STILL

WONDERING, ACTUALLY).

Oh, brother: Shepard joins 'Jesse' gang
Sam Shepard will star opposite Brad Pitt in "The Assassination of Jesse James by the Coward Robert Ford" for Warner Bros. Pictures.
The movie tells the story of how Robert Ford joined Jesse James' gang, only to become resentful of the legendary outlaw and hatch a plan to kill James, the fastest gun in the West. Pitt is playing James, and Casey Affleck has been cast as Ford. Shepard will play James' brother, Frank
EDITOR'S NOTE: THE BEEFCAKE OVER-FLOWETH.
Joe Pesci returns to acting for a Good role
Joe Pesci is returning to the silver screen after eight years - his last film was "Lethal Weapon 4" (1998) - for a role in Robert De Niro's "The Good Shepherd".
According to
Film Jerk
, the "Home Alone" and "My Cousin Vinny" star will play crime boss Palmi, one of the many targets of legendary CIA spymaster James Jesus Angleton (Matt Damon). The film, directed by De Niro, who also co-stars, also features William Hurt, Timothy Hutton, Alec Baldwin, Tammy Blanchard, Billy Crudup, Keir Dullea, Michael Gambon, Gabriel Macht, Lee Pace, Eddie Redmayne and John Turturro.
EDITOR'S NOTE: QUITE A CAST. (ANOTHER ONE A BIT OVERLOADED WITH TESTOSTERONE, THOUGH?)

Carrey a USED GUY?
20th Century Fox is in talks with Jim Carrey to possibly star in USED GUYS with Ben Stiller.
EDIITOR'S NOTE: JIM CARREY AND BEN STILLER! WOW. COULDN'T THEY HIRE ADAM SANDLER AND OWEN WILSON TOO? THEN I COULD ACTIVELY AND

PASSIONATELY

AVOID THE MOVIE.
Jay Roach will direct the sci-fi comedy.
The story is set in a world where women run the Earth. Men became extinct because they ingested an enhancement drink that proved fatal.
Carrey and Stiller would play clones rendered obsolete by superior models whose enhancements include better listening and lovemaking skills. The scorned clones make a run for it, bent on regaining their dignity by searching for a male nirvana known as Mantopia.
EDITOR'S NOTE: AND GET A LOAD OF THIS PLOT.
FORGET WHAT I SAID ABOUT THE CASTING.
A) NOT ONLY ARE JIM CARREY AND BEN STILLER….PAIRED WITH THIS PLOT….QUITE ENOUGH TO MAKE ME STAY AWAY, BUT
B) THEY COULD CAST HARRISON FORD AND MATT DAMON AND I'D STILL WANT TO HAVE ALL COPIES BURNED. (WELLLLL….PROBABLY. BUT MY RELATIONSHIP WITH MR. FORD IS SO VERY COMPLICATED……)
David Guion and Michael Handelman wrote the script. Ben Stiller, Jay Roach and Stuart Cornfeld will produce.
Percept finds 'Life' with Malick feature
Mumbai-based Percept Picture Co. said Tuesday that it will co-produce "Tree of Life," which will be produced by Donald Rosenfeld.
Terrence Malick ("The Thin Red Line") is in talks to direct and write the screenplay, and Colin Farrell is in talks to play one of the leads.
EDITOR'S NOTE: TERRENCE MALICK AND COLIN FARRELL. I'M BEGINNING TO THE THINK THE MOVIE INDUSTRY HATES ME
.
Other cast members are being finalized. Emmanual Lubezki is the proposed director of photography.
The film's story outline has not yet been disclosed, but preproduction is slated to begin in January. Some parts of "Life" will be shot in India, for which Percept will handle ground production
Crudup Gets IMPOSSIBLE Assignment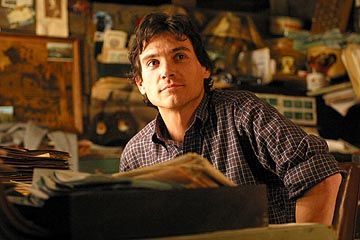 Director J.J. Abrams and Paramount Pictures have signed actor Billy Crudup for MISSION: IMPOSSIBLE 3.
Crudup joins a cast which includes Tom Cruise, Ving Rhames, Philip Seymour Hoffman and Keri Russell.
EDITOR'S NOTE: PITY CRUISE IS STILL INVOLVED. I MEAN THE WHOLE REST OF THE CAST….PLUS J.J.ABRAMS….IS ALL GOOD.
Filming began this past July and the movie is scheduled to be released next May.
EDITOR'S NOTE: AND TO LAUNCH THE MOVIE NEWS INTO THE LABOR DAY WEEKEND, HERE'S THE SUPERMAN TEASER POSTER, HOT OFF THE WEB ----