Star Wars, Easter Eggs, Odd-Bob, and Yummy pics
EDITOR'S NOTE: SO VERY FAR BEHIND ON DWEEBING. THIS STUFF IS PART UNO OF A LARGE COLLECTION OF ITEMS I'VE HAD SAVED FOR EONS. IF SOME OF IT ENDS UP A TAD DATED, WELL....THERE YOU ARE. (SOMETIMES, EVEN THE QOTD HAS TO WORK AT A

REAL

JOB).
Episode III Easter Egg Hunt
EDITOR'S NOTE: THE LAST TIME WE WENT TO SEE ROTS, WE LOOKED FOR SOME OF THESE EASTER EGGS. COULDN'T FIND A LOT OF THEM. I THINK THIS IS A TASK FOR WHEN WE CAN PAUSE THE DVD. BUT KNOCK YOUR SELVES OUT!
May 26, 2005
Battleground Bits
get me a medic
Who says clones are compassionless? During the Battle of Utapau, we can see one clone trooper leaning over a fallen comrade, calling for medical assistant. If the animation of the clones seems particularly realistic, ILM animators used motion capture data of real military maneuvers.
upended AT-TE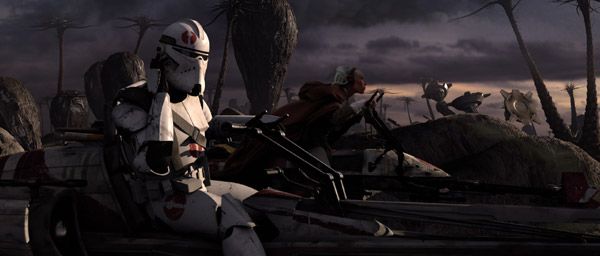 Earlier in the film, we heard
Obi-Wan Kenobi
report that Saleucami had fallen. As a nice bit of consistency, before the mutinous clone troopers blast Stass Allie's speeder to smithereens, you can the legs of an upended AT-TE walker, evidence than extended fighting had finally finished. During the crash, you can see clone trooper bodies littering the ground.
Captain Colton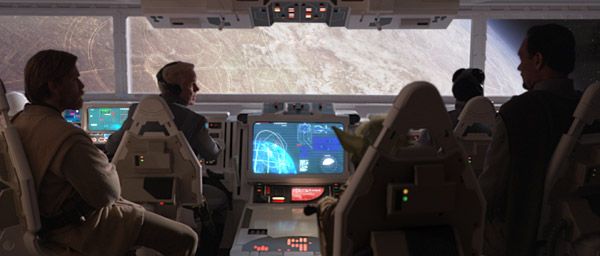 Yes, that is Jeremy Bulloch in the role of Captain Colton.
EDITOR'S NOTE: OK...CAUGHT THIS ONE THE VERY FIRST TIME I SAW ROTS!
He's the pilot of the Tantive IV as the Alderaanian starship returns to Coruscant for a special session of the Senate.
shot through the heart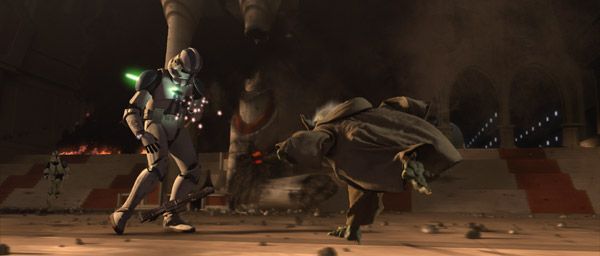 One of those blink and you miss it shocker moments is Yoda's unorthodox use of a lightsaber to take out a clone at the Jedi Temple. The little Jedi Master locks his 'saber on, and throws it, plunging it deep into a clone's chest. He then scrabbles up the falling clone, plucking his weapon out of the dead soldier. As chronicled in the
Making of Star Wars: Revenge of the Sith
, Lucas was a bit hesitant about including this move. The book reported the scene as cut out, but as amazed audiences who see it can testify, the kill stayed in the picture.
As Obi-Wan watches the hologram recording, he sees Anakin slay three Jedi. The boy who has his back to the camera is Whie, played by Coinneach Alexander. The girl is Bene, who Anakin strangles. She is played by Mousy McCallum. The adult Jedi Master who puts up a fight is Cin Drallig, played by Stunt Coordinator and Swordmaster, Nick Gillard.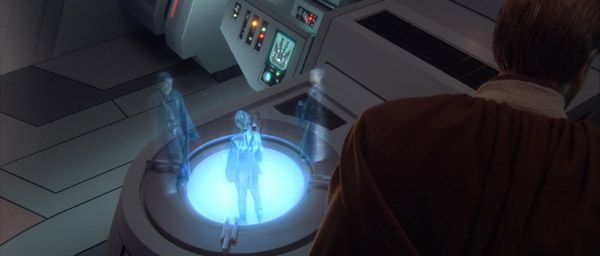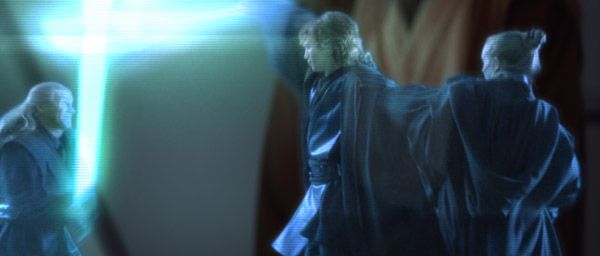 What you didn't see:Fans who meticulously studied the release trailer may have noticed two shots nowhere to be found in the finished film. One is of a determined hooded Anakin marching down the Trade Federation cruiser hallway, and the other is of Ki-Adi-Mundi reluctantly turning to face some unseen fate while in the Jedi gunship hangar.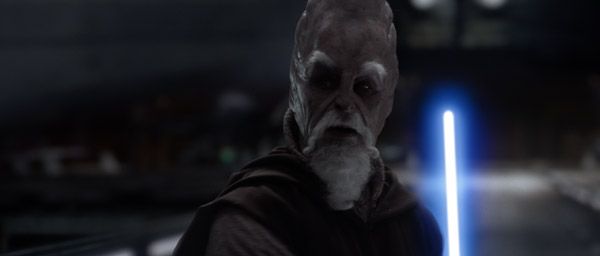 trailer shots

These shots were never intended for the final film but were needed to help fill out the story told in the trailer. The Anakin shot had been cut -- it was from the Jedi Temple attack. If you look at the animatics version of the shot, you can get an idea of what the shot was originally meant to represent. The footage was deemed trailer appropriate, so ILM composited the greenscreen footage of Anakin against a background plate of the cruiser hallway.
Though Ki-Adi-Mundi's shot was used in the finished film, by the time of the trailer, the background Mygeeto environment hadn't been completed. So, the Jedi Temple hangar was substituted instead.
This of course is only just a handful of things to spot. It is by no means an exhaustive list.
Ships Aplenty
Fans know well what audiences around the world are discovering: you simply cannot take in all the detail of a Star Wars movie in one sitting. So intricate and meticulous is each shot that every image tells a rich story. In some cases, that story is kind of funny -- a cleverly placed nod to audience members who know where to look. For eagle eyed viewers, they're called Easter Eggs. Sometimes they're inside jokes. Other times, they're just interesting details that are very easy to overlook.
Here's a list of some of those little must-see moments that you may have missed.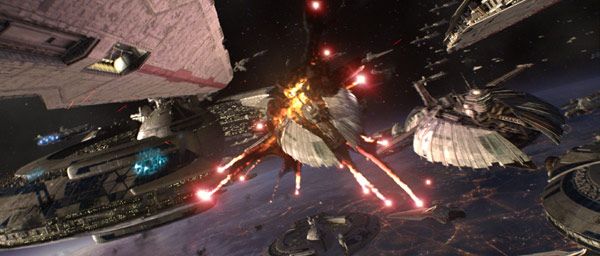 kitchen sink
EDITOR'S NOTE: I LOOKED REALLY HARD FOR THIS, AND COULD NOT SPOT IT.
During the space battle, when a blue laser beam lances out of the belly bay of a massive Republic Star Destroyer and splits a Banking Clan frigate in two, it unleashes a blossoming explosion with streaming debris. The camera pans along with one sizable chunk as it slams back into the Republic vessel. That is indeed a kitchen sink.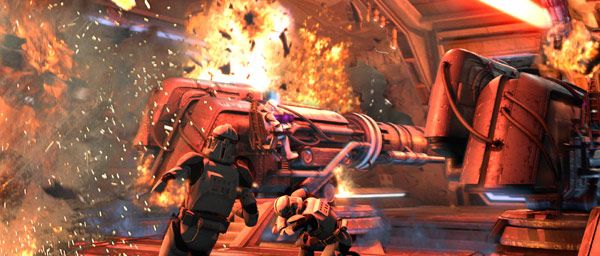 "the Wilhelm."
An audio easter egg -- and hallowed tradition of Star Wars -- is the piercing scream affectionately called "the Wilhelm." It's a decades-old audio recording of a very distinctive scream that has become a "pet sound effect" to many sound editors, though Ben Burtt deserves special mention for surreptitiously spreading it through the movies he's worked on. It can be heard shouted by a clone trooper thrown by an exploding weapons emplacement during the opening space battle.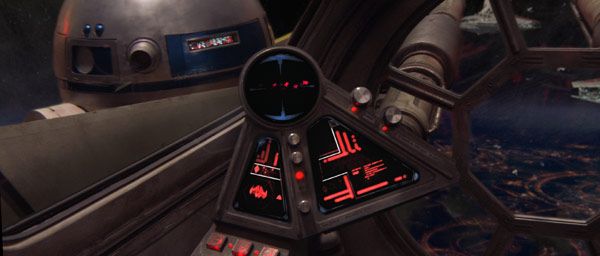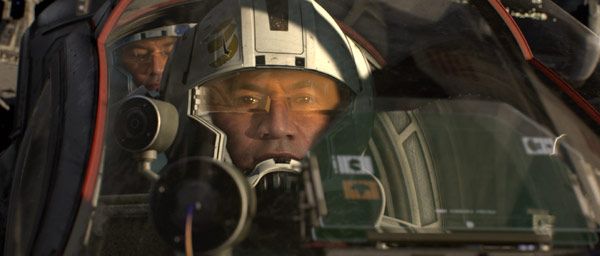 stay on target...

Subtly providing some nice connective tissue to the original trilogy are the designs of the starfighter targeting computers. The display screens in Anakin and Obi-Wan's Jedi fighters very closely resemble those on Darth Vader's TIE fighter, while the little icons lining the screens of the clone fighters look a lot like those found on the X-wings.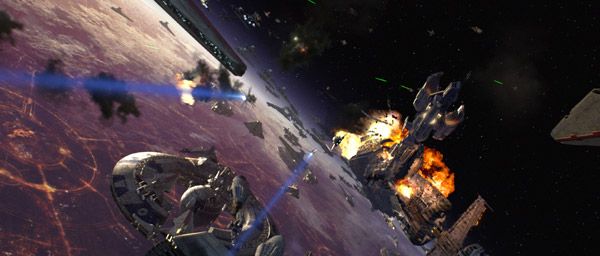 destroyers and donuts
There's so much happening high above Coruscant that it's hard to single out one spectacle not to miss. There's a very intriguing tangle that has a triangular Republic destroyer caught within the arms of a massive ring-shaped Trade Federation battleship. It's hard to tell what's happening here: perhaps the Federation ship has somehow captured the Republic vessel in its clutches. According to the Animatics Department that plotted out the space battle, the Republic ship is docked with a captive donut ship, and teams of clone troopers are tearing through the corridors.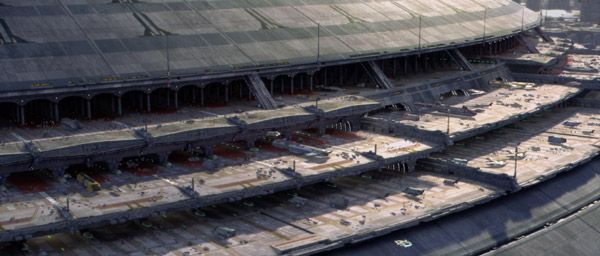 the Falcon
It's tiny, but visible enough to send a warm fuzzy through the hearts of original trilogy fans. In the establishing shot of the expansive Senate docking bays, there's a tiny Millennium Falcon easing into frame. And it's not just a non-descript Corellian freighter; it's on good authority -- namely George Lucas -- that this is the infamous hunk-of-junk before it came into the ownership of either Lando Calrissian or Han Solo.
EDITOR'S NOTE: GOOSEBUMPS! (I DIDN'T SPOT IT, BUT OUR DWEEBPAL ANDREW DID!)
Also peculiar about that shot: there are no less than three gleaming Naboo star skiffs parked on the lot. Does Padmé have spares?
Though it's been reported that the Senatorial plotlines of Episode III were all cut out of the film to keep the focus on Anakin's story, almost all of those supporting Senators are still in the film. The starwars.com databank recently added such Senators as Chi Eekway, Terr Taneel, Nee Alavar, Mon Mothma, Giddean Danu, Malé-Dee, Fang Zar, Meena Tills, and Fema Baab to its encyclopedic entries, and they are all on that platform. Watch for them.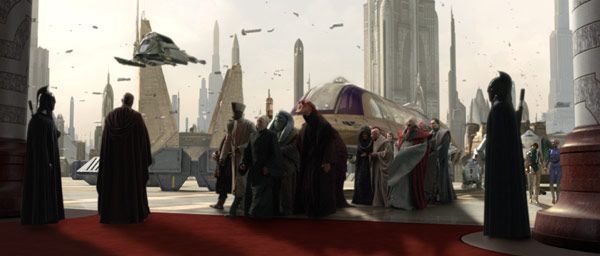 EDITOR'S NOTE: I SURE HOPE THIS SENATE STORY LINE ENDS UP AT LEAST IN THE DVD CUT SCENES (IF NOT.....TOO MUCH TO HOPE FOR....EDITED INTO AN EXTENDED CUT). MEANWHILE, I'VE SPOTTED SOME OF THE LISTED SENATORS, BUT NOT MY FAVE...MON MOTHMA!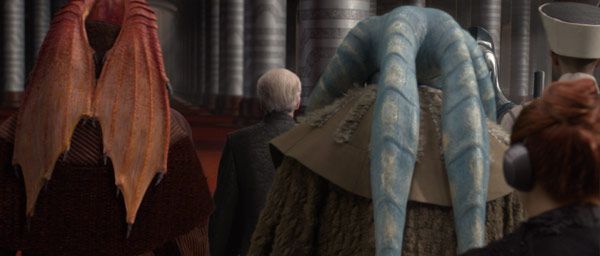 speaking of Jar Jar
Some press outlets have reported that Jar Jar doesn't utter a single word in this film, but he does. Listen closely as the Senators file in behind Palpatine and enter the building. The bungling Gungan accidentally invades Senator Orn Free Taa's personal space, provoking an exchange of "Watch it." "Excuse me."
Expanded universe fans may have had their ears perk up when Obi-Wan gives the single-sentence summary of the Jedi briefing Anakin just missed. He mentions that Master Vos has moved his troops to Boz Pity. That is indeed a reference to Quinlan Vos, who was almost slated to appear in Episode III. Lucas included the comic book Jedi in the script, though his sequence was never filmed
EDITOR'S NOTE: EU GROOVINESS!!! UNCLE GEORGE LOVES US!
Opera Cameos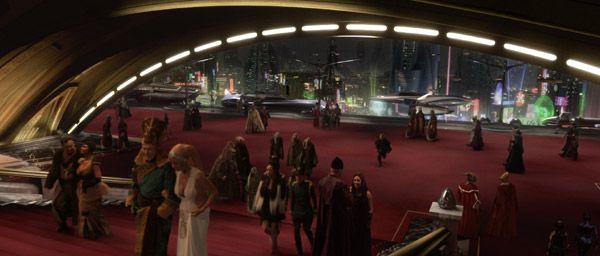 Opera House - Dannl Faytonni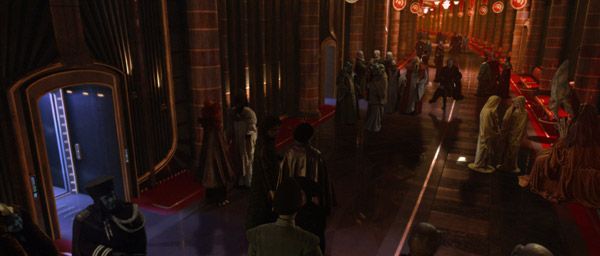 Opera House - Baron Papanoida

Who's who at the opera! There's many familiar faces to spot at the Galaxies Opera House, though given the exotic -- and sometimes immodestly dressed -- patrons seen milling about, it can be hard to spot them. As Anakin runs up the carpeted staircase, one of the guests he passes is Dannl Faytonni, the human character first played by an unmasked Anthony Daniels in Episode II. The man behind C-3PO gets to show his features once more, if ever so briefly, only this time he's wearing a captain's rank and a tall hat, suggesting he's moved up the social ladder.
Once inside, Anakin weaves through a bustling corridor. Blink, and you'll miss such returning aliens as Horox Ryyder(from Episode I), Greeata and Rystáll (from Episode VI) as well as the most notable cameo.
Talking to Senator Chi Eekway is the blue-skinned Baron Papanoida -- cameo appearances for Katie Lucas and her father, writer-director George Lucas. His other daughter, Amanda Lucas, is also in this shot as Senator Terr Taneel.
In the next shot, as Anakin settles into Palpatine's viewing box, take a look at box adjacent to the Chancellor's. It is filled with notable names from Industrial Light & Magic. Seated from left to right (first row) are Visual Effects Producer Jill Brooks, Animation Supervisor Rob Coleman, Visual Effects Producer Janet Lewin, (and back row) Visual Effects Supervisor Roger Guyett, Visual Effects Producer Denise Ream, and Visual Effects Supervisor John Knoll. If you look at the shots that favor Palpatine during his wistful retelling of the Darth Plagueis yarn, you'll see Knoll sitting over his shoulder.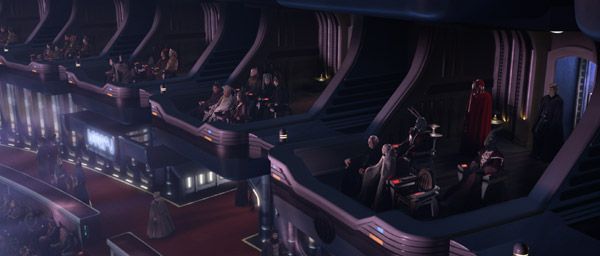 Opera House - Janu Godalhi.

In the same establishing shot of the interior of the Opera House is another Easter Egg strolling down the aisles. Dressed in a long green robe is Hyperspace's Set Diarist and Star Wars Insider columnist Pablo Hidalgo as Janu Godalhi.
If you wanted to split hairs about continuity, Coleman, Guyett, Ream, Brooks and Hidalgo are also in the far background of the preceding staircase shot, suggesting that they somehow beat a running Anakin to the inside of the theater.
EDITOR'S NOTE: JUST LIKE THE AOTC LADY IN RED!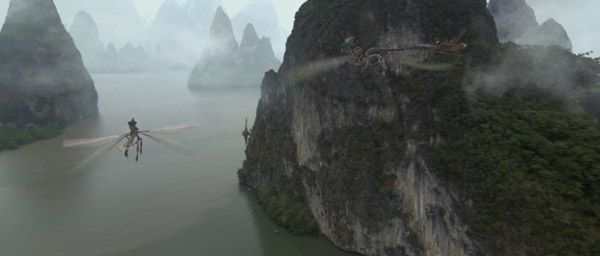 Kashyyyk - alien riders
In the establishing shot of Kashyyyk, the Wookiee aircraft are accompanied by giant dragonfly creatures like can-cells. If you look carefully, they have little alien riders: adventurous Aleenan aliens, the same species as the scrappy Podracer, Ratts Tyerell. Yeehaw!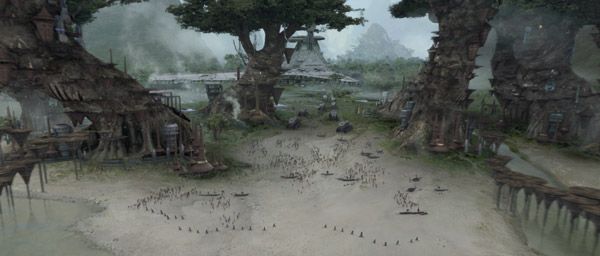 Kashyyyk - destroyer
It gives you an idea of scale if you somehow manage to miss an entire Star Destroyer, but it happens. When the establishing fly-into Kashyyyk ends, parked behind the trees is Yoda's Republic Star Destroyer.
Kashyyyk - Luminara
Yoda's not the only Jedi on Kashyyyk. Organizing defenses on the beach is Luminara Unduli, only here she's not played by Mary Oyaya for her single shot. It's Art Department Supervisor Fay David. She had previously played a handmaiden in Episode I and Shaak Ti (in the library scenes) in Episode II.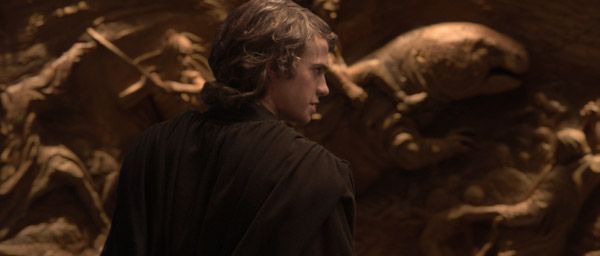 not Sing
Some fans think they spot Aurra Sing, the chalk-skinned bald-headed bounty hunter from Episode I, in the sculpted frieze hanging in Palpatine's office. It's not really, but the sculpture is worth taking a look at. It depicts an ancient battle between Jedi and dark side-corrupted creatures and aliens.
EDITOR'S NOTE: TALK ABOUT HIDING IN PLAIN SIGHT? DOES NO ONE NOTICE THIS AND WONDER?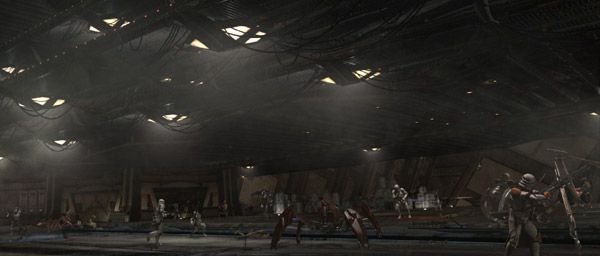 "The Clontender"
There's a lot going on in the brief shot of the dragon pen before Boga comes bounding into frame. There's a little Utai alien luring a dactillion -- a pterodactyl like creature -- to roost with a piece of meat, and a gaunt Utapaun taking a dog-sized spider for a walk.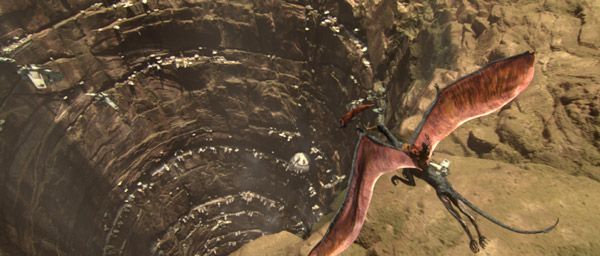 fork-wielding Utapaun
In the background of the 10th Level, as Obi-Wan whistles for Boga to come and give chase to General Grievous, look in the background. A clone trooper has lost his rifle and is essentially boxing with a battle droid.
If you've seen the fork-wielding Utapaun action figure and were wondering just where it is in the film, you'll have to look quickly. This warrior can be seen riding on the back of a dactillion as the battle erupts on Utapau.
Poland's Obi-Wan Kenobi Street
Rafal writes:I've just found this funny news on Polish "Imperial City Online" website:
There is an Obi-Wan Kenobi Street in Grabowiec, a settlement in western Poland, near Torun (the town of Copernicus).
The idea came from Leszek Budkiewicz -- street's tenant, local council's member and after all -- a Star Wars fan. He came upon his crazy idea and made the council go after it (I wonder if he was using the Force ;-). Some of the council's members even became Star Wars fans themselves! I wonder if they're going to call themselves The Jedi Council? ;-)
Episode III Magazine Covers: Smits and Special Effects
May 25, 2005
Continuing our roundup of Episode III magazine coverage are these four titles to keep an eye out for.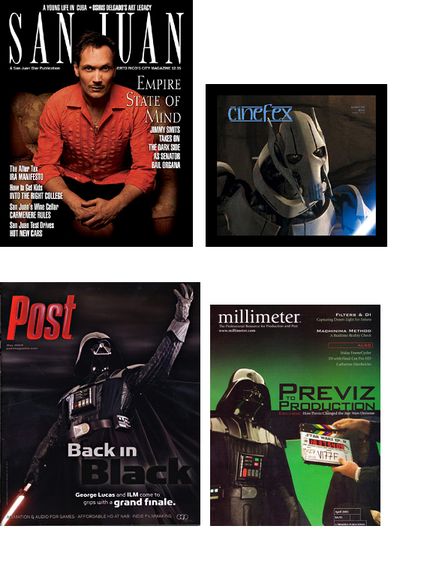 San Juan Magazine, Puerto Rico's city magazine, talks to the father of the Rebellion, Jimmy Smits,
EDITOR'S NOTE: OOO...YUMMY YUMMY YUMMY!
who discusses his role as Bail Organa in Episode III and is also featured on the cover.
Cinefex, the quarterly journal of cinematic illusion, devotes the cover of the July issue, #102, to Episode III's wicked General Grievous. Inside, you'll find Cinefex's unparalleled brand of visual effects coverage, as it goes behind the scenes at ILM to uncover the making of Revenge of the Sith's astounding worlds, characters and action.
The May issue of Post magazine devoted its cover story to ILM and Episode III, with interviews with Roger Guyett and other key members of the visual effects team.
EDITOR'S NOTE: BUT WAIT...STILL MORE MAGS!
Episode III Magazines: MAD, Martial, Cosmo
Keeping up with the latest Star Wars coverage in various magazines appearing around the world isn't an easy feat for any fan or collector. In addition to the usual movie and music magazines on the newsstands that showcase the film, there are also a selection of more niche magazines that have a special appreciation for all things Sith.
Here are some notable covers and magazines with articles about Revenge of the Sith, George Lucas and more.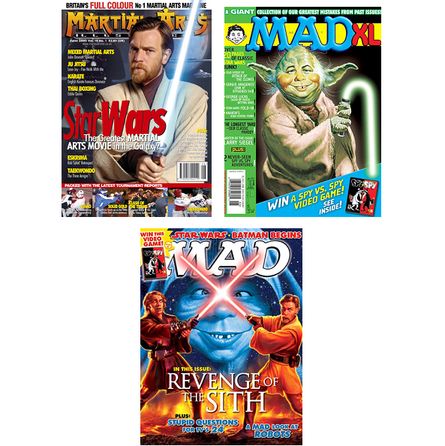 The June 2005 issue (#454) of MAD magazine, an entertainment parody magazine, recently ran an issue that paid tribute to
Revenge of the Sith
complete with a special
Revenge of the Sith
cover with Anakin Skywalker, Obi-Wan Kenobi and a very creepy Emperor.
This issue also features the comics "A Day in the Life of George Lucas," and "Monroe and Star Wars," a photo caption parody called "Star Wars Outtakes: Sith Happens," a special Star Wars Fold-in and an elaborate "What Caused Anakin Skywalker to Become Darth Vader?" activity map created by Milk and Cheese comic book creator Evan Dorkin.
There's also yet another Star Wars themed June 2005 issue of MAD XL (#33) all about
Revenge of the Sith
featuring a parody of Yoda on the cover.
EDITOR'S NOTE: NOT BEING A 9-YEAR-OLD BOY….OR A REGRESSED 35-YEAR-OLD ONE…WHERE DOES ONE BUY MAD MAGAZINE?
In the June 2005 issue of Martial Arts magazine from the U.K., Ewan McGregor as Obi-Wan Kenobi makes the cover for the story :Star Wars: The Greatest Martial Arts Movie in the Galaxy?"
Be sure to check out the June/July 2005 issue of CosmoGirl magazine (with Katie Holmes on the cover) as Katie Lucas interviews her dad and filmmaker George Lucas about his life as a teen, how to follow your bliss and be creative every step of the way.
EDITOR'S NOTE: EVEN I DRAW THE LINE SOMEWHERE. GAG ME.
Wily pirates have their own revenge
It's open big or you are dead, the Star Wars producer tells Garry Maddox.
The makers of the final Star Wars instalment have seen exactly how prevalent movie piracy has become. Its producer, Rick McCallum, said yesterday that in China, one of 100 countries with a simultaneous release of
Revenge of the Sith
last month, viewers waiting in line in the opening days were offered DVDs of the movie at half the ticket price.
"
God knows how much we'll lose
," McCallum said on the phone from California. "
It could be as high as $300 million, $400 million or $500 million worldwide.
" That's US dollars.
The issue for filmmakers was that only certain countries, including Australia, the US and Europe, were taking piracy seriously.
"
For the rest of the world, copyright infringement is such a distant thing
," McCallum said. "
China will have to make its own hugely successful film so that we can rip them off and they can jump up and down and within a year we'll see legislation against it. But until that happens, there are too many problems the world has to face [other] than how much money are filmmakers not going to make."
McCallum said the filmmakers were delighted by the box office takings so far. In its first 12 days,
Revenge of the Sith
has taken more than $US500 million ($662 million) including $US270 million in North America and $22.6 million in Australia. "
When that happens, you just sit back and say life is good."
EDITOR'S NOTE: SO WHAT'S ANOTHER 500 MIL AMONG FRIENDS AND COMMUNISTS, EH?
The release has revealed how much a key factor in a movie's release - "word of mouth" - has changed in the past decade.
"When we did Episode I, the typical thing, whether you were a kid or an adult, was that you would wait till Monday to tell your friends. By the time we released Episode II, cellular technology had taken over to such an extent that usually that news would go out Saturday or Sunday.
"
Now we live in a world where people waiting in line would get text messages from their friends inside the theatre saying don't bother, it's not worth seeing, save your money."
Another change affecting takings is the impact of DVDs.
"
The thing that drove us on Episode I was repeat business. People would go see the film five, eight, nine, 10 times,"
McCallum said. "
Now they would rather own it. They also know that in 12 or 14 weeks the picture is going to be on DVD so they might see it two or three times, not the six or eight or 10 times you need to get way, way out there."
EDITOR'S NOTE: YOU CAN OWN IT AND ALSO SEE IT MULTIPLE TIMES IN THE THEATER. BUT YEAH, IF YOU KNOW YOU'RE GOING TO OWN IT IN A FEW MONTHS YOU MIGHT SEE IT ONE OR TWO LESS TIMES AND WAIT TILL NOVEMBER. (NOVEMBER!!! 6-PIC-MARATHON!!!!)
The reality of the cinema release had become "you either open big or you're dead".
McCallum said he would be genuinely happy if the movie took $US800 million. "
I'd be much more happy if it did $900 million. And I'd be ecstatic if it did $1 billion."
Its takings so far were a tribute to the work of the Australian crew. "
If you liked the movie, in terms of set building, costumes, cinematography, everything, Australians have been part of that process."

EDITOR'S NOTE: CAVEAT READING. IT'S ODDBOB TIME! (WE'VE BEEN AWAY TOO LONG? NOT LONG ENOUGH? HARD TO SAY....)
ODDBOB'SCORNER:
The Top 25 Differences Between "Star Wars" and "Star Trek"
25> "Star Trek": cardboard sets. "Star Wars": cardboard actors.
EDITOR'S NOTE: AWWW...PLAY NICE.
24> "Star Trek" fans sit in front of televisions watching reruns. "Star Wars" fans sit in front of theaters that won't even be showing the film.
23> Darth Vader needs the Force to make people gag. William Shatner merely acts.
EDITOR'S NOTE: ALSO NOT FAIR, BUT EQUAL OPPORTUNIITY SNARK, AT LEAST.
22> Some Trekkies are now old enough to have moved from their parents' basement to the retirement home basement.
21> Lots of fans can speak Klingon, but only losers speak Wookiee.
EDITOR'S NOTE: WRITTEN BY SOMEONE BITTER THAT WOOKIEES TALK ABOUT THEM WHEN THEY'RE STANDING RIGHT THERE.
20> "Trek": The bad guys are thinly disguised non-Americans. "Wars": The bad guys are thinly disguised Americans.
19> "Star Wars": buns on the head. "Star Trek": buns in the uniform.
18> Luke: "Well, not unless you can alter time, speed up the harvest or teleport me off this rock." C-3PO: "Not really, sir. Time travel and teleportation are more of a 'Trek' thing."
17> Lightsabers are powered by D cells, while phasers take a 9-volt.
16> Gene Roddenberry was a legendary pioneer of thought-provoking, futuristic science fiction. George Lucas created Jar Jar Binks.
EDITOR'S NOTE: DON'T BE MESSIN WITH MY HOMIE JAR JAR!
15> Spock puts the TP on so it rolls over the top, whereas Vader likes it to roll underneath.
EDITORS' NOTE: ??????
14> Wookiees and Ewoks vs. Tribbles and toupees.
EDITOR'S NOTE: WE WIN WE WIN!!!
13> Substantially harder to hand-make a Chewbacca Halloween costume than a Bones McCoy.
12> Besides the advantage of no one recognizing you, wearing the stormtrooper costume keeps that parents'-basement skin pasty white!
11> "Star Trek": Everybody likes Seven of Nine. "Star Wars": Nobody likes I of VI, or II of VI for that matter.
EDITOR'S NOTE: FINE. MORE FOR ME.
10> Shatner wears a girdle, but Jabba lets it all hang out.
9> "Star Wars" has the mystical power of the Force to lend gravitas to the adventure, but "Star Trek" has the mystical power of chicks with bigger hooters.
EDITOR'S NOTE: I'M GETTING THE SENSE I'M NOT THE TARGET AUDIENCE HERE???
8> "Star Wars": Captain Solo always has a Wookiee at his side. "Star Trek": Captain Kirk always has nookie on the side.
7> In one, you live long and prosper. In the other, you live large and profit.
6> "Star Wars" fans don't refuse to honor the restraining order if it's not translated into Klingon.
5> Captain Kirk always says, "To infinity and beyond!" Darth Vader always says, "The Force is like a box of chocolates."
4> If Jar Jar Binks were on "Trek," Scotty would've given him a red shirt and beamed him down to a hostile planet during the opening credits.
3> Hard-core "Star Wars" fans are all overweight, unattractive, diabetic virgins who spend their free time and money building homemade lightsabers. Hard-core "Star Trek" fans are all overweight, unattractive, diabetic virgins who spend their free time and money building homemade tricorders.
2> Harrison Ford doesn't need to call 911 to ask if he should get his wife from the bottom of the pool.
EDITOR'S NOTE: OOO....EVEN NASTIER THAN NUMBER 3, ABOVE. OUCH. (OF COURSE, CALISTA FLOCKHART FLOATS....BAD QOTD, BAD BAD)!
and Number 1 Difference Between "Star Wars" and "Star Trek"...
1> I have no idea. And that, fanboy, is why *I* am not a virgin.
EDITOR'S NOTE: WHAT

EVER

. (JUST CAUSE YOU PAID FOR IT, DON'T MAKE IT A VICTORY).
The Top 10 Surprises in the "Star Trek: Enterprise" Series Finale
EDITOR'S NOTE: WHICH I STILL HAVEN'T WATCHED...BAD QOTD BAD BAD!
10> Captain Archer, failing to sustain the interest of either Hoshi or T'Pol, gives in to Dr. Phlox's incessant begging and decides to explore his "dark side."
9> Special guest star R2-D2 as the plucky, lovable Photon Torpedo Mark I.
8> It was all a holodeck adventure! Wouldn't that be great? I bet the fans would just love that idea!
7> They finally perfect transporter technology, and T'Pol materializes naked.
6> Hoshi like totally breaks her alliance with Tripp at Tribal Council.
5> Gene Roddenberry stops spinning.
4> Sam Beckett Leaps out of the trekkie he Leaped into and realizes it was all just a dream.
3> Someone utters the phrase "Lasers and phasers and Tazers, oh my!"
2> T'Pol retires to live happily ever after with Porthos, Captain Archer's beagle.
and the Number 1 Surprise in the "Star Trek: Enterprise" Series Finale...
1> The ship's engineer is replicated thousands of times in a freak accident in "The Trouble With Tripples."
EDITOR'S NOTE: OWIE.

Now that George is finished writing the "Star Wars" saga, we thought we'd check out his to-do list.

The Top 10 Things on George Lucas's To-Do List
10> Pay back the devil.
9> "Tell me about this 'Internet' thing I keep hearing about. Is it for sale?"
8> Monday: Order two dozen Leia Slave costumes. Order two dozen hookers. Tuesday - Friday: Repeat.
7> Send Michael Moore a thank-you note for his advice on the subtle application of political propaganda.
6> Check over the case files from the "Battlestar Galactica" lawsuit and see where he went wrong.
5> Take 10 minutes to write the dialogue for the next six movies in the series.
4> Begin secret Ewok/Jar Jar breeding experiments.
3> Write script for "Abbot and Costello Meet Darth Vader."
2> Teach classes at MIT on how to use the Force.
and the Number 1 Thing on George Lucas's To-Do List...
1> "I'm going to STARLAND!!" Constructing plans for a 2,600-acre "Star Wars" theme park, now that Michael Jackson's Neverland Ranch will likely sell for a song.
EDITOR'S NOTE: DESPITE MY DETERMINATION TO NEVER MENTION MR.J IN A DWEEBLETTER, THE ODDBOBB'ING WAS TOO FUNNY TO LEAVE THIS ONE OUT. APOLOGIES TO ANYONE OF TASTE. (ALTHOUGH, WHAT ARE THE CHANCES ANYONE LIKE THAT IS READING THIS BLOG?)
YUMMY SCRUMPSHISH PICS:
EDITOR'S NOTE: FIRST, A COUPLE OF JUST EXTREMELY GROOVY SITHPICS FROM THE OFFICIAL STAR WARS WEBSITE -----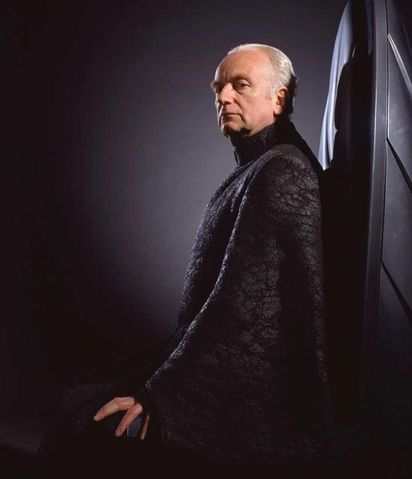 EDITOR'S NOTE: AND HERE ARE SOME LOVELY PICS FROM THE ROTS LONDON OPENING -----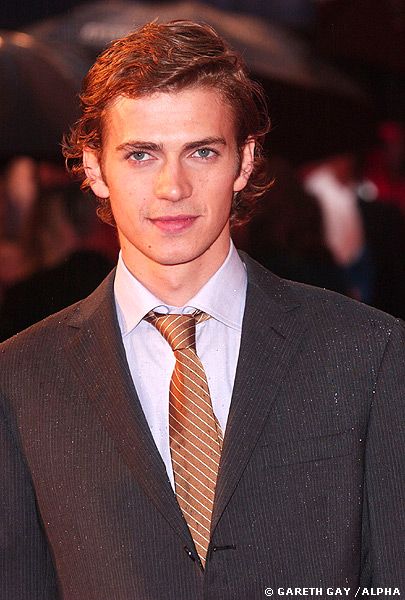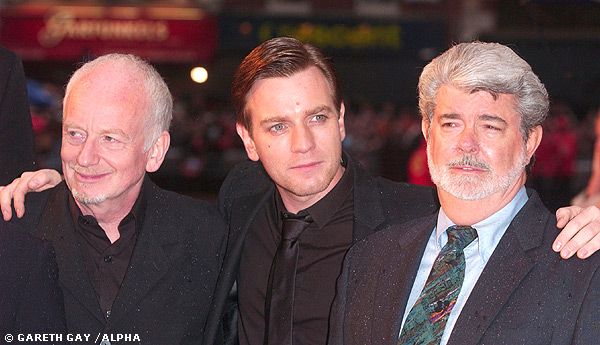 PURTY PURTY PURTY!!!!