Disney segues to Star Wars
EDITOR'S NOTE: MORE ON THE DISNEYLAND 50TH CELEBRATION, AND SOME CUTE DISNEYWORLD STAR WARS WEEKEND PICS.
GOLDEN DAYS AT DISNEYLAND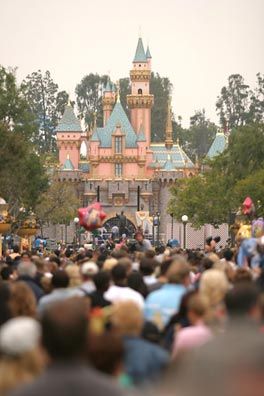 Crowds surround the newly golden Sleeping Beauty Castle.
All over Disneyland park, there's a new glitter, a new gleam, adding to the atmosphere.
Everywhere, from lampposts to the spires of Sleeping Beauty Castle, the Park shimmers with touches of gold.
Disneyland park is turning 50 this year, and it is shining like never before.
The Happiest Homecoming on Earth, Disneyland park's birthday bash, kicked off on May 5, 2005, and the Park has pulled out all the stops to make this a once-in-a-lifetime occasion.
From the floral plantings by the main gate to the windows along Main Street to the farthest reaches of Critter Country, the Park is bursting with special surprises. Sleeping Beauty Castle has never looked lovelier; the turrets have been sheathed in real gold leaf and jeweled tiaras crown each spire, each bedecked with symbols representing one of Disneyland park's lands.
EDITOR'S NOTE: I WAS AT THE DISNEYLAND 45TH CELEBRATION, AND SLEEPING BEAUTY CASTLE LOOKED LIKE A TROLLOPED BIRTHDAY CAKE. (NOT THE LOOK THEY WERE GOING FOR?)
Read on to learn about Disneyland park's newest parade and the
Hidden 50s scattered throughout the Park.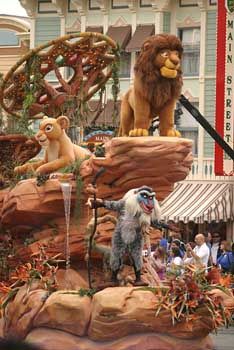 The Lion King float is one of the highlights of Walt Disney's Parade of Dreams.
Walt Disney's Parade of Dreams We love a parade! But even we at the Insider had never seen a spectacle like the shiny new parade debuted especially for the Happiest Homecoming on Earth.
Walt Disney's Parade of Dreams is a tribute to the creative imagination of the man who dreamed Disneyland into being. Extravagant floats fill the corridor of Main Street. A slice of African savannah from "The Lion King," Alice's encounter with the caterpillar from "Alice in Wonderland," and a grand golden castle inhabited by Disney's Princesses and Mickey and Minnie Mouse themselves, all evoke oohs and aahs from the crowd.
"
The floats are engineering marvels, because they're so elaborate. I call it 'the parade you can't watch just once,' because it's just an eye-popping extravaganza,"
EDITOR'S NOTE: OF COURSE, THEY

PAY

HIM TO SAY THAT.
says parade designer Steve Davison, a Creative Director at Walt Disney Imagineering. "
The parade's very theatrical. We created the floats as environments - everything's scaled up to such a height that when Alice is in front of you, you feel like you ARE Alice, shrunk down to that little height."
EDITOR'S NOTE: SHARE THE MEDS.
He's especially proud of the parade's salute to "The Little Mermaid" - an enormous inflated puppet representing the film's villain, Ursula. Rippling and undulating down the street, Ursula is controlled by two operators seated inside her in what Steve laughingly calls "a condo" – controlling her hands, eyes, and mouth. As the puppeteers lean and move inside the puppet, the whole creation responds by rippling and moving along. The effect is spectacular... and just the teeniest bit scary.
Although the floats and animatronics are showstoppers, Steve says that other elements are even more challenging to coordinate – and just as rewarding. "
We have a lot of live performers doing spectacular things. There's a web circus act, a trampoline, even bungee-jumping elements
," he explains. "
A lot of time and energy went into safety."

EDITOR'S NOTE: AND IF IT DOESN'T WORK OUT, WE BURY THEIR BODIES UNDER THE 'IT'S A SMALL WORLD RIDE', OR USE THEM AS AUDIOANIMATRONIC PRESIDENTS. ACTORS. WHO'D MISS EM?!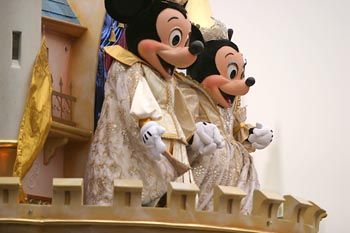 The Mouse who started it all,with his sweetie, in the parade's grand finale.
From a friendly and inquisitive rhino who wanders up to guests, to bird kites, to the swaying, twirling chandeliers of Beauty and the Beast's ballroom, the Parade of Dreams offers an almost-infinite array of enchanting details. We think Walt would have loved it. Stake out a viewing spot along Main Street early; although the floats are large enough to be visible from any spot in the crowd, the wandering rhino, dancing flowers, and other small elements of the parade are best experienced up close, and prime locations on the route tend to go fast.
Hidden 50s
The Mickey Mouse silhouettes hidden throughout the Disney parks by mischievous Imagineers are the stuff of legend - many Disney fans spend hours seeking them out.
Those illustrious "Hidden Mickeys" have now been joined by a golden host of "
Hidden 50s
," placed for the celebration by the Disneyland team.
The Hidden 50s display the Happiest Homecoming on Earth's distinctive logo, a 50 framed by Mickey ears, and they're scattered all over the park - 50 of them in all.
We asked Sayre Wiseman, who was responsible for the decor of the park for the celebration, to tell us more about the Hidden 50s – and give us a few hints for finding them! "
The basic rule was, it had to be visible from a walkway,"
says Sayre. "
We didn't want to put any in a ride because we didn't think that would be fair. Every one had to be visible. It didn't really matter how big or small they were, so we had some tiny ones."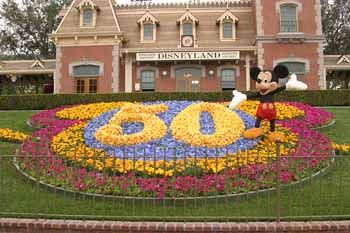 Welcome to the party!
We don't want to ruin the surprise, but Sayre divulged that the largest of the 50s is probably the one on the Haunted Mansion, while the smallest is tucked away in the vicinity of a certain amphibian speed demon. They are rendered in a variety of materials – "
some of them are painted, some are carved, some are antiqued, some are all gold, and some have blue on them. They're all over,"
says Sayre. To get you started, she gave us a starting place for the quest:
"The first one is the Mickey floral display when you enter."
EDITOR'S NOTE: SEE PICTURE, ABOVE.
Can't find all 50? Don't despair!
"
I know all of them really well, and if I were to sit down here and try to make a list, I'd miss two or three
,"
EDITOR'S NOTE: KINDA LIKE TRYING TO LIST THE US STATES AND CAPITALS? (YOU ALWAYS GET 48 OR 49 AND GET STUCK)
Sayre confesses. "
So we have a book in City Hall, on Main Street USA, listing them so people won't be totally frustrated. For the most part, the team just sort of went out and found places to put them. But we had to make sure that there are 50, always."
For the next 18 months, make sure to visit Disneyland park with a notebook - and your detective hat!
EDITOR'S NOTE: HERE ARE A COUPLE YOU CAN FIND...WITHOUT BOOKING THE CALIFORNIA AIRFARE ------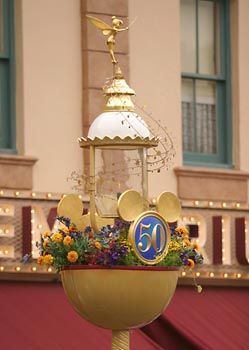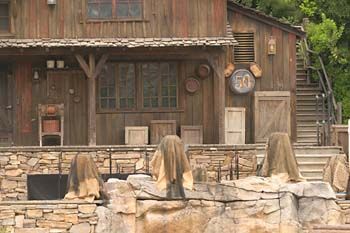 What is the unofficial name applied to Disneyland's Opening Day?
Opening Day became known as "Black Sunday" -- it was hot, the park was overcrowded with gate crashers, the water fountains didn't work, and the day was widely regarded as a fiasco. Fortunately, Disneyland recovered and became a smashing success within weeks of opening!
2005 Star Wars Weekends #3
This past weekend the third episode, er weekend, of the 2005 Star Wars Weekends at Disney-MGM Studios in Florida packed in fans from around the country to celebrate the entire Star Wars saga. On hand were special guests Warwick Davis (Wicket) and prequel Droid Unit Supervisor Don Bies.
The 2005 Star Wars Weekends picture viewer has been updated with all new images, courtesy of Mark Ashman from Disney.
EDITOR'S NOTE: HERE ARE A SELECT FEW -----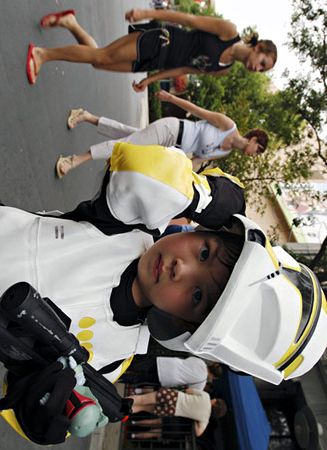 EDITOR'S NOTE: AWWWWW......CLONE TROOPER CUTE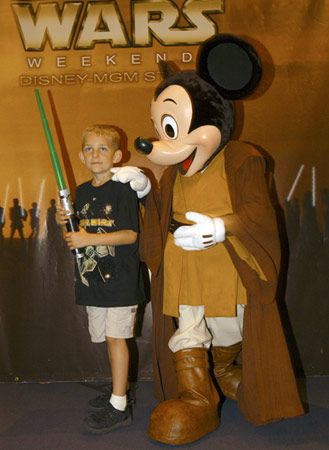 EDITOR'S NOTE: CAN YOU PICTURE THIS JEDI TRAIPSING AROUND THE JEDI TEMPLE? EEK!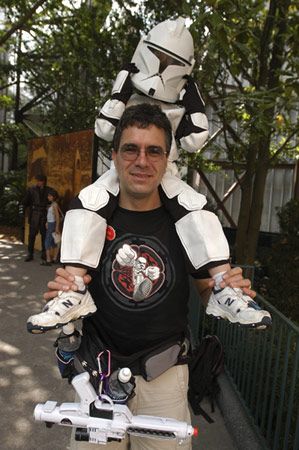 EDITOR'S NOTE: ARE PEOPLE GETTING BIGGER, OR CLONE TROOPERS GETTING SMALLER?

EDITOR'S NOTE: DID DISNEY FIND A GUY WHO LOOKS THIS MUCH LIKE ANAKIN, OR WAS HE FORCED TO UNDERGO SURGERY TO WORK THE MGM PARK?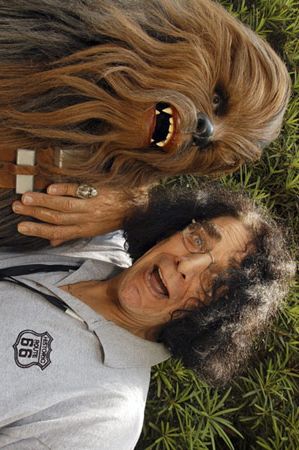 EDITOR'S NOTE: QUICK! WHICH ONE'S THE WOOKIE!?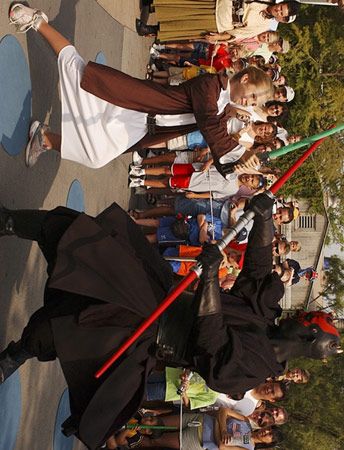 EDITOR'S NOTE: MAUL'ING FOR ODDBOB.
Fans of all ages and Star Wars characters of all varieties are converging to celebrate the heroes, villains and droids of the saga during the 2005 Star Wars Weekends.
In addition to Star Wars costumed characters, fun activities, and the Star Tours theme park ride, celebrity guests will be in attendance for meet-and-greet sessions, star conversations, and a classic Hollywood-style motorcade.
This upcoming weekend's guests include Jerome Blake (Rune Haako, Mas Amedda) and
Revenge of the Sith's
Practical Model Supervisor Brian Gernand.