Star Wars and Easter.....makes sense to ME!
Editor's Note: So....let me ask an important question. If a holiday does not have a Star Wars component of SOME kind, can it TRULY be said to be a HOLIDAY?!
Star Wars Easter Egg Decorating Kit
The Easter Bunny is no match for the Dark Lord of the Sith thanks to the Star Wars Easter Egg Decorating Kit, from Paper Magic Group. The Dudley's Easter Egg kit comes with a sheet of 22 stickers, five photo-real egg "wrappits" from scenes of the entire saga, four character egg wrappits, five coloring tablets, a wire egg dipper, a punch-out drying tray and nine paper egg stands for display. To get your eggs perfect, the kit also has a handy coloring mixing chart on the box.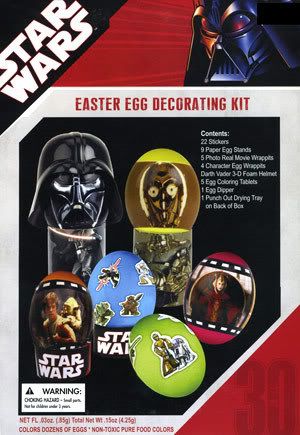 "
Without a doubt there is more Force behind the Darth Vader egg than a normal egg
," Paper Magic Group Product Manager Jim Jacobs says. "
The Force is unprecedented with the combined power of Darth Vader and the Dudley's brand!"
Editor's Note: And shortly after making this statement to the press, Paper Magic Group Product Manager Jim J was seen being carted off by little men in white jackets. (no...NOT stormtroopers, but thank you for going there).
The kit also comes with a special added touch to dress one special egg like Darth Vader with the special 3-D foam helmet!
Editor's Note: And yes, I just HAPPENED to be in Target yesterday (it being a day that ends in 'y'), and I just HAPPENED to pick up one of these handy egg decor kits. And NO, they will NOT be coming anywhere near an egg. They are FAR too cute for that!
Also this Easter season, look for the special Star Wars Easter Basket full of toys and candy, from Houston Harvest. The basket comes with a foam rocket and dart set, a dodge ball, a sports water bottle and candy. The Star Wars Easter Egg Decorating Kit is a Target exclusive and on shelves now.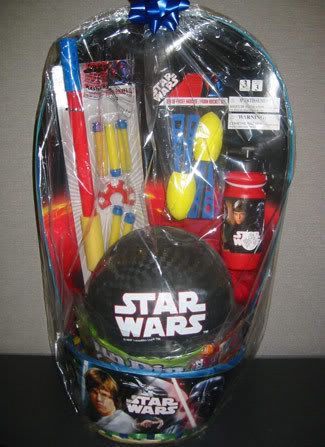 Editor's Note: SOOOOOO...where is the Easter BASKET???!!! If anyone spots one, PLEASE let me know. Musthavemusthavemusthave!!!