Catching up with the wonderful world of DISNEY
Walt Disney Family Museum: The Ground Is Broken for a Groundbreaking Place

Walt the family man reads to his daughters.
We are honored to bring our readers some great news -- plans have been announced for a
Walt Disney Family Museum
on San Francisco's Presidio. The museum will give new life to a historic building, and honor the achievements and life of the man who brought us the Mouse. Although the Walt Disney Family Museum has been a wonderful and enriching presence online for several years, the new museum location will allow people to visit and see firsthand the treasures that recall Walt's life.
Walt's daughter Diane Disney Miller graciously agreed to answer our questions about the museum -- what it will be, how it began, and why it is needed.
Here is what she had to say
:
The idea for the Walt Disney Family Museum started about 10 years ago. I was grievously disturbed by things that were being written about him and rumored about him that were not only untrue, but cruel and rather nasty.
Our good friends Katherine and Richard Greene suggested that we do a CD-ROM biography of my father.
They had recently seen a TV film about Lucy and Desi that was done by their children, and featured family home movies. We had the home movies, but the idea of presenting any of that to the public was not at all appealing to me. We all know what family films are all about -- they are intensely personal, and generally not very interesting to anyone but the subjects. Also, my father was not in most of the film, because he was the person behind the camera.
But the idea of presenting my father in a permanent and accessible way, in a medium that people could bring into their homes (just as he had come into their homes with his television appearances), was very appealing.
We decided to assemble a filmed portrait of him that would be as honest and complete as possible. We would use the technology of the CD-ROM and gather interviews of people who knew him and had worked with him, as well as interviews he had done and bits of the family film inventory.
I wanted people to get to know him, to hear his voice, to see him, to know who he was. This was not difficult, because Dad had always been very accessible to the press and to the public, and was much photographed and interviewed. He knew the value of that kind of exposure, he really liked people, and he liked to talk about his life and his work.
So, with Richard and Katherine Greene, we did the CD-ROM, directed and produced by Jean-Pierre Isbouts and Cathy Labrador of Pantheon Productions. Walt Disney Interactive was very helpful, and distributed it.
Unfortunately, for various reasons, our product (like CD-ROMs in general) did not have great success. But it inspired our virtual museum -- our Web site, which WD Interactive helped us launch.
The Greenes ARE the museum. They create the material, answer letters, and keep it vital. Then the Greenes and Pantheon presented to us the idea of doing a film. We would take the concept of the CD-ROM further, and do a documentary of his life. The Greenes wrote the script and were coproducers with Pantheon Productions. Our son Walt was the executive producer. Dick Van Dyke narrated the film, and J.P. Isbouts directed it.
There was another legacy of my father that was available to the public as well. After my mother's death we moved my dad's workshop, the Red Barn, from her home to Griffith Park in Los Angeles. It is across from Travel Town, the Live Steam facility because Dad was a live steamer, and the barn was the home of his model steam train. The barn is cared for by the members of the Carolwood Pacific Railroad Society, all volunteers who love trains and Disney.
Michael Broggie, son of Roger Broggie, created the society and manages it.
With our CD-ROM, our virtual museum, the Red Barn, and the film, I thought that I'd achieved what I needed to do for my dad.
But there were other things to consider.
We had possession of a lot of things of my father's that had been important to him, and would be of interest to others. We had possession of a large number of Academy Awards® that had been deemed his as opposed to the Studio's, including the very unique award for "Snow White." There were many other awards and citations from all over the world that attested to the man's impact and importance. We had things my dad had collected, art of Disney artists that he had purchased at the occasional Disney Library art shows, his train ... what to do with it all?
We explored several possibilities over a period of years, but finally decided to lease a warehouse in the San Francisco Presidio and to store it all there in an attractive but low-key manner, where we could make it available to interested people. The Greenes were often asked on the Web site "Where is this museum?" Now we would have a place.
That was five years ago. Our museum concept has grown from that warehouse to a much more ambitious project that involves the restoration of a 1898 barracks building facing the old parade ground, an audio-visual walkthrough show of the life of Walt Disney, which "costars" many of the wonderful people who worked with him throughout his life.
Our aim is to tell his story in his own way, and to make it as interesting and entertaining as possible, because that is what he was all about. This is a huge undertaking for us, but we have some talented and dedicated collaborators. We keep gathering interviews to build our archive and searching for important artifacts to add to our museum. We want it to provide a wealth of information about Dad, his work, the growth of the Company, and the individuals who worked with him to create the films, build Disneyland, and were such and important part of all of it. We have committed to leasing and restoring two buildings at the Presidio.
Building 104 is the 1898 vintage barracks building that will be the museum proper, housing our exhibit on the first two floors; offices and a special art gallery in the attic; and the basement will have a small (about 100 seats) theater for special programs, lots of bathrooms, two rooms for activities related to our educational program, and other necessary spaces for staff use.
We will be open to the public by reservation six days a week, but will accommodate walk-in visitors as well. We will encourage schools to visit us, and hope to have one school field trip each morning ... or two, depending on numbers. We hope to develop wonderful programs for our school visitors, with one space oriented to computers and the other to artwork.
Our theater can be the site of weekend festivals of all types of Disney films -- the old TV series shown in complete form, cartoon series, True-Lifes, etc. We will have a small café and a bookstore on the main floor, and may carry other sorts of appropriate merchandise as well. But they must be special things!
Building 122 , originally the post gymnasium, is located behind the barracks. It is of more recent construction, and is a rather elegant building. It will house our archival and curatorial activities, some additional offices, and what had been the basketball court will be a space that can be used for visiting art shows and other kinds of exhibits.
This project has far exceeded my own original goals for it. But, as our son Walt kept saying, "We've got to do more for him!"
We feel that this is so in his spirit ... a restoration of a historical building in an emerging national park, something to be shared and enjoyed, actually owned by the people who understood him and appreciated him, and shared his values. We must do it as well as he would have done it -- that is our goal, and our challenge.

EDITOR'S NOTE: HERE'S A LINK TO THE ONLINE MUSEUM:
http://disney.go.com/disneyatoz/familymuseum/index.html
Castle Suite Fit for a Princess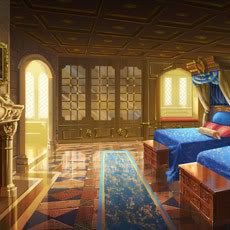 Cinderella Bedchamber
For everyone who has ever dreamed of becoming fairy-tale royalty
Editor's Note: And really...who HASN'T?!
and dwelling in an enchanted castle -- even if only for a night -- the Magic Kingdom Park at Walt Disney World Resort is about to become a bit more magical.
Those prince and princess dreams will come true -- for one lucky family every night throughout Year of a Million Dreams*.
An exquisite fairy-tale suite is being prepared inside Cinderella Castle at the heart of the Magic Kingdom Park. What will lucky winners of a night in the castle find inside?
The Insider
wanted to find out, so we went to the source, Imagineer Stephen Silvestri, who has been working night and day (quite literally!) to help create a suite that's truly the stuff dreams are made of. Stephen gave us a quick verbal tour through the suite, which has been designed as though the Guest were an honored visitor spending the night as a Guest of Cinderella.
Editor's Note: I am conflicted. Part of me is having a bit of a gag reflex, and part of me wants to live full time in this room. I am SO torn!
Everything captures the flavor of late 17th-Century French palace life -- this is the period when the original story of Cinderella was written by Charles Perrault, and also the period in which Disney's "Cinderella" was set.
"
You go through a concierge area off the breezeway, with tapestries and a French desk. Then you enter the elevator, which is very 21st Century! But we looked at Cinderella's carriage from the film, and we thought that this was the carriage for the Guest to enter the suite. We took some of the design themes from the carriage -- the crest from the carriage is on the floor in a mosaic, and some pillowing on the walls.
"That carries you up to the suite, which opens and then you find yourself in a lobby space. There once again we captured the time period of the late 1600s. We have all of these beautiful wooden walls with some nice mosaics or scenes from the film worked in. On the floor there's a full mosaic showing Cinderella's carriage. We went for the feeling of a chateau, more than a Gothic castle. We've got some wonderful display items there -- Cinderella's glass slipper.
"Then it's time to enter the suite! When you open the door, the first thing you see is the beautiful fireplace and some of the stained-glass windows, and the parlor in the distance.
"
We extended some of the castle stonework into the bedchamber, because we still wanted you to feel like you're in our castle. But not on all of the walls, because stone everywhere would be a very cold experience. So some of the walls are paneled with wood, with some mirroring. That helps extend the space and is very appropriate to the era."
Stephen explains that the goal was to remain true to the feel of the classic film, and to Cinderella Castle itself, while creating a luxurious contemporary suite that makes a 21st Century visitor feel utterly pampered. This took some creative thinking -- for instance, the suite contains two flatscreen TVs. To blend in with the décor, these have been made to look like mirrors when not in use, and one can also display a portrait of Cinderella herself. Other spectacular touches include stained-glass windows overlooking Liberty Square on one side and Fantasyland on the other.
Editor's Note: Drooling.....Wouldn't this be a GREAT view from your bedroom?!
Guests will also be stunned by the beautiful hand-assembled mosaics throughout the suite.
As one might imagine, putting together this beautiful retreat is a major undertaking -- teams of artisans, designers, and specialists are working around the clock in the Castle. And because the elevator needed to be removed and replaced with a much larger one, for much of the construction period, all the people and supplies have had to reach the suite the old-fashioned way: by climbing eight long flights of stairs.
"
We want to make sure the Guest experience is as seamless as possible -- that when they come to the Park they see what they came to see,"
Stephen assures us.
The suite is scheduled to be completed by the beginning of 2007 -- the whole project has come together in only around six months.
"
We put this together quite quickly. Fortunately we had a team that was so well-versed in Disney history and the Castle's history, and Cinderella
!" Stephen explains.
"It's something that has been proposed before but never came to pass, so we researched what already existed and had been done."
Stephen adds, "
We have an incredible team, and I believe Guests are going to have quite the experience."
We have no doubt that next year, some lucky Guests are going to have a Disney experience unlike any before -- one that is truly a dream come true.
*NO PURCHASE NECESSARY to enter or win the Disney Dreams Giveaway. A purchase will not increase your chances of winning. Open only to legal residents of 50 U.S., D.C., Puerto Rico, Canada, Mexico & UK. Void elsewhere and where prohibited.
Giveaway runs October 1, 2006 -- December 31, 2007 (mail in entries postmarked starting September 18, 2006 & received by January 14, 2008, on 3.5x5 postcard with complete name, address, daytime phone #, birth date and proper postage sent to PO Box 8629, Elmhurst, IL 60126 USA). UK residents only mail to 483 Green Lanes, London N13 4BS.
Castle Suite stay will be awarded most days starting January 25, 2007. It will likely be awarded early in the day for a stay that night and is only available to eligible participants at the Parks and Downtown Disney® area in Florida.
Mail-in winners of Castle Suite stay and DREAM FASTPASS badge will receive a prize of comparable value. Approximate retail value of prizes advertised: Castle Suite stay US $587. Prizes range in value from US $3.83 to US $83,701. All prize awards are subject to verification. Odds of winning on a given day depend on the number of eligible participants at a selected location or within the mail-in entry pool for the time or date (as applicable) selected. Subject to Official Rules (see disneyparks.com/rules). Sponsor: Magic Kingdom Productions, Inc., PO Box 10000, Lake Buena Vista, FL 32830.For residents of Canada, a mathematical skill-testing question must be correctly answered to win any prize.