Catching up with TV News
Editor's Note: Ok, some of this slightly old news, but this will be the case for a little while as the QOTD attempts to get caught up.
Bear with me?
CBS Green-Lights 3 New Pilots
DECEMBER 20, 2006 - Broadcasters are beginning to move their development scripts into the pilot stage.
CBS has green-lit three scripts to pilot: exorcist drama
Demons
; and period surburban soap
Swingtown
, set in the sexually loose 1970s. The network has also signed Janeane Garofalo to star in writer/producer Barry Schindel's untitled legal drama about public defenders.
Demons
, from
Joan of Arcadia
creator Barbara Hall, and film exec Joe Roth, is produced by CBS Paramount Network TV.
So is
Swingtown
, which was created by writer/producer Mike Kelley (
The O.C
.).
The Garofalo drama, also from CBS Paramount Net TV, is a re-working of Schindel's 2003 pilot for NBC, titled
Law Dogs
. Schindel will exec produce, with filmmakers Ridley and Tony Scott, and David Zucker, through the Scott brothers' company, Scott Free Prods.
ABC has 'Smith' pilot in crosshairs
Jan 2, 2007
ABC has given the green light to "
Mr. & Mrs. Smith
," a one-hour pilot based on the hit feature.
The film's writer, Simon Kinberg, penned the pilot script, about John and Jane Smith, a married couple who both work as assassins.The film's director, Doug Liman, is on board to helm the pilot and executive produce with Kinberg and Dave Bartis."Smith" hails from Regency TV -- a co-venture of Fox TV Studios and the film's producer, New Regency -- and Liman and Bartis' Dutch Oven.
The project originally was picked up by the network in January 2006 with a put pilot commitment.
Kinberg describes the series project as " 'Married ... With Children' with guns."
Editor's Note: Is this a

good

thing?
10 TV Shows that Broke Out
Book of Tens: Or Why We All Need 'Heroes'
By Claire Atkinson Published: December 18, 2006
The offbeat 'Heros' show became one, in terms of its unexpectedly high ratings.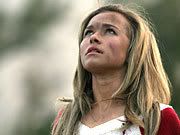 1) "Heroes"
NBC
This show that follows ordinary characters who find out they have superpowers proves no one knows where Nielsen lightning will strike. Japanese dialogue with English subtitles, in prime time? The most popular character, Hiro, is a time-skipping comic-book addict who, naturally, has his own blog.
2) "Ugly Betty
" ABC
American TV viewers don't like losers. This ugly duckling, however, turned into a swan for the Alphabet network. Too bad it competes against NBC's "The Office."
3) "Runaway"
The CW
This CW launch was positively received by TV critics, and stars Donnie Wahlberg as a man on the run trying to keep it together for his family.
4) "Rachael Ray"
Syndicated
How cool is that? Rachael Ray delivers for stations and launches a funky mag. Downside for her? Her marriage is dissected daily on gossip blogs.
5) "Deal or No Deal
" NBC
Compared to the U.K. edition, this highly produced game show is a showstopper, thanks to lunatic guests and Howie Mandel's addictive hosting.
6) "It's Always Sunny in Philadelphia
" FX
This summer series isn't exactly new on the scene either, but after a shaky start two years ago, this show staring Danny DeVito is just starting to pick up some heat.
7) "How I Met Your Mother"
CBS
This Monday-night show delivers consistent laughs. Who'd have thought Doogie Howser, aka the Barnacle, had it in him to be so funny? One word: legendary.
8) "Brothers & Sisters"
ABC
It's hard to fail in the post-"Desperate Housewives" time slot, but this show proved its worth, and diehard Calista, Sally and Rachel fans turned up in droves.
9) "Grey's Anatomy
" ABC
"You're cute, you're so cute," as Meredith might say. Can a Webster's Dictionary entry for "McDreamy" be far behind?
10) "The Colbert Report
" Comedy Central
From spinoff TV show to the White House Correspondents' Dinner, Stephen Colbert proved he's everyone's favorite court jester. And that's tonight's word.
December 18, 2006
Chernin Steps In to Plot MyNet Fix
News Corp. CEO, Top Execs Might Trim Soaps on Some Nights

By Chris Pursell and James Hibberd
News Corp. President and CEO Peter Chernin drove the discussions in recent weeks that have resulted in an about-face in the programming strategy behind the company's MyNetworkTV, multiple sources close to the situation said.
Faced with disappointing prime-time ratings that in some markets are lower than affiliated stations' daytime performances, MyNetworkTV executives are plotting changes that could cut the network's current all-telenovela programming from six nights a week down to as few as two, sources said.
Mr. Chernin was involved in the creation and launch of MyNetworkTV, but until about six weeks ago he was relatively hands-off.
Station executives who requested anonymity for this report said they welcome Mr. Chernin's involvement in attempts to right the ship.
The most popular option to have emerged from recent brainstorming among executives of the network has the 4-month-old MyNetwork adding a variety of content on non-telenovela nights that could include movies, unscripted series and sports, sources indicated.
Editor's Note: Or you could just run a test-pattern? (Do they still even HAVE those?) I mean, the test-pattern would be CHEAPER by far than producing shows, and it is SURE to get much better ratings than anything that's run on the UPN-detritous stations.
One series being considered for a prime-time slot is "My Games Fever," a live game show formatted from a hit British series that was originally slated for daytime via syndication. The show's appeal will be evaluated during a daytime test run on 10 Fox-owned stations that began earlier this month.
A scenario being considered comprises telenovelas on Tuesday and Thursday, a movie night on Wednesday, a sports event on Mondays or Saturdays and a talk show/variety hour paired with a game show on Fridays.
Any changes to the lineup are not likely to happen earlier than next summer, but the current planning marks a retreat from a format that News Corp.'s Fox fielded in September in response to the formation of The CW earlier in the year. Trying new programming signals that Fox isn't ready to give up on the network, and it may tamp down speculation that the company might pull the plug on MyNetworkTV in the next year if its ratings don't improve.
Executives of the network who have been involved in the recent rejiggering meetings include Mr. Chernin, Twentieth Television President and Chief Operating Officer Bob Cook, Fox Television Stations CEO Jack Abernethy and Fox Television Stations Chairman Roger Ailes. They have been discussing, both internally and with stations, "
more than a few options"
designed to kick-start the channel, several insiders said.
A Big Bet
Acquiring or producing alternative MyNetworkTV programming might cost more than telenovelas, which are produced on a shoestring budget. The bet would be that the new shows will draw a broader, bigger audience and generate higher advertising revenue, offsetting the programming investment.
Among the programming options MyNetwork is considering is an attempt to revisit a deal with the Ultimate Fighting Championship organization, insiders said. The martial arts league currently televises fights on pay-per-view and Viacom's Spike TV network and has a weekly syndicated series planned with Trifecta Entertainment for a fall 2007 rollout.
UFC was in discussions with MyNetwork executives before the network opted to go with prime-time soaps six nights a week, and Fox station executives have expressed interest in the league in light of its Trifecta deal, sources said.
Distributor Twentieth Television has sought talent for unscripted projects in recent months that include game show series, as well as a variety format, that could be contenders for MyNetwork rather than syndication.
The distributor is looking at potential game shows in "Catch Phrase" and "Connections" from Granada as well as "Temptations" from Fremantle for other dayparts, but could move the projects to prime time, sources said.
Any programming upheaval at MyNetwork is likely to start after cycle two of the network's prime-time soaps. "Wicked Wicked Games" and "Watch Over Me" end their runs next spring. That's when "Saints and Sinners," part of the network's planned third batch of telenovelas, has been scheduled to begin.
A decision to cut back on telenovela nights could have several ramifications for the TV industry. Until now, MyNetwork's content has been distributed by fellow News Corp. property Twentieth Television. Mixing up MyNetwork's programming could open time on the network's schedule to other production companies and studios looking to sell prime-time content.
Scaling back on the format will also take a step toward returning prime time to a field similar to the days before The WB and UPN merged.
More Competitive
Currently, MyNetwork has set itself apart with its unique telenovela programming, which it adapted to English from wildly popular Spanish-language soap operas. Adding a variety of unscripted fare would put the fifth- and sixth-ranked networks into a more competitive relationship.
MyNetworkTV was launched in 180 days as a counterstrike to the creation of The CW, but has struggled to find audiences for its prime-time telenovela format.
Since its launch Sept. 5, the shows have averaged a 0.7 household rating, according to Nielsen Media Research. That's less than a third of what stations pulled in the time periods last year with UPN and The WB.
"
MyNet was born out of last-minute desperation, and it's a miracle they got on the air as quickly as they did,"
said Tim Brooks, Lifetime's executive VP of research. "
MyNet is going to have to evolve to survive. The model of telenovelas has shown they're not such an easy translation. It's programming from the finance department rather than programming from creative vision."
MyNetwork executives have urged stations and the media to be patient with the format, saying they were focus-group testing the content and promised the second cycle of telenovelas would show a marked improvement.
Two weeks ago, the second cycle debuted to ratings that didn't improve markedly on the first go-around.
A spokeswoman for MyNetworkTV declined to comment for this report, noting only that "
We have lots of meetings."
Editor's Note: Never a good sign, meetings...
Syndicators had been waiting for a decision on MyNetwork's future. The mini-network currently holds valuable real estate around the country, including extremely rare prime-time slots in New York and Los Angeles that distributors were looking to target if MyNetwork went away. Executives have privately acknowledged that a number of series in development would move forward only if those time slots were made available.