R2D2 DELIVERS!
EDITOR'S NOTE: Yes, yes yes, I am a very bad QOTD. No postings. Nada. Nix. NIL. But I actually LIKE my job these days....and you are HAPPY for me, right?
I won't say I will "try" to do better, cause then Yoda will come and remind me to "TRY NOT." But I will....umm...ENDEAVOR to post more?
Whatever...
An item that just HAD to be posted!!!!
R2-D2 goes postalStar Wars robot in a new role
WASHINGTON — Thirty years ago, in theaters near and far, far away, a movie opened the imaginations of millions, combining the magics of mythology and special effects to launch the
Star Wars
phenomenon.
A star of those films — the robot R2-D2 — is about to take a turn collecting mail as the Postal Service and Lucasfilm Ltd. commemorate that movie launch. The post office is wrapping collection boxes in about 200 cities nationwide in a special covering to look like R2-D2.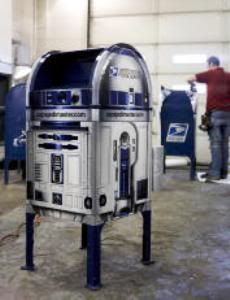 It's part of a promotion for a new stamp to be announced March 28, Anita T. Bizzotto, the post office's chief marketing officer, said.
Editor's note: WHAT new stamp???!!!! TELL us!!!!
"
It's a little teaser for the upcoming announcement, and we decided to have a little fun with it,"
she said.
About 400 mailboxes will be covered to look like the stout droid. "
When you look at a mailbox, the resemblance to R2-D2 is too good to pass up,
" Bizzotto said. But Bizzotto urged people not to tamper with the boxes, noting that's a crime.
Editor's Note: Right. THAT's gonna work, huh? Wonder how many of these puppies are gonna get lifted before the promotion ends? (I'm a GIRL SCOUT, and even I am tempted!!)
Oh....and check out the teaser trailer (yes, even the USPS has a trailer when SW is involved).
http://www.uspsjedimaster.com/teaser/index.html
Editor's Note: Be sure and look closely at Princess Leia's HAND....