Hump Day (April 5), all the REST of the Dweebing
EDITOR'S NOTE: HERE'S THE REST OF THE STUFF I'VE COLLECTED. STUFF THAT DOESN'T REALLY FIT IN ANY CATEGORY. (POOR

ISLAND OF MISFIT DWEEBING

...SNIFFLE....)
Online film sales become a reality
In a groundbreaking development, five of the six major movie studios have agreed to let consumers download movies to own for the first time.
EDITOR'S NOTE: OR, FOR THE SAME PRICE (GIVE OR TAKE) YOU CAN OWN A ALREADY-PRODUCED DVD WITH TONS OF EXTRAS. THEY HAVEN'T QUITE WORKED OUT WHAT WE WANT YET, HUH?
In separate deals set to be announced today, Movielink and CinemaNow are set to offer download-to-own sales of feature films concurrent with the home video release window, in addition to the download-to-rent option that the two digital distribution services already provide.
Sony Pictures Home Entertainment, MGM and Lionsgate titles will be available on CinemaNow. Movielink has agreements with those studios as well as with Paramount Home Entertainment, Universal Studios Home Entertainment, Warner Home Video and 20th Century Fox.
Prices will be roughly comparable to DVDs -- $20 to $30 for new releases, $10 to $16 for catalog titles.
"
This really is a transformative moment in the distribution of filmed entertainment content
,"
EDITOR'S NOTE: UMM...YEAH....NOT SO MUCH, REALLY. BUT THANKS.
Paramount Digital Entertainment president Thomas Lesinski said. "
Hollywood has finally made a real commitment to sell films online and embrace the digital consumer."

Starbucks steeped in film biz
Starbucks officially will launch its first foray into the movie business Tuesday with a unique experiential marketing campaign for Lionsgate's "Akeelah and the Bee" that the premium coffee retailer hopes not only will boost the film's boxoffice revenue but also transform the way studios market their movies.
In a groundbreaking deal with Lionsgate that gives Starbucks a percentage of the movie's profits for promoting "Akeelah" in its 8,300 locations in the U.S. and Canada, Starbucks will work to build buzz for the film by subtly integrating elements of its story line into the Starbucks experience.
An estimated 30 million customers will be challenged to expand their vocabulary and spelling prowess with such words featured in the film's spelling bees as pulchritude and prestidigitation.
More than 25 words will be printed on in-store signage, cup sleeves, coasters, flash cards, magnets, and on lanyards worn by Starbucks' staff of baristas
EDITOR'S NOTE: SOME OF THOSE BARISTAS CAN BARELY HANDLE BASIC COFFEE-ORDERING WORDS. BUT IT'S A FUN IDEA. (ALMOST

ANYTHING

SEEMS FUN TO ME ..... WITH ENOUGH CAFFEINE IN MY SYSTEM).
ADVERTISING CHIMPS GET FAT RAISES
Primate Actor Retirements Plus High Demand Push Costs Skyward


By
Jeremy Mullman
CHICAGO (AdAge.com) -- Screen Actors Guild members take note: A group of commercial actors secured an across-the-board, 25% to 30% pay increase last year without so much as a union meeting or strike threat.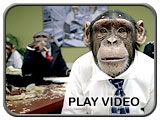 The cost for using chimps in CareerBuilder's ads has increased as much as 30% since the campaign first began in 2004.
EDITOR'S NOTE: BOY, THE PRICE OF BANANAS, HUH?
Primate shortage
Chimp compensation is on the rise, animal trainers and ad agency creatives said, because a recent surge of retirements has created a primate shortage. And that-paired with marketers' still potent urge to tap chimps and orangutans to hawk job listings, light beer and stock brokerages-is driving prices up.
The highest-profile campaign of that ilk -- CareerBuilder's office chimp spots that broke on the Super Bowl -- had a shoot delayed a month last year due to talent availability.
EDITOR'S NOTE: THE CHIMP DIVAS! (GIGGLE)
And Marshall Ross, executive creative director at CareerBuilder's agency, Cramer-Krasselt, Chicago, said the cost of using chimps has risen as much as 30% since the popular ads started running in 2004.
"It's a great time to be a working chimp
," he noted.
EDITOR'S NOTE: EXCEPT FOR THE PART WHERE THE HUMAN TRAINERS STEAL MOST OF THE PROCEEDS!
Animal rights protests
Animal-rights activists disagree. And there's some evidence that years of protests against their use contributed to the current shortage, both by dissuading some marketers from using chimps and encouraging trainers to retire them.
"
People are beginning to realize that they use fear and beatings to keep [the animals] on cue
," said a spokeswoman for
People for the Ethical Treatment of Animals
, which has conducted an online campaign at nomoremonkeybusiness.com and persuaded marketers such as Honda and Puma to pledge not to use chimps in commercials. "
It's become passe to use them."
But the biggest blow to the acting-ape supply came last year, when Hollywood's largest trainer, Bob Dunn, retired his 11 chimps and six orangutans to a Florida animal sanctuary. A spokesman for
Bob Dunn's Animal Services
said they were retired because "
there was an opportunity to keep them together as a family
." Patti Ragan-who runs the sanctuary housing Mr. Dunn's retired chimps-said he told her he'd grown wary of being targeted by protestors.
Cost of working chimps
And then there's the cost. Chimps, for instance, can only act until about age eight, at which point they become too large and erratic to be controlled on film sets.
EDITOR'S NOTE: THE TIME-FRAME IS A LITTLE LONGER, BUT I FIND MOST

PEOPLE

ACTORS ARE KINDA THE SAME WAY. (SNICKER....)
But they can live to age 60, at a cost of more than $10,000 a year at an animal sanctuary such as Ms. Ragan's.
"We're seeing fewer and fewer people willing to take on that commitment as the working chimps retire
," said Cramer-Krasselt's Mr. Ross. "
They're not being replaced at the same rate they're leaving."
Whatever the reason, the retirements created a minor windfall for those still working, at least in the short-term. A spokeswoman for
Steve Martin's Working Wildlife
, now Hollywood's largest ape handler, said the cost of using its chimps rose 25% last year, to $1,000 per day from $800. "
They're working more, too
," she said.
EDITOR'S NOTE: THE QOTD IS NOW RAISING HER HAND....HEY,

I

COULD PLAY A CHIMP! (MY LAST JOB WAS KINDA LIKE LIVING IN A ZOO. AND I'M

VERSATILE

...REALLY!)
But she doesn't expect the price increases to continue, considering advances in computer animation that make it possible to create realistic animal effects on screen.
"That's disappointing,"
said Ms. Ragan, an opponent of chimp ads. "
I'm hoping they become so expensive nobody wants to use them anymore".

EDITOR'S NOTE: SOMETIMES, IT'S REALLY BORING BEING A LIBERAL.



Next stop L.A. for Gaul's Jules Verne fest
(Event will have a sister edition in October)

PARIS -- Before giving the world cinematic trailblazers the Lumiere Bros. and Georges Melies, France provided visionary author Jules Verne.
EDITOR'S NOTE: NOT TO MENTION GOOD WINE, GREAT CHEESE, AND THAT WONDERFUL CHOCOLATE SHOP ON THE CHAMPS D'LYSEES. (WAIT....I NEED A MINUTE TO REMEMBER HOW HAPPY MY TONGUE WAS.....)
AND WE'RE BACK!
For 14 years, the
Jules Verne Adventure Film Festival
(March 22-27), headquartered at the largest surviving historic cinema in Europe, has built a following that ranges from devoted to rabid.
On opening night of the competitive six-day selection of docs and features devoted to ecology and exploration, Duke Collister, general manager of Los Angeles' Shrine Auditorium (built in 1926) took the stage of Paris' Grand Rex (built in 1932) to confirm the event will have a sister edition in L.A. in October.
"
We have spoken with the mayor of Los Angeles and founded an advisory committee
," Collister told the 2,700-person capacity crowd.
"Amateur night" might describe most French premieres and awards ceremonies, but the Jules Verne folks know from showmanship: An impressive replica of
Indiana Jones' Temple of Doom
welcomed producer-turned-director Frank Marshall, there to showl "Eight Below" complete with live huskies and pic's star, Paul Walker.
EDITOR'S NOTE: DOGGIES!
A giant monolith materialized to welcome thesp Keir Dullea and astronaut Buzz Aldrin, who exchanged their views, respectively, of working for Stanley Kubrick vs. moon-walking for all mankind, before a showing of Kubrick's "2001: A Space Odyssey."
Christopher Lee accepted the lifetime achievement honor in witty, slangy French,
EDITOR'S NOTE: OLD BRITS ARE JUST BETTER THAN THE REST OF US. THEY JUST

ARE

.
while Ernest Borgnine was there to accept the Jules Verne trophy.
The fest, whose founding members included Jacques-Yves Cousteau and Thor Heyerdahl and whose advisory board includes James Cameron and Jane Goodall, also nabbed a reigning monarch, Prince Albert II of Monaco.
In 1906, Prince Albert I (the current prince's great-great-grandfather) set out from Monaco to reach the northernmost reaches of the Arctic.
Next month, Albert II will try to reach the North Pole using non-motorized dog sleds, as the journey would have been made 100 years ago. "
We'll set out from base camp on April 12 or 13 and hope to reach the Pole on the 16 or 17,"
the soft-spoken prince told an appreciative crowd.
Jury member Rod Roddenberry, whose father, "Star Trek" creator Gene, died in 1991 when his son was only 17, showed a sampler from "Trek Nation," the doc he's been making about Trekkies around the globe.
Meanwhile, Marshall, in response to auds wanting to know if there would be an "Indiana Jones 4," said: "
Yes, of course. We're definitely working on the script right now. I think we'll start shooting next year."
If that prediction is as prophetic as some of Verne's flights of fancy, maybe the L.A. edition of the fest will have its opener.
EDITOR'S NOTE: BUT OH YOU TEASE...
After hours with the '9 to 5' gang

By William Keck, USA TODAY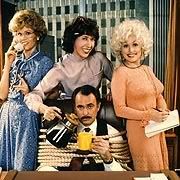 Years after being fired for refusing to sleep with her boss, Jane Fonda — empathizing with harassed women everywhere — developed a popular 1980 film called
9 to 5,
about sexism in the workplace.
The comedy arrives on DVD Tuesday (Fox, $20) in what is being marketed as the "
Sexist, Egotistical, Lying, Hypocritical Bigot Edition
," with commentary from stars Fonda, Lily Tomlin and Dolly Parton.
EDITOR'S NOTE: NOT SURE IF I NEED TO OWN THIS, BUT I BET WATCHING THIS WITH THE COMMENTARY WOULD BE GREAT FUN, HUH?!
Calling from her Atlanta home before catching a plane to L.A., thrice-married Fonda, 68, chuckles when asked whether she has experienced sexism since making the film. "
You've got to be kidding,"
she says, aghast. Sexism, she says, is something she has experienced in "
my marriages. Maybe that's why I'm not married anymore."
Even so, Fonda is careful to differentiate her last ex, corporate mogul Ted Turner, from
9 to
5's
similarly tough, mustached boss, Franklin Hart (Dabney Coleman).
"
Mr. Hart was a terrible character
," says Fonda, while her relationship with Turner was "
much more subtle. Sexism can be almost invisible."
"
Jane was married to very strong, aggressive men
," reminds Tomlin, 66, calling in from the L.A. set of
The West Wing
series finale.
"(In the '70s and '80s), there was all that machismo."
At 60, Parton says she still welcomes the occasional whistle from construction workers on the street. "
I take all that as a compliment
," Parton says from her Beverly Hills home, where she's whipping up macaroni and cheese. "
And if someone gets vulgar, I can put them in their place, but still do it in a fun way."
EDITOR'S NOTE: GOD BLESS SOUTHERN LADIES.
Mishearing a question about unwanted sexist encounters, Parton says, "
I've only had sexual encounters that I've wanted. But not as many as I'd like,"
then laughs when the question is clarified.
After all, Parton went right from
9 to 5
to shooting
The Best Little Whorehouse in Texas
,
"and I made a better whore than I did a secretary."
Parton, who says she grew up in a family of sexist men, often jokes about her rarely seen real-life husband, Carl Dean, but she turns uncharacteristically sentimental when asked if he is a sexist. "
In all seriousness, I have a very fine husband — a true gentleman who respects women,"
says Parton.
"I've met Carl, and I couldn't agree more
," Fonda echoes.
EDITOR'S NOTE: LIKE FONDA IS SUCH A GREAT JUDGE OF MEN?
Dean, Parton says, has encouraged her work on a Broadway musical version of
9 to 5
, for which she has already written several songs for an anticipated fall 2007 opening. "
It's still set in the '80s, and we gave Violet a boyfriend
," Parton says. Her favorite new song:
The One I Love
, in which the three women wax eloquent about their loved ones.
Parton and Dean will celebrate their 40th wedding anniversary May 30 with an annual ritual: They take a trip to Ringgold, Ga., where they got married. "
We drive our RV through a drive-through and load up on food,"
Parton says. "
Then we visit a park and get our picture taken on the steps outside the little Baptist church where we said our 'I do's.' "
Tomlin and producer Jane Wagner have been a couple for 35 years, but with no plans to marry.
"I don't know that we ever will
," she says.
"(Coordinating) our wardrobe is complicated enough."

Jokes aside, Tomlin believes it is probably easier for a woman to be in a relationship with another woman. "
Especially a woman of consciousness
," she says. "
And if you are married to a man with any consciousness, I think that would probably be all right, too."

EDITOR'S NOTE: ASSUMING SUCH A MAN EXISTS?
As for Fonda, she remains single and says, "
I'm enjoying the way I am, but if I met someone I liked, I would love to date."
And she, too, would welcome a whistle on the street. "
I should be so lucky. At a certain age, you become invisible, so a whistle would be great. And I'd whistle right back."
"Yeah,"
Tomlin adds. "
If I looked as good as Jane, I would, too!"
What a way to make a living
What happened to the
9 to 5
secretaries after they sent sexist Mr. Hart packing for Brazil?
We may never find out. While Jane Fonda was working on a sequel to be called
24/7,
20th Century Fox, the studio that owns the original's rights, had already struck a deal with Jada Pinkett Smith to remake
9 to 5
under the title
24/7.
But for fans who want to catch up with the characters, Fonda, Tomlin and Parton tell USA TODAY what they think happened to Judy, Violet and Doralee.
Judy Bernley (Jane Fonda)
Movie postscript
: Married a Xerox representative.
Fonda's update:
"
The Xerox guy didn't last. Judy has fallen in love with someone else and is living with somebody. She never wants to marry again. She has starch in her spine now because of her experience at the corporation."
Violet Newstead (Lily Tomlin)

Movie postscript
: Promoted to Consolidated Companies vice president.
Fonda's update
: "
With her kids all grown, Violet went out on her own and created her own business. Maybe she became an event planner. And she became a council person."
Doralee Rhodes (Dolly Parton)
Movie postscript
: Became a country singer.
Fonda's update
:
"I think Doralee self-educated herself and is very much into computers. And she probably baby sits her grandkids."
French writer calls 'Syriana' plagiarized
PARIS -- Jordan-based French writer and lawyer Stephanie Vergniault has filed suit against Warner Bros. Pictures and Section Eight, George Clooney and Steven Soderbergh's production company, alleging that their film "Syriana" plagiarized entire scenes and characters from a script she wrote in 2002.
Stephen Gaghan, writer-director of the political thriller, also has been named in the case, which comes up for hearing Monday at the Paris High Court, Vergniault's attorney Jasna Hadley Stark said Tuesday.
The filmmakers are being sued for €2 million ($2.4 million) and damages, Stark said.
Executives at Warner Bros. France said they were aware of the case but declined comment.
A spokesman for Warners in the U.S. said, "
While we have not seen a copy of this suit, we believe it is without merit and (we) will defend our position in court." EDITOR'S NOTE: IF THE CLAIMS ARE TRUE, IT MIGHT EXPLAIN WHY THE MOVIE WAS A TAD CONVOLUTED; IT'S THE

FRENCH

INFLUENCE, PEUT ETRE? ON THE OTHER HAND, COULDN'T THEY STEAL FROM SOMEONE WHO WROTE SOMETHING MORE LINEAR AND DECIPHERABLE?

Mister, will you help us fix this show ... for $5?

MICHAEL POSNER

From Tuesday's Globe and Mail

Some theatregoers who attended this weekend's production of
The Lord of the Rings
at Toronto's Princess of Wales Theatre may have been surprised by an offer -- extended as they exited -- of $5 or a
Rings
souvenir if they filled out an on-line marketing survey about the show.
It was the third in a series of questionnaires compiled by
Camelford Graham Research Group
, the same firm that has conducted similar exit surveys for productions at the Stratford Festival.
According to
LOTR
producer Kevin Wallace, the surveys are principally intended to determine the show's demographic -- who's coming, and where they're coming from -- in order to target media and public relations campaigns more precisely. But it also asks respondents to cite elements they liked and didn't like about the production.
The tactic has never been tried before by Mirvish Productions, one of
Rings
' associate producers, but is widely used in London's West End and on Broadway to test audience reaction to new shows.
The results of the third survey have not yet been tabulated, but Wallace says the two earlier surveys, conducted during
LOTR's
seven-week preview period, showed that the audience consists of a higher percentage of people who don't usually go to the theatre and that they tend to enjoy the show more than traditional theatregoers. An average of 84 per cent, he says, have said they would recommend the show to friends.
EDITOR'S NOTE: SO DWEEBS...WHO WE WOULD HAVE

HOPED

WERE MORE DISCERNING THAN THIS...LIKE IT. BUT PEOPLE WHO KNOW BETTER...THEATER FOLK...DON'T.
Their criticisms have been consistent: The three hour and 30-minute production was considered too long, there was concern about the storyline's lack of clarity, and there was some feeling that the part of the wizard Gandalf, played by veteran Brent Carver, was not sufficiently dynamic.
On the other hand, they have been full of praise for Michael Therriault's Gollum, and for the show's sets, lighting, and multilevel mobile stage. Wallace says that as a result of the surveys, the team will tinker with act three, to deliver "
more of an emotional impact
."
He said that depending on what the results of the latest survey indicate, he's prepared to make further changes as well. "
However, we don't want to react merely to hearsay. We really want to know what the audience is thinking. And if they are telling us they are confused, we will listen."
EDITOR'S NOTE: I WONDER IF THEY HAVE SUR-TITLES FOR THE SONGS IN ELVISH.
DEAR YAHOO (FROM DWEEBPAL ODDBOB):
What's the most successful movie ever, adjusted for inflation?
Right now, the average cost of a movie ticket in the United States is around $6.40 (according to Box Office Mojo).
Sadly, it will never be this low again. Inflation, like time, waits for no one.
Most film buffs know that if we were to "pull a government" and ignore inflation, "Titanic" would be king of the worldwide box office. "Lord of the Rings: Return of the King" is number two, followed by "Harry Potter and the Sorcerer's Stone."
Of course, all those movies are relatively recent.
If you adjust box-office grosses to reflect the rising cost of movie tickets, who's the champ? We'll give you a hint: It ain't "Pluto Nash."
EDITOR'S NOTE: PHEW!
After adjusting for inflation,
The Movie Times
ranks "Gone With the Wind" the top-grossing film in the United States. The original "Star Wars" (now known as "A New Hope") is second,
EDITOR'S NOTE: WE'RE NUMBER 2, WE'RE NUMBER 2!!!!
and, brace yourself for a shock, "The Sound of Music" takes the bronze.
Keep in mind these rankings are for the United States only. Worldwide, "Gone with the Wind" still rules the plantation, but "Snow White and the Seven Dwarfs" is in second place, while "Titanic" surfaces at number three.
EDITOR'S NOTE: SOMEWHERE IN EUROPE, THAT DARNED SHIP IS STILLLLLLLL SINKING.
Estimates vary on the exact windfall from "Gone With the Wind," but the way we see it, after a flick passes the billion-dollar mark, who gives a damn about Scarlett, Rhett, or exact figures?
Kermit the Frog Photo Puppet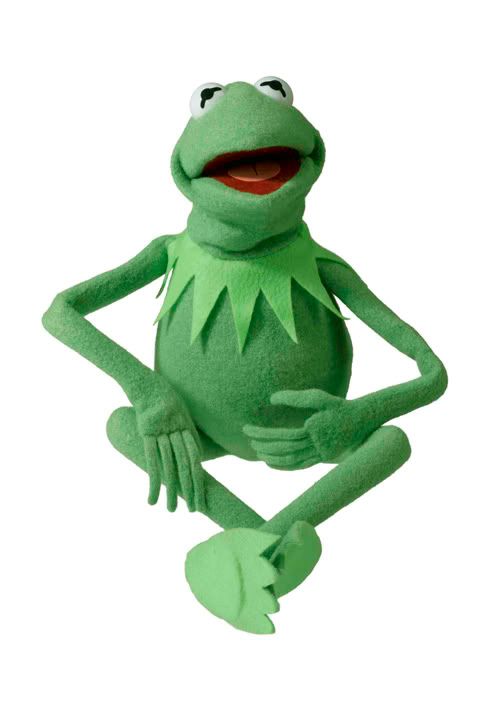 Master Replicas will soon be releasing the official replica of the Kermit the Frog puppet used for still photo shoots. It was made from the original Kermit pattern and stitched to replicate Hansen Stitch Sewing. The puppet was created from the same fleece, micro fiber and froggy green felt used on the original Kermit.
It is fully posable, with mouth expression and full articulation in neck, shoulders, elbows, wrists, hips, knees, ankles and fingers. The the figure also comes with a custom display stand and numbered plaque.
Used for still photo shoots, puppets like Kermit were built without hand openings and with wire armatures that allowed posability, so as to capture that unique Muppet attitude. The item measures 8" x 7" x 24.5".
It will ship in June 2006 with a price tag of $169.
EDITOR'S NOTE: NOT THAT YOU CAN PUT ON PRICE ON TRUE FROGGY LOVE, BUT THAT IS ONE EXPENSIVE LITTLE PIECE OF FELT, HUH?