A Smattering of this and that (Plus some cool ART)
EDITOR'S NOTE: THE DEARTH OF NEWS DURING THIS HOLIDAY SLOWDOWN, PROMPTS A DWEEBING MISHMASH ENTRY. (THAT, AND MY OWN LAZINESS, NATCH).
TOY STORY and ROCKY HORROR are on the NFR's List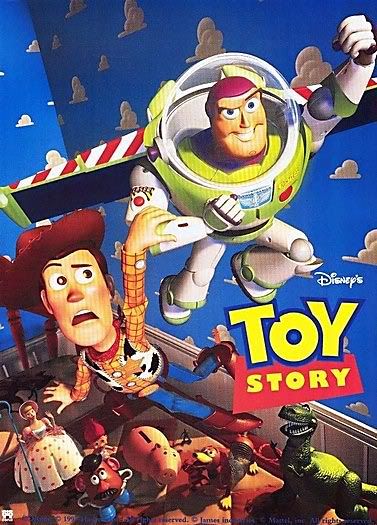 Librarian of Congress James H. Billington has announced his annual selection of 25 motion pictures to be added to the
National Film Registry
.
This group of titles brings the total number of films placed on the Registry to 425.
Under the terms of the
National Film Preservation Act
, each year the Librarian of Congress names 25 "
culturally, historically or aesthetically
" significant motion pictures to the Registry. The list is designed to reflect the full breadth and diversity of America's film heritage, thus increasing public awareness of the richness of American cinema and the need for its preservation.
In making the announcement, the Librarian said, "
The moving picture is not so much the art form as the language of our century. Motion pictures are a national treasure and we must treat them as such. Our film heritage is America's living past and a key part of our cultural heritage we must save. By preserving American films, we safeguard a significant element of American creativity and our cultural history for the enjoyment and education of future generations."
Congress established the
National Film Registry
in 1989 and most recently reauthorized the program in April 2005 when it passed the "
Family Entertainment and Copyright Act of 2005" (Public Law 109-9).
The Librarian noted: "
This legislation signifies great congressional interest in ensuring that motion pictures survive as an art form and a record of our times."
Among other provisions, this important legislation reauthorized the National Film Preservation Board, increased funding authorizations for the private sector National Film Preservation Foundation, and amended Section 108(h) of U.S. Copyright Law, so that for works in their final 20 years of copyright, libraries and archives now may make these works accessible for research and education if the works are not already commercially available.
This year's selections span the years 1906 - 1995, and encompass films ranging from Hollywood classics to lesser-known, but still vital, works.
The Librarian chose this year's selections after evaluating nearly 1,000 titles nominated by the public and conducting intensive discussions with the Library's Motion Picture division staff and the distinguished members and alternates of his advisory group, the National Film Preservation Board. The board also advises the Librarian on national film preservation policy.
"
The films we choose are not necessarily the 'best' American films ever made or the most famous, but they are films that continue to have cultural, historical or aesthetic significance -- and in many cases represent countless other films also deserving of recognition
," Billington observed.
"The selection of a film, I stress, is not an endorsement of its ideology or content, but rather a recognition of the film's importance to American film and cultural history and to history in general. The Registry stands among the finest summations of American cinema's wondrous first 100+ years."
For each title named to the registry, the Library of Congress works to ensure that the film is preserved for all time, either through the Library's massive motion picture preservation program or through collaborative ventures with other archives, motion picture studios and independent filmmakers.
The Library of Congress contains the largest collections of film and television in the world, from the earliest surviving copyrighted motion picture to the latest feature releases. For more information, consult the National Film Preservation Board Web site at
www.loc.gov/film
.
THIS YEAR'S 25 FILMS:
1) Baby Face (1933)
2) The Buffalo Creek Flood: An Act of Man (1975)
3) The Cameraman (1928)
4) Commandment Keeper Church, Beaufort South Carolina, May 1940 (1940)
5) Cool Hand Luke (1967)
6) Fast Times at Ridgemont High (1982)
7) The French Connection (1971)
8) Giant (1956)
9) H2O (1929)
10) Hands Up (1926)
11) Hoop Dreams (1994)
12) House of Usher (1960)
13) Imitation of Life (1934)
14) Jeffries-Johnson World's Championship Boxing Contest (1910)
15) Making of an American (1920)
16) Miracle on 34th Street (1947)
17) Mom and Dad (1944)
18) The Music Man (1962)
EDITOR'S NOTE: YAY!
19) Power of the Press (1928)
20) A Raisin in the Sun (1961)
21) The Rocky Horror Picture Show (1975)
EDITOR'S NOTE: GIGGLE.
22) San Francisco Earthquake and Fire, April 18, 1906 (1906)
EDITOR'S NOTE: WOW. AMAZING!
23) The Sting (1973)
EDITOR'S NOTE: DOUBLE YAY!
24) A Time for Burning (1966)
25) Toy Story (1995)
Lions' den for NBC's 'Daniel'
A conservative watchdog group is taking issue with NBC about its upcoming midseason series "The Book of Daniel" for its risque depiction of a fictional Christian community.
EDITOR'S NOTE: CONTROVERSY, SHUCKS. (OR AS NBC REFERS TO IT...

FREE PUBLICITY

)
The American Family Assn., a longtime critic of irreverent broadcast television shows dating back to 1970s fare like "Charlie's Angels," began urging people on its Web site last week to send e-mails complaining about "Daniel" to NBC Universal chairman Bob Wright.
The Rev. Donald Wildmon, chairman of the AFA, assailed NBC for the protagonist in the series, which he describes as a "
drug-addicted Episcopal priest whose wife depends heavily on her midday martinis."
Wildmon also criticizes portrayals of homosexual characters on the series as well as its "
very unconventional
" inclusion of Jesus himself, who is depicted in "Daniel" in conversations imagined by the priest
Grosses, attendance, tickets climb on Broadway in '05
NEW YORK -- Things were looking up, including boxoffice grosses, attendance and, yes, ticket prices, on Broadway in 2005.
Spurred on by strong-performing musicals and plays, Broadway grossed a record $825 million in 2005, a jump from $749 million in 2004, according to figures released Tuesday by the League of American Theatres and Producers.
Attendance also rose, climbing to 11.98 million for 39 shows, up from 11.33 million the previous calendar year when 34 productions opened.
EDITOR'S NOTE: AND NOW THAT COOL ART, I WAS TALKING ABOUT. THESE ARE A HANDFUL OF SLIDES FROM MoMA's new exhibition

Pixar: 20 Years of Animation
(Dec. 14, 2005 to Feb. 6, 2006).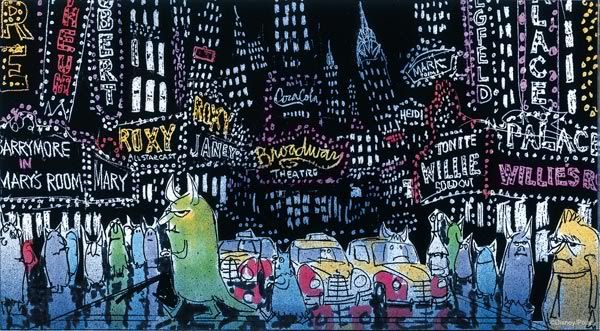 Harley Jessup, Downtown Monstropolis, Monsters, Inc. © Disney/Pixar. Image courtesy Museum of Modern Art, New York.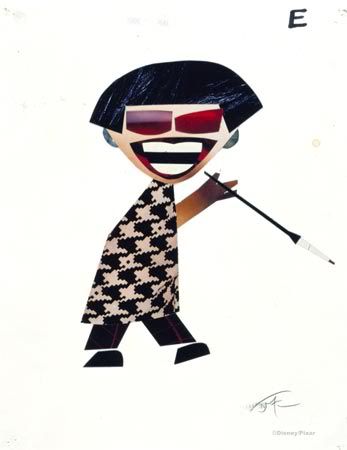 Teddy Newton, Edna Mode (aka "E"), The Incredibles © Pixar. Image courtesy Museum of Modern Art, New York.

Teddy Newton, The Jumper, The Incredibles © Disney/Pixar. Image courtesy Museum of Modern Art, New York.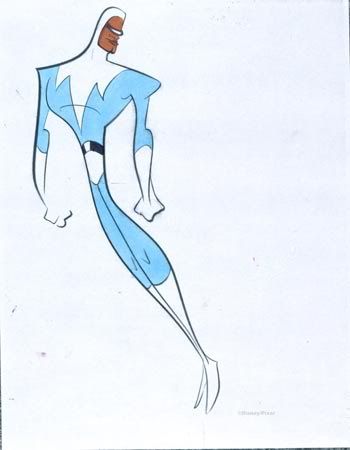 Teddy Newton, Frozone, The Incredibles © Disney/Pixar. Image courtesy Museum of Modern Art, New York.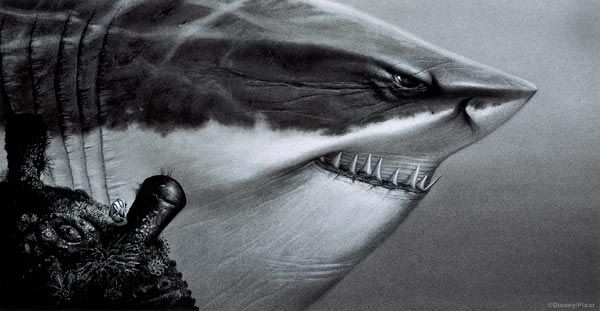 Simón Vladimir Varela, Sharks, Finding Nemo © Disney/Pixar. Image courtesy Museum of Modern Art, New York.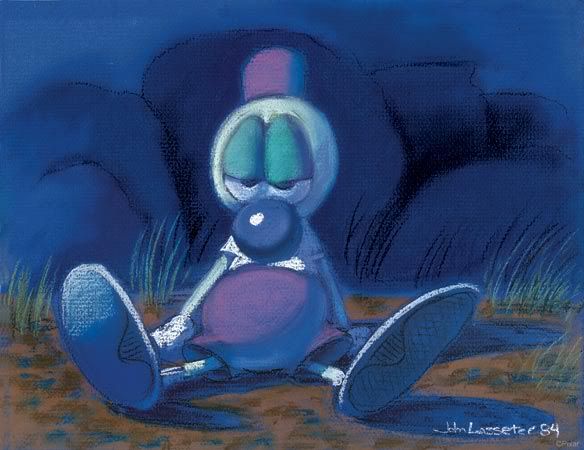 John Lasseter, André, The Adventures of André and Wally B. © Pixar. Image courtesy the Museum of Modern Art, New York