One more MISHMASH before we call it a year
EDITOR'S NOTE: ONE MORE WEE CORNUCOPIA BEFORE WE WIND UP 2005.

Serenity and Firefly hold the Amazon Chart
Serenity
and
Firefly
are holding the Amazon Top Sellers DVD Chart with
Serenity
at #2 and
Firefly
at #3. Given the competition around Christmas and the New Year, it would appear to be a fantastic performance.
Firefly
has rarely dropped from the Top 10 in the last few months, and WalMart even was forced to suspend sales of
Firefly
as they ran out of the product.
It would appear that the companies (and I do believe different companies have marketed and published
Serenity
and
Firefly
) are making a bit of a killing.
Certainly, in the year's round up,
Serenity
seems to be making a bit of a scene in the film industry, with articles coming in from
DVDTalk
, The Associated Press and even the prestigious
New Republic
magazine.
EDITOR'S NOTE: SO DOES THIS TRANSLATE TO SEQUELS??? PLEASE PLEASE PLEASE???
30,000 scripts available via new database
The Academy of Motion Picture Arts and Sciences' Margaret Herrick Library on Thursday unveiled a searchable online database that lists more than 30,000 motion picture scripts available for research at six Southern California collections.
The Motion Picture Scripts Database
, which will be updated monthly, catalogs works from 1910-2005, with entries searchable by title, releasing company, year of release, genre, writer and institution. The online catalog will serve as a one-stop locating tool for people interested in researching and reading screenplays.
"
What everybody wants is to have all the scripts scanned in and digitally available online, but copyright (laws) basically preclude us from doing that,
" said Gregory Walsh, the list's editor.
CBS Stays Cool, Courts Viewers For "Alex"
CBS FIRST LEARNED OF "COOLERTISING," advertising on store water coolers, when a CBS executive saw a campaign for Dove soap's "Cool Moisture" in action.
The exec pitched the outdoor ad medium to the network as a way to promote "Out of Practice," a show starring Henry Winkler that launched in September.
Satisfied with the results from the first campaign, the network is once again turning to "coolertising" to promote another show--this time its midseason replacement "Courting Alex," a comedy starring Jenna Elfman.
The company behind "coolertising" is AquaCell Media, a subsidiary of AquaCell Technologies.
Ads are placed on permanently attached bottles of water coolers installed in pharmacy waiting areas of drugstores.
Hoping to drum up water cooler buzz a second time, the ads will appear in hundreds of Rite Aid and Duane Reade stores in the New York and Los Angeles areas.
As with many alternative forms of outdoor advertising, it's not easy to calculate the number of eyeballs that will be exposed to the ads. While AquaCell estimates that thousands will see the ad--varying from store to store--only 50 to 100 cups are used a day per water cooler, a number that AquaCell tracks.
CBS signed a three-month contract with Aquacell for the first quarter of 2006.
"Courting Alex" premieres on January 23 and also stars Dabney Coleman, Hugh Bonneville, and Josh Stamberg.
EDITOR'S NOTE: STAND STILL LONG ENOUGH, AND SOMEONE IS GOING TO SELL AD SPACE ON YOUR DERRIERE. (WHY IS IT ONLY THE WEIRD/DUMB STUFF FROM ALL THAT SCIFI I READ IS WHAT COMES TRUE?)
AND SPEAKING OF WEIRD/DUMB STUFF......
Shatner Launches DVD Club

William Shatner's new DVD club casts him in the one role he's not had during his storied 50-year acting career: film critic.
The recently launched
Official William Shatner DVD Club
(www.ShatnerDvdClub.com), a DVD-of-the-month club, showcases the best sci-fi movies that didn't come to a theater near you.
Shatner explains, "
Determining what movies get broad distribution and studio marketing support is a complicated process, and unfortunately the caliber of the film isn't the only consideration. I've chosen a select group of memorable and entertaining sci-fi movies that never got the exposure they deserved, and made them available to fans everywhere at a great price."
While many of the films distributed by the William Shatner DVD Club have names that the casual fan may not recognize, those few fans who have seen these movies agree that they are underground hits.
For example, in IMDB (the popular movie feedback website owned by Amazon.com), the following three recent movies received the same rating:
Vanilla Sky, Terminator 3: Rise of the Machines,
and
Ginger Snaps.Terminator 3
grossed $418mm at the box office.
Vanilla Sky
topped over $200mm during an impressive theater run. And
Ginger Snaps
?
Ginger Snaps
(a North American production) grossed 146,125 Spanish Pesatas in a brief European engagement before becoming an afterthought in a crowded sci-fi market. And most American movie fans missed out on one of the best sci-fi films of the last five years.
Ginger Snaps
was the first movie William Shatner included in the club, but it is not the only great movie with an unfamiliar name available to members.
Close Your Eyes
, a sci-fi thriller, won three awards at the Paris Film Festival in 2004, and took home top honors from the Swedish Fantastic Film Festival in 2002.
Richard Roeper (of Ebert & Roeper) raves about
Close Your Eyes
, "
One of the best thrillers I've seen probably since The Ring."
EDITOR'S NOTE: I THINK I'D BE MORE IMPRESSED IF IT WAS

EBERT

TOUTIN A FLIC, HMMM?Immortal
(Ad Vitam), a film which was never released in U.S. movie theaters, has been called "
jaw dropping, highly detailed, and smoothly executed
" (Movie-vault.com) and "
strangely and almost hypnotically engaging"
(Moviepie.com).
More information about the movies included in the club is available on the official website (
www.ShatnerDvdClub.com
).
Right now, the William Shatner DVD Club is offering anyone with an e-mail address a free
Ginger Snaps
DVD.
EDITOR'S NOTE: OH. HMM. FREE IS GOOD?
AND SPEAKING OF SHATNER AND HIS FUZZY FRIENDS......
Brits Miss TREK Most

In a poll conducted by Home Media Networks, British audiences voted STAR TREK the show they would most like to see return to UK television.
BUFFY THE VAMPIRE SLAYER came in second place, with FRIENDS landing in third.
BLAKE'S 7 came in fifth, THE X-FILES took the number six spot and STARGATE landed at number eight on the list. THE A-TEAM rounded out the top ten.
EDITOR'S NOTE: WHAT WERE THEY SMOKING? "THE A-TEAM"?
'Star Wars' fans feel at home in principal's office
Administrator connects with pupils through vast memorabilia collection


By EDWARD L. KENNEY
The News Journal
12/25/2005
Springer Middle School students might actually like going to the principal's office these days. No matter how badly they've behaved, the Force is still with them.
Step through the door of Principal Michael Gliniak's office and behold a veritable one-man "Star Wars" convention that swirls around his desk like warp-speed tracers from the Millennium Falcon.
Colorful posters from the original "Star Wars" movies cling to the walls. Replica helmets, figurines, models, a light saber, books and other movie memorabilia line bookcase shelves. A motorcycle vanity license plate propped on the office window sill at the Brandywine Hundred school reads: "DRKSD."
The holidays are every day in this office with its Hollywood décor.
"
It's a huge collection; he's got tons of stuff,"
said Stephen Veith, 12, a seventh-grader at the school. "
It's pretty different compared to the other principals' offices. It makes him seem younger, and a lot less old and boring."
EDITOR'S NOTE: DWEEBY, YES. OLD AND BORING, NO.
Gliniak, 39, of New Castle, has been collecting the space stuff since 1977, when the first "Star Wars" movie soared into theaters and shot to the top of box office charts.
He makes a connection with students such as Stephen through the "Star Wars" toys.
"
It puts the kids at ease,
" said Bridget Smith, the school's guidance counselor, whose office is two doors down.
"They're more comfortable while they're in there. It's a friendly room."
But Gliniak said he also relates to the message of the "Star Wars" saga -- using the Force and turning from the Dark Side -- because he has used it to motivate him in life.
Growing up, mainly in Bear and Newark, his single mom did her best to provide for the family. But it wasn't always easy, and those early "Star Wars" movies were like climbing into an escape pod and aiming for a galaxy far, far away.
"
We grew up in cockroach-infested apartments, and you could smell pot in the hallways most of the time, and these movies helped take you out of this world
," he said.
"Statistically, I should be a drug addict or an alcoholic, and not make something of myself. But I had this drive to want to do something better and stay on the right course, the right path. People would say it's corny, but I really think those movies had something to do with that."
His collection of "Star Wars" memorabilia grew slowly at first.
"
It actually didn't take off until I became an administrator
," he said. "
Once you make more money, then you can obviously afford the toys."
Five life-size helmets representing the gear of Imperial Storm Troopers, TIE fighter pilots and Darth Vader, the personification of the Dark Side, might have sold for as much as $70 apiece when he bought them in the 1980s, but now probably would go for more than $300, he said.
However, don't bother trying to buy any of it.
"
It's never been an investment for me,"
Gliniak said. "I
have no interest getting money from some of this stuff. It's strictly for the love of the movies."
He has seen all three of the original films dozens of times. He saw the first film 30 times while it was still in theaters, giving it another 50 viewings at home when the video came out.
"
The original three movies, if we watch them, I can say the lines before they actually say them. It drives my wife and kids crazy
," said Gliniak, who has a 10-year-old son and 15-year-old twin daughters.
EDITOR'S NOTE: BUT THEN, DRIVING YOUR WIFE AND KIDS CRAZY IS PART OF YOUR JOB AS A HUSBAND, RIGHT?
"
Those movies have everything
," he said. "
They've got fantasy, they've got magic. In some ways, it's a moral guide of what to do today, and the Jedi Knights doing what they're supposed to do."
When Gliniak first brought his collection to work as an assistant principal at Mount Pleasant High School in the late 1990s, he discovered parents also get a kick out of it.
"
It really was a good ice breaker,"
he said. "
Even parents today look at this and say, 'This is really cool.' They can relate to it. It really makes you look more like a human being, when the [principal] image is more staunch and unapproachable."
Once, for a costume contest at Mount Pleasant, he came in wearing a homemade Darth Vader costume, looking every bit the authority figure that students might not want to cross, his voice muffled and sounding Evil Empire-like from behind the sinister mask.
"It was fun to see the reaction of the kids
," he said. "
I think I came in second that year. I don't remember what was first."

EDITOR'S NOTE: AND TERRORIZING SCHOOL KIDS...ALL IN A DAY'S WORK.



'Red Doors' open for Lee, CBS
CBS is looking to put a fresh spin on the primetime soap opera genre with "Red Doors," from Paramount Network Television and executive producer Steve Tao.
The project, which has received a script commitment from the network, is a soap about a suburban Chinese-American family with three daughters. "Red Doors" is based on the award-winning indie film, the feature debut of writer-director Georgia Lee. Lee is on board to pen the pilot script. She also will serve as a producer alongside the film's producers Mia Riverton, who also co-stars in the movie, and Jane Chen
EDITOR'S NOTE: HISPANIC SOAPS. GAY SOAPS. WHEN IS IT

PUDGY, MIDDLE-AGED WOMEN'S

TURN????!!! (SORRY...THE BITTERNESS JUST OVER

CAME

ME THERE FOR A SEC).
Melancon Joins X3
20th Century Fox and Marvel Entertainment have announced that Mei Melancon (aka Meiling Melancon) has joined the cast of X-MEN 3.
Melancon will play the character Psylocke, who has had several incarnations in the Marvel comic book series and is best known for her fighting and telepathic skills as well as an ability to transport herself and others through shadows.
In the movie, Psylocke will fight against the X-Men as a member of Magneto's Brotherhood of Mutants.
Watts, Naomi Watts
This is going to be interesting.
Naomi Watts, who was recently asked to play 007-esque agent 'Daisy Scarlett' in the upcoming British blockbuster, is now also being courted by the original Bond camp.
EON are reportedly interested in having Watts star in their upcoming "Casino Royale" opposite Daniel Craig.
The "King Kong" spunk has already received a call from the producers asking if she'd consider starring in the new film.
So what to do? Will she play both the Bond-ish Scarlett and the Bond villain, Vesper Lynd? Or will she give the birdie to both offers?
Insiders are predicting she'll definitely pass on "Royale", at least, fearing that dreaded 'Curse of the Bond Girl'.
Tom Hanks eyed for Star Trek 11?
How do you add a couple more innings onto the life of "Star Trek"? Easy, enrol an Oscar winner and box-office drawcard to Starfleet Academy.
According to scifiheaven.net, Academy Award Winner Tom Hanks is being eyed for a role in the next "Star Trek" film.
Writer Erik Jendresen's script has yet to be given the thumbs up by the studio, but if it should – Gump's been earmarked for an appearance. Hanks and Jendresen are old friends – working on TV's "Band of Brothers" a couple of years back.
"
The move would be a dramatic one for "Star Trek XI - The Beginning" and feature perhaps the biggest name to move into the franchise since Patrick Stewart took on the role of Captain Jean-Luc Picard",
says the site.
EDITOR'S NOTE: IT'S DECEMBER, SO I GUESS THIS ISN'T AN APRIL FOOL'S THING?
Not a hard Cell at all
When the long-awaited "Splinter Cell" does make it to screens – don't expect it to share a lot of similarities to the game.
Talking to
The Fairer Sects
, Raymond Benson, author of the "Splinter Cell" novels, says as far as he's aware, the upcoming film will share only one common element : a guy named Sam Fisher.
"
Keep in mind that novels and games and even movies that are based on a franchise can't always be the "same." There will always be differences. I certainly experienced this with James Bond. The truly hardcore Bond fans have in their heads their own ideas of what Bond should be... the truth is that Bond has become so many different things over the course of fifty years that no one concept of Bond is the "real" thing anymore",
he explains. "
I'm pretty sure the upcoming film will have differences. As far as I know, the screenplay is totally original and not based on any existing game or my books".
Whilst no one is attached to star as the films titular hero, a few names have been doing the rounds.
Mark Wahlberg was director Peter Berg's first choice, but as Berg has now left the project its unknown ether he'll remain atop of that 'wish list'. Other candidates are said to include former "Angel" star David Boreanaz, muscly Thomas Jane and ironman Chris Showerman.
Meantime, J.T Petty, who was originally working on the "Splinter Cell" film, but recently left the project, is busy at work on another actioner. Petty's fantasy novel series "Clemency Pogue: Fairy Killer" is set to be made into a film.
In "Clemency Pogue", a girl and her hobgoblin sidekick trot the globe in search of extraordinary derring-do, righting wrongs, vanquishing the wicked, and befriending dogs and needful children.
EDITOR'S NOTE: ADD CATS TO THE CREATURES BEING BEFRIENDED, AND THAT SORT OF DESCRIBES ME AND ODDBOB, DOESN'T IT? (AND NO,OB, YOU HAVE TO BE THE

SIDEKICK

, NOT THE GIRL!)
Super­califragilistic­expialidocious, it's a remake!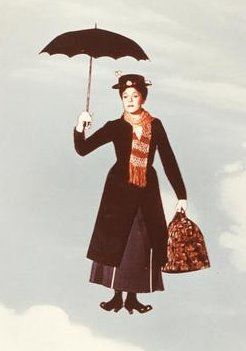 He has tackled man-eating sharks, extraterrestrials and the horrors of Nazi death camps, and his latest movie charts the 1972 massacre at the Olympic Games in Munich. But Steven Spielberg's next production could be considerably more sugary. The 59-year-old director/producer is apparently eyeing the ever-popular musical
Mary Poppins
for a Hollywood remake.
Richard Eyre, the former head of the National Theatre and director of the blockbuster West End musical based on the 1964 Disney film, has revealed that he has been in talks with Spielberg over a new film version.
EDITOR'S NOTE: WHY, GOD, WHY????!!!!
"
We've talked about it a lot
," Sir Richard was reported as saying yesterday.
"It will be hard to outdo the original, EDITOR'S NOTE: YA THINK?! but kids love the story and I'm sure that the remake will be a real success."
Sir Richard has had success in small-scale films, notably
Iris
, based on the life of the writer Iris Murdoch, and
The Ploughman's Contract
, but remains best known for his award-winning work in theatre, including running the National for a decade.
His stage version of
Mary Poppins
has become one of the most popular shows in London since it opened at the Prince Edward Theatre in December last year in a collaboration between the impresario Cameron Mackintosh and Disney, maker of the 40-year-old film which starred Julie Andrews. With a script written by Julian Fellowes, who won an Oscar for the film
Gosford Park
, the West End production added new songs to the tried and tested favourites from the original - which, Sir Cameron observed, was even more popular in the United States than it was in the UK.
The show is scheduled for Broadway next year, when it will move into the New Amsterdam Theatre.
The Lion King
, one of Broadway's biggest hits, is moving venues to make way in October.
Casting begins shortly, and Sir Richard has admitted that he hopes to take the British cast with him. Laura Michelle Kelly played the eponymous nanny when the show opened, and won an Olivier award, but has since moved on to other projects.
"
The studio will use the success of the Broadway show to decide whether to use the British cast for the film. But I would hope to use as much of the West End cast as possible and keep Mary English rather than have a big American star name,"
Sir Richard said.
In the past, it would have been unusual to have a film version of a musical quite so quickly.
Phantom of the Opera
, which is about to become the longest-running show on Broadway, had been running in London for 18 years before Andrew Lloyd Webber turned it into a film last year.
EDITOR'S NOTE: FELL DOWN AND COULDN'T REACH THE REMOTE LAST NIGHT. SO I WATCHED SOME OF THIS FILM (FINALLY). I COUDLN'T STOMACH MORE THAN A BIT OF IT. GOSH THE LYRICS HAVEN'T IMPROVED WITH AGE. VISUALLY PRETTY, BUT MUCH BETTER WITH THE SOUND

OFF

.
A spokesman for
Mary Poppins
said: "
A film isn't normally made until years after the stage production because obviously it stops people going to the stage shows. Having said that, with Chicago, audiences went up [in the West End] when the film came out, but the show had already been on for about seven years. And we're hoping the same will happen with the new film of The Producers."
None of these movies received the same acclamation as the original stage productions. For instance, Mel Brooks's just-released film of
The Producers
has been slated by the critics. But Spielberg has a deft touch for magic - or, at least, the out-of-this world - in projects from
Hook
, his version of the Peter Pan story, to
Jurassic Park
. And with a spoonful of sugar, perhaps anything is possible.
EDITOR'S NOTE: NEVER SAY NEVER, I SUPPOSE. AND CERTAINLY SPIELBERG IS ONE OF THE FEW FOR WHOM I WOULD SUSPEND CRITICISM UNTIL THE VOTES ARE IN. BUT "MARY POPPINS" IS A CLASSIC. A TRUE CLASSIC. WHAT WOULD BE GAINED BY RE-MOUNTING IT? (NEXT UP....A NEW VERSION OF THE MONA LISA?) EVEN THE NEW "WILLY WONKA"...BETTER THAN MOST RE-DOS....COULDN'T ENTIRELY CAPTURE THE MAGIC OF THE ORIGINAL. SEEMS LIKE A BAD IDEA. NOT THAT ANYONE ASKED ME, I REALIZE....