TV/Movies/Whatever's left over...it's FRIDAY!
EDITOR'S NOTE: LET'S JUST TOSS A BUNCH OF STUFF OUT THERE AT ONCE. IT'S FRIDAY. DON'T MAKE ME ORGANIZE OR WORK TOO HARD, OK?
MOVIE NEWS:
EDITOR'S NOTE: FIRST UP, THE NEWS.....YAWN...WE'VE ALL....SNORE....BEEN WAITNG FOR. ZZZZZZZZ ---
The New 007 Signs On
Well, after a few years of rumors, and names ranging from Clive Owen, Colin Farrell, Ewan McGregor, Ioan Gruffudd and even briefly the noise of Timothy Dalton returning to the role, it's all come to an end, with the official announcement that Daniel Craig is the next actor slipping into the tuxedo of James Bond.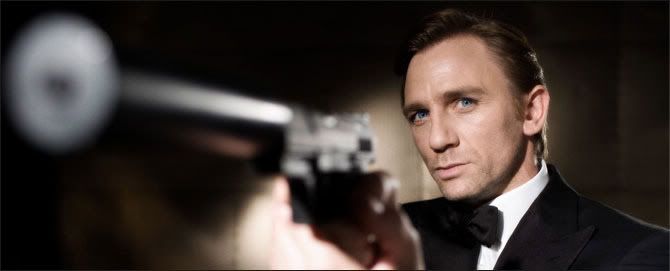 EDITOR'S NOTE: HE ACTUALLY SEEMS LIKE A GOOD CHOICE. PITY THEY COULDN'T HAVE MADE IT WITH A BIT LESS STURM, DRANG, AND MALARKY.
Craig, the star of "Road To Perdition" began to have some heavy momentum behind him to take on 007 after the phenomenal success of Matthew Vaughan's "Layer Cake".
The English press began making reports last week that Craig had signed on the dotted line for the Martin Campbell helmed "Casino Royale", the very first Bond novel penned by the late Sir Ian Fleming, but his people, and the studio heads weren't saying a thing.
EDITOR'S NOTE: AND IN CASE YOU WERE STARTING TO WAKE UP/CARE, HERE'S THE OFFICIAL PRESS RELEASE ----
DANIEL CRAIG CAST AS BOND
Culver City, CA October 14, 2005 – It was announced today by producers Michael G. Wilson and Barbara Broccoli, Metro-Goldwyn-Mayer, Inc. and Sony Pictures Entertainment, that DANIEL CRAIG has been cast in the role of the legendary British secret agent, James Bond, in the highly anticipated 007 adventure thriller CASINO ROYALE.
CASINO ROYALE reunites Wilson and Broccoli with Martin Campbell, who directed the 1995 Bond blockbuster GOLDENEYE.
His most recent film, "The Legend of Zorro," will be released on October 28, 2005.
CASINO ROYALE will be the 21st James Bond film produced by the franchise holders, EON Productions.
The MGM/Columbia Pictures production begins shooting in January and is due for release worldwide on November 17, 2006.
It will be filmed in the Czech Republic, the Bahamas, Italy and the UK.
Neal Purvis and Robert Wade wrote the screenplay based on famed author Ian Fleming's first novel. The script is currently being polished by Academy Award®-nominated writer, Paul Haggis (Million Dollar Baby).
EDITOR'S NOTE: WELL....LOTS OF GOOD CREDENTIALS HERE. AND PRETTY LOCATIONS. AND THE NEW BOND IS HANDSOME. (
BUT THE PRODUCERS ARE CLEARLY SUCH CONTROL FREAKS, HEAVEN ONLY KNOWS IF THEY'LL LET ALL THIS GOOD STUFF HAPPEN IN AN ORGANIC WAY, OR MICRO-MANAGE INTO PABLUM. TIME WILL TELL, EH?
)
Born in 1968, DANIEL CRAIG was raised on the Wirral nr. Liverpool. He moved to London to join the National Youth Theatre at the age 17 and continued his training at the London Guildhall School of Music and Drama. CRAIG has since become regarded as one of Britain's finest actors securing a variety of roles in television, theatre and film. He is currently filming a thriller alongside Nicole Kidman, "The Visiting", and has two films in post-production; Steven Spielberg's "Munich" and Douglas McGrath's "Every Word Is True", co-starring Sandra Bullock and Gwyneth Paltrow. Recent film credits include Sam Mendes' "The Road to Perdition", "The Mother", "Sylvia", and last year he received much critical acclaim for Matthew Vaughn's "Layer Cake" as well as Roger Michell's "Enduring Love".
Wilson and Broccoli said "

It has been a long time ambition for us to film the first book in the series, CASINO ROYALE, which defined the complex character of James Bond. We are thrilled DANIEL CRAIG will play the character of 007. Daniel is a superb actor who has all the qualities needed to bring a contemporary edge to the role. CASINO ROYALE will have all the action, suspense and espionage that our audiences have come to expect from us but nevertheless takes the franchise in a new and exciting direction."
"

James Bond is a character without peer in motion picture history

," said Pascal. "

He is a household name recognized in virtually every corner of the globe and because of this renown, the casting of the new 007 takes on a special importance. We believe that in DANIEL CRAIG we have found the ideal 21st century Bond and we couldn't be more privileged to be working with Barbara and Michael, who are tireless champions and guardians of the James Bond legacy."
Director Martin Campbell said, "

The thing about James Bond is that each actor who has filled the role has brought his own style and imprint. With Daniel as our new Bond, I am thrilled to be returning to shepherd the new 007 in the new Bond adventure."
Dan Taylor, President of Metro Goldwyn Mayer Inc, said: "

All of us here at MGM are delighted that Daniel Craig, an actor of such high-calibre, has been chosen to be the next Bond. We are also very excited to be working closely with Barbara and Michael again and with Columbia Pictures on CASINO ROYALE, which we predict to be the biggest, best Bond ever"
EDITOR'S NOTE: IN OTHER WORDS...BLAH BLAH BLAH BLAH BLAHDIDDY BLAH BLAH BLAH.




Ritchie making Revolver 2?


Despite getting a battering by reviewers everywhere, the filmmaker Guy Ritchie ays he's not abandoning plans to make a sequel to his new gangster hit.

Ritchie tells

Sky News

that he'll make a "Revolver 2" after his next, a comedy, which he says is

"basically a twist on the reality TV culture of today, about a women who hires a billboard with her name on it and gets famous."


"Revolver", starring Jason Statham, Ray Liotta and Madonna and telling the story of a gangster who enters a game with deadly consequences, was booed from the screen when it premiered recently in London.

"

After Revolver, Swept Away now looks like Citizen Kane,"

the review in The Guardian said.

EDITOR'S NOTE: OUCH.


Djimon does Diamond
Djimon Hounsou seems to be chasing gold these days. The "In America" and "Tomb Raider 2" co-star is clearly after Denzel's seat at the table – he might just get it too.


The versatile actor – last seen in "Beauty Shop" – is in talks to join Leonardo DiCaprio and Jennifer Connelly for Warner's "Blood Diamond", says The Hollywood Reporter.

The film, from director Edward Zwick, is set in war-torn Sierra Leone, and centers on a poor African farmer (Hounsou) who gets caught up in a conflict between an American diamond smuggler (DiCaprio) and the syndicate that controls the local diamond mining industry. Connelly is set to play an American journalist.

EDITOR'S NOTE: IT WOULD BE NICE TO SEE HOUNSOU GET TO DO A BIT MORE THAN HULK AROUND. HE IS A VERY COMPELLING ACTOR, BUT HE SEEMS TO BE CAST MORE FOR HIS PHYSICAL SIZE LATELY, THAN FOR HIS ACTING CHOPS. (WHICH HE HAS IN ABUNDANCE).

Helgeland has another Knight's Tale


Talented filmmaker Brian Helgeland ["Mystic River"] tells

IGN

that he's got an idea for a "Knight's Tale" sequel, the Heath Ledger-headlined pic from a few years back.

"

Well, we came up with this idea where the Wat character uses his winnings to buy a boat, a creaky old leaky boat, and they basically go off and get into trouble. It's not really a pirate movie, but the idea was that Rufus Sewell kidnaps the princess and takes her to Constantinople and they have to go down in this little boat and rescue her. But his name for it was A Pirate's Tale"

, says.

Helgeland says he doesn't know if it will happen, but it "

depends on if I could get that cast all together again, and all of those things"




Andy Garcia is Smokin'
Andy Garcia - haven't seen him much lately - will team with Jeremy Piven, Ryan Reynolds, Alicia Keys and Ben Affleck for Joe Carnahan's next, "Smokin' Aces".


The film, says Variety, is an action comedy about an illusionist who snitches on the mob and has hitmen after him. Garcia will play the FBI director who tries to keep the cocky entertainer around long enough to testify.

Garcia's most recent film, "The Lost City", which he also directed, will be screened for Florida Gov. Jeb Bush and his wife Columba as part of the state's Hispanic heritage celebration, this weekend.

EDITOR'S NOTE: SO GARCIA HAS BEEN BUSY SCREENING FOR SATAN'S MINIONS, EH? WHAT WE DO TO SELL OUR ART.....

Report: Dis coaster crash caused by faulty brakes

SANTA ANA, Calif. -- A train collision on a Disney California Adventure roller coaster that sent 17 riders to the hospital was caused by air leaks in the ride's braking system, according to a report released Thursday.

The riders were injured when one rail car on the California Screamin' roller coaster rear-ended another on July 29.

Authorities said at the time that most of those hurt were treated for minor neck and back injuries and released from the hospital that same night.

EDITOR'S NOTE: AND ANY OTHERS WHO DIDN'T AGREE THAT THEIR INJURIES WERE MINOR, HAVEN'T BEEN HEARD FROM SINCE. (WHAT? YOU THOUGHT THE UNDERGROUND UNDER THE PARK WAS JUST FOR COSTUMES AND 'CAST MEMBERS'?)

KONG Roars on to DVD First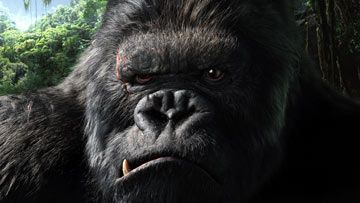 ANDY SERKIS, MONKEYING AROUND....
Universal Pictures has announced tehy will release a DVD documentary of the making of KING KONG on DVD a day before the film opens in theaters on December 14th.

The two-DVD set will feature a behind-the-scenes look at a film ahead of its theatrical release, and industry sources agreed.
The set will also feature a first-hand account of the film's eight month production process by Peter Jackson. And the companion book that comes with the DVD includes conceptual art designs of the film's sets, scenery and other facets of movie making. EDITOR'S NOTE: HOW CAN WE KNOW IF WE CARE ABOUT THE EXTRAS UNTIL WE SEE THE MOVIE ITSELF? (EXCEPT FOR THE CULT-O-PJ AND THE LOTR GROUPIES).
Spielberg Teams with EA
Steven Spielberg is striking a long-term agreement with Electronic Arts to collaborate on three original games.

EA will own the intellectual properties and will publish and distribute the games worldwide.
Spielberg said, "
I have been playing EA games for years and have watched them master the interactive format. I'm looking forward to working closely with the team in Los Angeles."

The first of the games is expected to take a couple of years to bring to market, where it will be designed for the next generation of game machines -- Playstation 3, Xbox 360 and the Nintendo Revolution.
EDITOR'S NOTE: AND HERE'S A NICE LITTLE ARTICLE ESPECIALLY FOR THE JODIE FOSTER FANS IN THE READING AUDIENCE (

SAMANTHA

? POUR

VOUS

, MY DEAR).
Staying true to herself, Foster passes star test
By Anne Thompson
Today's quiz:
10 true or false questions about female movie stars:
1. There's only one marquee female star: Julia Roberts.
2. Female stars look like they're under 35 -- no matter what their age. (Think Sharon Stone, Sandra Bullock, Meg Ryan.)
3. Their acting chops are less important than the fact that they look gorgeous and adorable in bikinis, 4-inch heels, skintight leather, low-cut evening gowns and skimpy nightwear. (Think Cameron Diaz and Jessica Alba.)
4. Audiences like them best when they play women who are beautiful, lovable, vulnerable and sexy -- not smart. (Think Charlize Theron, Halle Berry, Drew Barrymore.)
5. They do best while hanging on the arms of hunky leading men. (Think Kirsten Dunst and Reese Witherspoon.)
6. With a shorter window for maximizing star power than men, the more starring roles per year, the better. (Angelina Jolie starred in five movies in 2004; Nicole Kidman averages two to three films a year.)
7. Successful stars soak up media attention to get as much exposure as possible. (Think Jennifer Lopez, Lindsay Lohan and Jennifer Aniston.)
8. Actresses don't open movies. And they can't open movies alone.
9. Women's pictures are soft because male audiences won't go to see a movie starring a woman.
10. Female movie stars don't get paid as much as male movie stars.
1. False. The No. 1 female movie star in Hollywood is Jodie Foster, who starred alone in her past two hits, "Flightplan" and "Panic Room," which both opened at No. 1 and held that spot for two consecutive weekends. While both Roberts and Foster are robust marquee draws, Roberts' most recent hits, "Ocean's Eleven" and "Ocean's Twelve," were ensembles. She was the biggest name in the less successful four-hander, "Closer," and took the smart-house route with supporting roles in Steven Soderbergh's "Full Frontal" and George Clooney's "Confessions of a Dangerous Mind." Roberts did carry "Mona Lisa Smile," which earned $64 million.
2. False. Foster looks her age, 42. (She'll be 43 next month.) She hasn't had any face work done and doesn't bother to hide the lines under her eyes.
3. False. Foster is a two-time Oscar winner who looks fabulous in an Armani pantsuit. She has built her stardom not on her looks but on her brand identity. Audiences actually believe that when she's in a movie, it will be good. That's because she rarely lets them down. In "Flightplan," Foster plays a grieving engineer who, after she loses her small child in a giant jetliner, is accused by the crew of having lost her mind. The Walt Disney Co. sold "Flightplan" on Foster's face, Disney publicity chief Dennis Rice says. "
Jodie was critical to the success of the picture. People see her as Hollywood royalty, a well-respected, great actor,
" he notes. While Oscar perennials Meryl Streep, Glenn Close and Susan Sarandon also add quality to a movie, in their prime they never got many chances to prove that they could consistently open a big-budget movie alone. At her height in the '70s, Jane Fonda also exacted the quality control that Foster does and also understood how to choose commercial projects.
4. False. A Yale graduate, Foster is a beautiful, slim, athletic blonde who can turn on the glam when she wants to. But sexy she isn't. In interviews, she likes to talk about being a mom. Onscreen, she tends to play an accessible everywoman who is smart, competent and strong ("Silence of the Lambs").
Similarly brainy athletes Sigourney Weaver (the "Alien" series, "Ghostbusters") and Geena Davis ("Thelma & Louise," "Cutthroat Island") also tried to parlay their considerable skills into starring roles in mainstream genre films but couldn't prove their boxoffice mettle. "
She doesn't play over-the-top personalities
," says her longtime publicist, Pat Kingsley. "
She's an extraordinary woman who plays ordinary people
."
5. False. While Foster has occasionally starred opposite such romantic foils as Richard Gere ("Sommersby"), Mel Gibson ("Maverick") and Chow Yun-Fat ("Anna and the King"), these days she often flies solo in such commercial thrillers as "Flightplan" and "Panic Room." In her next movie, though, Spike Lee's crime drama "Inside Man" (due in March), she co-stars with Denzel Washington and Clive Owen.
6. False. Sometimes, less really is more. Audiences can tire of seeing their stars too often. Foster does not allow herself to be overexposed. She works only when she wants to and then disappears from view. While she played supporting roles in the French film "A Very Long Engagement" and her production of the indie "The Dangerous Life of Altar Boys," Foster's last starring role in a movie, "Panic Room," was three years ago. (She stepped in for the injured Kidman.) That means that audiences were all the more eager to see her when she returned to the big screen. According to her agents at ICM, Foster turns down literally hundreds of scripts a year. "
Stars who churn out two movies a year are not special
," DreamWorks marketing chief Terry Press says. "
It's a smart lesson: If you want people to be fond of you, go away for a while. Foster's movies are event-ized by her being in them
."
7. False. During a time when many celebrities jostle for clogged airspace, Foster is a welcome reminder that in the end, doing quality work is more important than mentions on Page Six. When Foster is promoting a new movie, the press is eager to talk to her. When she's not, Foster tends to stay home with her two young sons and avoids the red-carpet circuit.
8. False. Foster is a marquee draw whose movies usually open big. Even without rave reviews, "Flightplan" was the No. 1 movie on its opening weekend, earning $24.6 million; it stayed at No. 1 in its second weekend and dropped only 27% in its third weekend. The thriller is on track to hit $90 million. In 2002, "Panic Room" opened at No. 1 with a $30 million opening weekend, stayed at the top of the boxoffice charts for its second weekend and grossed $95.3 million in North America. While Foster stumbled in the badly executed period romance "Anna and the King," her highest-performing film was 1997's "Contact," which grossed $100.7 million. Roberts, Bullock, Lopez, Barrymore, Ryan and Witherspoon also open movies alone, but they tend to be romantic comedies. Despite a big push from 20th Century Fox, Diaz was not able to draw a sizable audience for her most recent entry, "In Her Shoes," which did not interest men.
EDITOR'S NOTE: OR MANY WOMEN, EITHER.
9. False. More women go to Foster's movies than men, but many men do show up. "
She's a female star whom men are equally comfortable with,"
Press says. "
That's unusual. She does not project a girlie-girl that men would find unappealing. Her job in a movie is a professional job a man would have. 'Flightplan' and 'Panic Room' were sold as thrillers with action so that men didn't reject them out of hand.
"
In fact, Denzel Washington and Sean Penn were each attached at one time to star in "Flightplan," which was rewritten for Foster.
10. True. While women are making progress in the roles they are able to play (Jolie kicked Brad Pitt's ass in "Mr. & Mrs. Smith," for example), Hollywood still practices outrageous wage discrimination.
Any male actor with Foster's track record would have been earning $20 million long ago.
Roberts, the only female movie star to enter the $20 million club, earns that fee for romantic comedies, which is not Foster's genre. Roberts has recently taken time off to care for her twins, as Foster did to raise her kids. Foster earns between $13 million ("Flightplan") and $15 million (the upcoming revenge thriller "The Brave One") for a studio picture.
In dramatic contrast, at least 20 male stars have earned $20 million at some point in their careers, including Tom Hanks, Tom Cruise, Jack Nicholson, Arnold Schwarzenegger, John Travolta, Harrison Ford, Mel Gibson, Nicolas Cage, Brad Pitt, Jim Carrey, Robin Williams, Eddie Murphy, Kevin Costner, Sean Connery, Leonardo DiCaprio, Keanu Reeves, Clint Eastwood, Mike Myers, Adam Sandler and Will Smith.
Like many of the smarter stars (Hanks, Gibson, Eastwood), Foster wisely uses her star power to stay clear of mindless crap.
EDITOR'S NOTE: NICE VIEWPOINT ABOUT JODIE FOSTER. I THINK THE AUTHOR GENERALIZED A BIT UNFAIRLY ABOUT SOME OF THE OTHER WOMEN, AND DEIFIED FOSTER A BIT IN ORDER TO MAKE HER CASE. (BUT I THOUGHT OUR DWEEBPAL SAMANTHA WOULD ENJOY THE SKEW).