Disney is making me hungry
THE EPCOT INTERNATIONAL FOOD AND WINE FESTIVAL
Right now it's the tastiest time of the year at Epcot.
The World Showcase Promenade is overflowing with food and wine from all over the world, thanks to the
10th annual Epcot International Food and Wine Festival
, which will continue through November 13.
The Insider spoke to Nora Carey, the festival manager, to get all the delicious details!
A self-confessed "foodie," Nora is responsible for coordinating all of the culinary and wine events during the six-week run of the festival. These range from freestanding "marketplace kiosks" dotted around the World Showcase Promenade, offering bites and sips from 27 nations or regions, to seminars and spectacular tasting dinners. Guests can watch cooking demonstrations, learn more about wine, or simply nibble their way from booth to booth sampling the cuisine.
According to Nora, one event not to miss at this year's festival is the Australian wine walkabout.
"
There are five notable wine regions in Australia, so our Guests can buy what we call a 'passport,' which allows them to have some wine from each region as they walk through the experience,"
she explains. But in typical Disney fashion, the walkabout offers not just the chance to taste, but an immersion in the Australian world from which the wines come. "
In addition to that we have some indigenous dancers from Australia. We also have wine seminars and cooking demonstrations in that space. All this happens out on the promenade, so Park Guests can take advantage of this."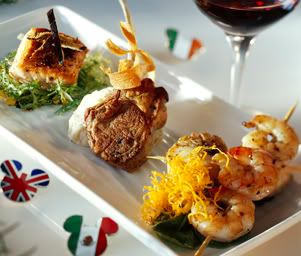 Delectable comestibles are the order of the day atthe Epcot International Food and Wine Festival
The heart of the celebration is the Festival Center.
Guests can use it like a hub to find out what activities are available, but there's also a merchandise shop and a wine shop there, in case Guests would like to take home some of the wine they sampled at the marketplace kiosks. There's also a wine bar there and that's where you'll find the complimentary wine seminars -- they're held all day long, with no admission cost, in 45-minute sessions.
Many events are open to anyone who happens to be visiting the Park at the time, but for the serious food fan the Festival offers special weekend events.
Nora says she's especially excited about
"Our 'Exquisite Evening' dinners at Epcot, where we host a guest chef and we have a dinner for about 70 Guests, usually themed around the wines. We have other paid events, like wine schools. This year we have Andrea Immer, who will be hosting one, and Karen MacNeil will be doing 'Mastering Wine 101,' which should be fun."
Other highlights include a champagne and sparkling wine bar at the Festival Welcome Center; tasting events and demonstrations by guest chefs like Ming Tsai, John Ash, and Bradley Ogden; a weekly Party of the Senses grand tasting event with live entertainment by Cirque du Soleil; and nightly Eat to the Beat! concerts combining delicious food and tasty licks from live bands.
On November 13 it will all vanish until next year, leaving a good taste in the mouths of those who attended. Until then, eat, drink, and be merry at Epcot's celebration of the pleasures of the table.
EDITOR'S NOTE: JOEL. LET'S JUST MOVE TO DW, OK. LIVE ON THE GROUNDS. (WE COULD HIDE IN THE TEA CUPS AT CLOSING TIME, MAYBE)? I MEAN, BETWEEN STAR WARS WEEKENDS, AND THIS FEST AND THE SPRING FLOWER FEST.....WE NEED TO JUST STAY YEAR-ROUND, DON'T YOU THINK?