3 Unrelated breaking News items
Playwright Pinter wins Nobel Prize in literature
STOCKHOLM, Sweden -- British playwright Harold Pinter, whose juxtaposition of the brutal and the banal dubbed an adjective that bears his name, won the 2005 Nobel Prize in literature Thursday.
The Swedish Academy said Pinter was an author "who in his plays uncovers the precipice under everyday prattle and forces entry into oppression's closed rooms."
In its citation, the academy said the 75-year-old playwright was one who restored the art form of writing plays. His works include "The Room," "The Birthday Party" and "The Dumb Waiter" and his breakthrough work, "The Caretaker." "Pinter restored theater to its basic elements: an enclosed space and unpredictable dialogue where people are at the mercy of each other and pretense crumbles," the academy said.
EDITOR'S NOTE: MY LAST JOB WAS LIKE THAT. (EXCEPT THE DIALOGUE WASN'T AS GOOD).
'Lost' star Holloway, wife reportedly robbed
HONOLULU -- Josh Holloway and his wife reportedly were robbed at gunpoint in their home.
There was no indication that the robber recognized the 36-year-old actor, who plays hunky con man Sawyer on the ABC castaway drama "Lost," television station KHON reported.
The robber rousted the couple from bed early Wednesday, took cash and credit cards and drove off in Holloway's Mercedes-Benz, which was found abandoned a short time later, the station said.
Honolulu police would not release any information on the robbery. Holloway's agent did not immediately return a call to her Los Angeles office.
EDITOR'S NOTE: SO WHICH IS WORSE...BEING ROBBED, OR NOT BEING RECOGNIZED? (I MEAN, YOU'D LIKE TO AT LEAST BE

SINGLED OUT

FOR CRIME AND NOT JUST BE A RANDOM VIC, RIGHT?)
Chewie to Become U.S. Citizen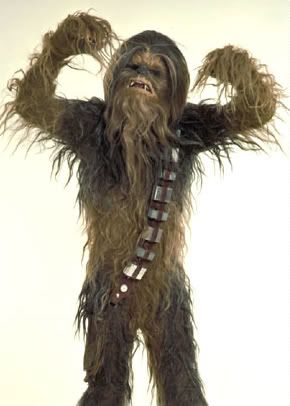 On Monday, Peter Mayhew, 60, will be among 441 people from 77 countries who will become naturalized Americans in a ceremony in Arlington, Texas.

Mayhew played Chewbacca in the original STAR WARS trilogy and REVENGE OF THE SITH.

Six years ago, he married a woman from Texas. Mayhew told the AP, "
I've always been interested in the cowboys and the history of the West and the history of America..."

EDITOR'S NOTE: YEP. HE'S STILLLLLL DRUNK.