Friday STAR WARS Dweebing
Spike TV has engineered the biggest movie purchase in the net's 22-year history, ponying up between $65 million and $70 million for a six-year exclusive deal covering all six of Lucasfilm's "Star Wars" movies.
NBC Universal's USA Network and Sci Fi Channel and Turner BroadcastingTurner Broadcasting's TBS and TNT were in the bidding, helping to drive the price up much higher than the initial estimate four months ago, which put the George LucasGeorge Lucas space operas at about $50 million (Daily Variety, June 16).
A spokesman for Spike declined to comment.
The blockbuster in the deal was "Star Wars: Episode III -- Revenge of the Sith," which Spike will get in the first network window in April 2008.
That's the earliest window a cable net has ever landed to a "Star Wars" movie; the first five titles began their TV life on the Fox Network.
Two more recent "Star Wars" pics -- "Attack of the Clones" (2002) and "The Phantom Menace" (1999) -- have had runs on Fox but have never shown up on cable before. Spike will get them and the original three pics in April 2008.
Spike's aggressiveness in nailing "Star Wars" was fueled in part by its need to make up Nielsen ground in the future for the loss of World Wrestling Entertainment's "WWE Raw," a guaranteed ratings winner every Monday nights for two hours. USA outbid Spike for the rights to "Raw" and started running it Oct. 3 to steroid-pumped ratings. The two-hour "Raw" on Oct. 10 was the second highest-rated program on all of ad-supported cable for the week ended Sunday.
EDITOR'S NOTE: SO ARE THEY THINKING THE STAR WARS AUDIENCE AND THE WWE AUDIENCE ARE THE SAME? (AND WITH THE SW MOVIES ON

SPIKE

, DOES THIS MEAN THAT IT IS NOW 'MANLY' TO BE A DWEEB?)!
But paying big bucks for a marquee property is not new to the network.
Five years ago, Spike, then known as TNN (the National Network), coughed up a staggering $364 million for the rights to reruns of three "Star Trek" series -- "Next Generation," "Deep Space Nine" and "Voyager" -- plus the first five "Star Trek" theatrical movies.
When King World, a sister company of Spike, opened the cable marketplace for reruns of "CSI" four years ago, Spike forked over a then-record sum for an off-network hour, $1.6 million an episode.
Two years ago, Spike dropped the ball, allowing A&E to claw its way ahead of all other bidders to capture the rights to "CSI: Miami""CSI: Miami" for what now looks like a bargain price of $1.02 million an hour. But a year later, Spike threw off all restraints to grab "CSI: NY" reruns, anteing up $1.9 million an episode for the privilege.
The first three movies in the "Star Wars" series -- "Star Wars" (1977), "The Empire Strikes Back" (1980) and "Return of the Jedi" (1983) -- have played on a number of broadcast and cable networks over the past two decades. But Spike expects to chalk up lots more Nielsen numbers through heavily promoted stunts and marathons.
When HBO plunked down $15 million for exclusive pay TV rights to "Attack of the Clones" in February 2003, it also picked up exclusive windows to the previous four "Star Wars" movies.
The biggest price ever paid for an individual "Star Wars" title was the $80 million paid by the Fox Network for a 10-year exclusive license term for "The Phantom Menace." In that deal, Fox even bought out the pay TV window so it could get the movie within 18 months of its debut in U.S. theaters.
Strike Force on Wheels
Jim Doty of Royal Pin Leisure Centers in Indianapolis, Indiana, wanted to attract more attention to the new Star Wars Strike Force Bowling leagues, which were forming this fall at his centers.
To do so he had his car painted with the dynamic images of the Star Wars bowling ball artwork.
The Strike Force Bowling League offers fans a chance to not only bowl with some killer Star Wars gear, but also to have fun with fellow fans.
To find a league, fans can go to
StrikeForceCenters.com
.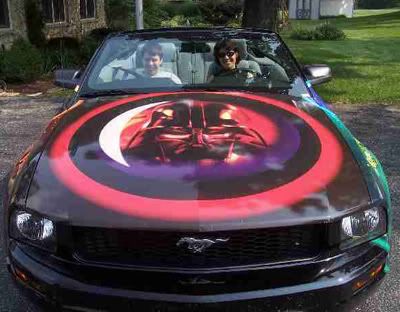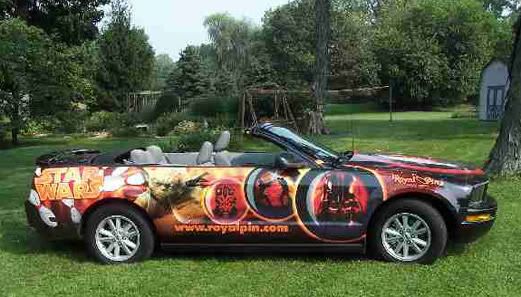 Top Ten -- Your Favorite Technology of the Star Wars Saga:

There are just some things that make the Star Wars galaxy . . . well, make it the Star Wars galaxy.
If the Millennium Falcon never made lightspeed or if General Grievous' guards defended him with non-powered big sticks it simply would not be the same experience.
Bantha Tracks readers weighed in on the technology that makes Star Wars both awe-inspiring and believable for them, and also about some great inventions that would make their lives easier and more fun in this galaxy.
All types of technology, from bacta and breathers to Senate platforms and training remotes, received votes and comments.
A few votes even cropped up for some decidedly un-technical items like Jedi mullets, Jedi boots, and Han Solo's blaster holster. Although Bantha Tracks concedes these latter items are to be admired, they did not fall into the technical category and the votes were not counted.
When all was said and counted, here are your
Top Ten Favorite Technologies in the Star Wars Saga:

10. Cloud City. "A floating, sustainable community above an otherwise uninhabitable planet! How cool is that?"
9. Energy Weapons. From hold-out blasters to super lasers, we can't imagine our GFFA space cowboys without them.
8.

Clones.

Bantha Tracks might not have immediately thought of them as technology, but cloning expertise certainly made the Grand Army of the Republic a reality.

7.

Droids

. Some voted for protocol, some for Astromech, some for battle droids, and many for just plain droids. Taken together droids placed 7th.

6.

The Death Star

. Fan agree there would not have been much for our heroes to do in the original trilogy without the Death Stars.

5.

Repulsor technology

. Getting those big ships up and away, and propelling landspeeders across Tatooine.

4.

The Holonet.

Fans find cross-galaxy real-time communications amazing.

3.

Darth Vader's suit

. Does far more than keep Vader alive, it's a fearsome visage that makes an unforgettable first impression.

2.

Hyperdrives.

Helped billions on thousands of planets stop fighting with themselves and start fighting with beings from other planets instead. EDITOR'S NOTE: WELL AIN'T

THAT

A SAD COMMENTARY ON HUMAN NATURE?!



And, your Number One Favorite Technology from the Star Wars Saga:





Lightsabers

."I mean...come on!"
TOYS AND STUFF TO BUY:
ROTS Out At Target Today
EDITOR'S NOTE: I THINK THIS NEWS WAS FROM THE END OF LAST WEEK OR EARLIER THIS WEEK. SO, NOT 'TODAY'. BUT NOW.
Today is the first "offical" unofficial release date for the following Target exclusive
Revenge of the Sith
toys:
Plo Koon's Jedi Starfighter
,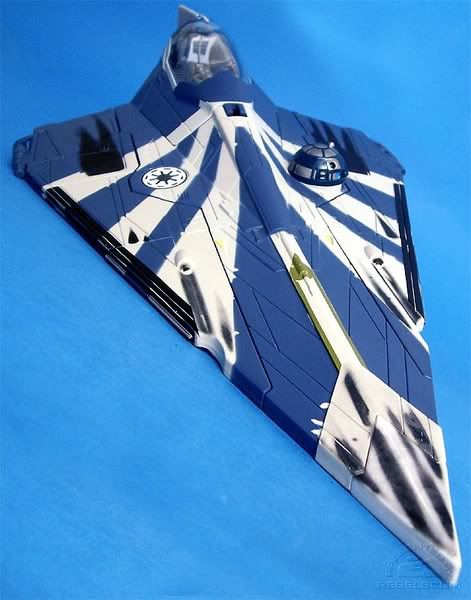 Obi-Wan Kenobi (Duel at Mustafar)
,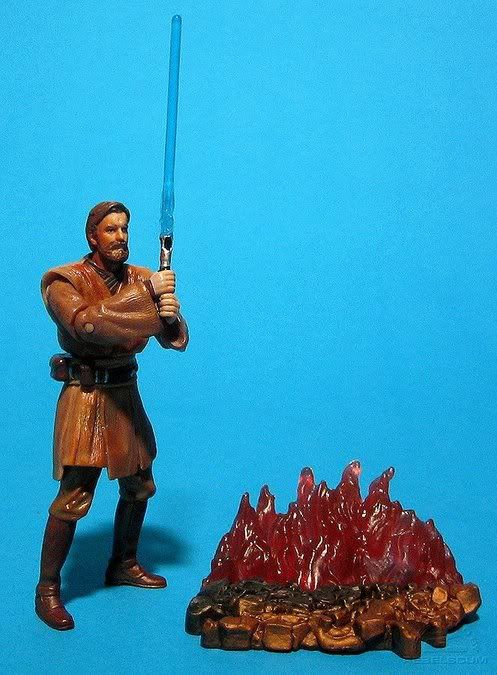 Darth Vader (Duel at Mustafar)
,
and
Clone Attack of Coruscant Battle Pack
.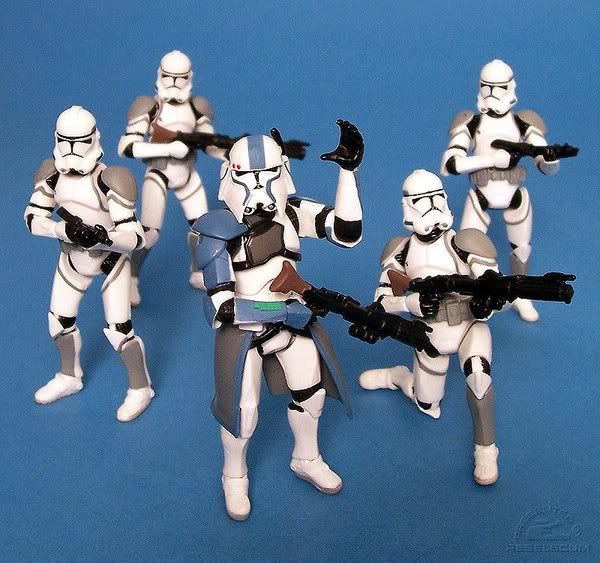 Clone Wars DVD Figure Collections
Later this year, Hasbro commemorates the DVD release of
Star Wars: Clone Wars Volume 2
with exclusive figure collections based on the Emmy-award-winning animated series.
The figure packs will be available December 1, 2005 exclusively at Wal-Mart stores. (DVD not included.)
EDITOR'S NOTE: AGAIN WITH THE WALMART EXCLUSIVES! I SURE WISH THEY'D MAKE ALL THE TOYS EXCLUSIVE TO TARGET. (
A NICE STORE. NOT THE DARKSIDE OF SHOPPING. THE HAPPY, PEPPY,

FUN

SIDE OF SHOPPING
).
Collection 1 includes Anakin Skywalker, Saesee Tiin and a clone trooper.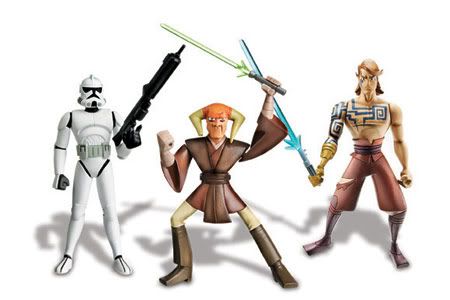 EDITOR'S NOTE: I LOVE MY TOYS TATTOOED AND SHIRTLESS! (WOOHOO!)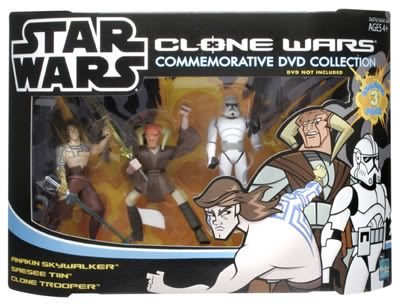 Collection 2 includes Clone Commander Cody, Obi-Wan Kenobi and General Grievous.

EDITOR'S NOTE: COMMANDER CODY. BUY HIS TOY SO YOU CAN STICK PINS IN HIM. (THE BIG 'I'M-YOUR-FRIEND, OBI-WAN-NOW-I'M-GONNA-SHOOT-YOU-IN-THE-BACK' BETRAYAL TOY).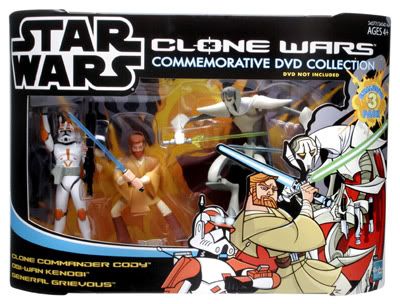 Hasbro's Plans For 2006
While this list is subject to change, this is what we can expect from Hasbro's The Saga Collection line.
While many may think this is all for 2006, it is expected that the first couple of waves (ROTJ 1 and TESB waves) should hit retailers as soon as December.
Oddly enough, you'll notice the stronger presence of background characters that we have grown accustomed to in non-movie years. This time there are even some slightly, almost Expanded Universe offerings.
EDITOR'S NOTE: EU ROCKS!
Star Wars Saga Basic figures asst
Listed below are the first seven planned waves. We could see more than these seven, but nothing that Hasbro has commented on as of yet. While ordered chronologically, the waves will not follow a chronological order.
The Phantom Menace
Gungan Rep Been
Naboo Soldier
Podracer pilots 2pk
Gragra: Mos Espa Merchant
Obi-Wan Kenobi
Darth Maul
Attack Of The Clones
Clone Trooper
Sora Bulq: Weequay Jedi
Sun Fac: Geonosian Leader
C-3PO
Poggle the lesser: Geonosian Leader
Jango Fett
Republic Commando
Yoda
Revenge Of The Sith
Coruscant Fire Fighter Pilot
EDITOR'S NOTE: LOOKIE BOB...A

FIREFIGHTER

TOY!
Lushros Dofine: Invisible Hand Captain
Commander Cody: Clone Commander
EDITOR'S NOTE: GRRR
Anakin Skywalker
Clone Trooper
Ki-Adi-Mundi
Obi-Wan Kenobi
Foul Moudama: Talz Jedi
EDITOR'S NOTE: THIS IS HIS NAME...FOUL MOUDAMA? (THOSE WAGS AT ILM WERE HAVING SOME RUM IN THE BACK ROOM ,HUH?)
General Grievous
A New Hope
Hammerhead: Cantina Denizen
EDITOR'S NOTE: HE HAS A NAME, DOESN'T HE? (MAWMAW NADON?)
R5-D4: Slacker
EDITOR'S NOTE: SLACKER? NICKNAME? NAMECALLING?
Hem Dazon: Cantina Denizen
Garindan The Kubaz
Han Solo
Luke Skywalker
Sandtrooper
The Empire Strikes Back
General Veers
Major Bren Derlin
AT-AT Driver
R2-D2
Snowtrooper
General Rieekan
Darth Vader: Hoth Battle
Gonk Droid: Rebel Hangar
Return Of The Jedi 1
Leia Boushh
Han Solo: Jabba's Prisoner
Bib Fortuna
Barada Skiff guard
Chewbacca: Boushh's Bounty
Boba Fett
Return Of The Jedi 2
Chief Chirpa
Moff Jerjerrod
Death Star Gunner
C-3PO: Ewok Deity
EDITOR'S NOTE: GIGGLE
Luke Skywalker: Endor Confrontation
Darth Vader: Endor Confrontation
The Emperor
Endor Rebel Commando
SW Force Battlers
Jango Fett
Obi-Wan Kenobi
General Grievous
Chewbacca
The Emperor
At this point it is unclear whether these (minus Jango Fett) are repacks or new in the way of Darth Vader 2 with new accessories.
EDITOR'S NOTE: NOT SURE WHICH (ABOVE OR BELOW) THIS COMMENT IS REFERRING TO, BUT THAT WOULD BE MY QUESTION AS WELL. ABOUT

ALL

OF THEM. ARE ANY OF THESE NEW SCULPTS, OR ARE WE JUST GETTING RE-TREADS? (SOME SEEM LIKE BRAND NEW, NOT-SOLD-BEFORE TOYS, BUT A LOT OF THEM SEEM LIKE STUFF WE'VE ALREADY GOT).
Galactic Heroes
Palpatine Vs. Yoda (repack)
Count Dooku Vs. Anakin (repack)
Obi-Wan Vs. General Grievous (repack)
Vader Vs. Obi-wan (ROTS?)
Lando Vs. Skiff Guard (repack)
Chewbacca Vs. Clone Trooper (repack)
R2-D2 Vs. Super Battle Droid (repack)
Mace Windu Vs. Kit Fisto (repack)
Dark side Anakin Vs. Shock Trooper (new)
Obi-Wan Vs. Utapau Clone (new)
Vader and The Emperor hologram (new)
Kashyyyk Yoda Vs. Clone Trooper (new)
Hoth 2 Pack (repack?)
Luke w/speeder bike (repack)
Scout trooper w/speeder bike(repack)
Coruscant 2Pk (new)
Geonosis 2Pk (new)
Emperor / Red Schock (new)
SW Titanium Vehicles
The Titanium line is a bit more self sufficient and will branch out into a couple of non-Star Wars assortments.
New licenses to jump on for 2006 are Battlestar Gallactica (PG) and Stargate (SG). Both new licenses will shipped packed out with the Star Wars vehicles.
3inch Speeder bike w/trooper
3inch Jedi Attack cruiser
3inch Clone Tank
3inch TIE fighter (chase)
3inch Clone Tank
3inch Death Star
3inch Slave 1 Jango Fett
3inch Federation Droid Fighter
Vehicle Imperial Shuttle
Vehicle Darth Vader's TIE fighter
Vehicle AT-AT
Vehicle Republic Gunship
Die-Cast Wookiee Helicopter
Die-Cast Jedi Starfighter
Die-Cast Royal Starship
Die-Cast Battle Ravaged Millenium Falcon
Die-Cast Silver Slave 1 (limited edition)
Vehicle Jedi starfighter
Vehicle Sith Infiltrator
Vehicle Droid Tank
3Inch 1978 Cylon Raider vehicle
EDITOR'S NOTE: JUST TO CONFUSE US....FRANCHISE MIXING.....
3Inch 2004 Scout ship vehicle
3Inch 1978 Viper vehicle
3Inch Titanium LTD E3 Millenium Falcon
3Inch Luke Skywalker's Speeder Bike
3Inch Republic Cruiser3Inch A-Wing EP6
3Inch Executor Star Destroyer EP5
3Inch Sandcrawler
3Inch BG 04 Colonial 1
3Inch BG 04 Raptor
3Inch BG 04 Viper MK VII
3Inch SG Stargate with Stand
3Inch SG Death Glider ship
3Inch Titanium LTD Purple (?)
3Inch Leia Organa's Speeder Bike
3Inch TIE Interceptor
3Inch B-Wing
SW Titanium forged 3.75" figures
Same rule applies as far as license cross packing.
Darth Vader
Boba Fett (w/ removable helmet)
Bossk
Sandtrooper
IG-88
Clone Trooper
BG Cylon Warrior
General Grievous
C-3PO
SW Titanium forged Ultra Vehicle
Ultra Clone Arc 170
Ultra Droid Tri Fighter
Ultra Diecast Slave 1
Ultra Snowspeeder
Ultra AT-AT
Ultra Millennium Falcon
EDITOR'S NOTE: THANK HEAVENS I ONLY COLLECT SOME OF THESE LINES; I'M GOING BROKE JUST

READING

THIS LIST!