Star Wars goes to China
EDITOR'S NOTE: STARTING THE DAY OFF WITH A FUNNY......
HERE'S A LIFE-LESSON IN WHY CRIME MIGHT NOT PAY. (RESERVING JUDGEMENT FOR YOU SITH OUT THERE)
BELOW IS A REPORT FROM A GUY WHO PICKED UP A

ROTS

BOOTLEG DVD IN CHINA. I'VE INCLUDED A COUPLE OF THE SCREEN-CAPS FOR THE BLOG. BUT GO TO THE LINK AT THE END OF THE BLURB TO SEE EVEN MORE BIZARRE SUB-TITLING.
episode iii, the backstroke of the west
What The Chinese Pirates Have Turned Star Wars Into For Their Customers
I saw
revenge of the sith
last weekend at a local theater with my friend
joe
who was in town on business. it was much better than the first two movies and a fitting end (err.. middle) to the star wars saga.
the next day i was walking past my friendly dvd salesperson and decided to check out revenge of the sith. i was assured the quality was good and for 7rmb why not give it a shot.
aside from the counters on the top of the screen and a distorted perspective it was ok- not high quality but watchable.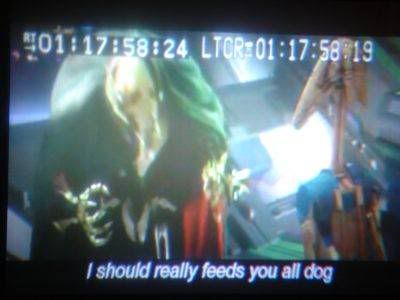 EDITOR'S NOTE: OR, AS WE SAY IN THE ORIENT....BREAKFAST? (AND WHAT SORT OF DOG? I MEAN, POODLE? ROTWEILLER? MIXED BREED?)
EDITOR'S NOTE: YODA! YOU'VE NEVER SPOKEN SO PLAINLY!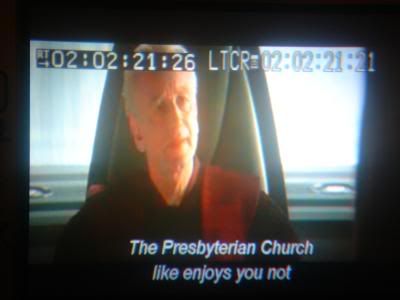 EDITOR'S NOTE: I GUESS THAT'D BE A BAD THING? (HOW DO THE CATHOLICS FEEL ABOUT ME?)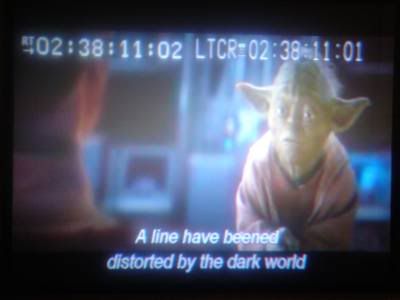 EDITOR'S NOTE: ONCE AGAIN, THE CHINESE CAN ONLY

CLARIFY

THE LITTLE GREEN GUY'S SPEECH.