Friday isn't just about happy news
EDITOR'S NOTE: A QUICK BIT OF SAD NEWS, I'M AFRAID. A BIG ACTOR IN ONE OF MY FAVORITE LITTLE FILMS PASSED AWAY -----
Gentle Giant from BIG FISH Dies
Matthew McGrory, the 7-foot-plus tall actor, who played a gentle giant in BIG FISH has died of apparent natural causes. He was 32.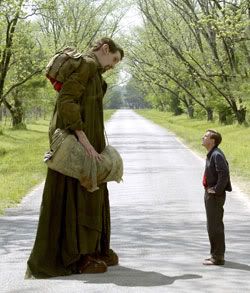 The actor, who had a shoe size of 29, also had parts in BUBBLE BOY, MEN IN BLACK II, HOUSE OF 1000 CORPSES and most recently as "Tiny" in Rob Zombies' THE DEVIL'S REJECTS.
EDITOR'S NOTE: R.I.P. MR. MCGRORY.