Take THAT you people who only like good movies!
EDITOR'S NOTE: NOT THAT I'M CHAMPIONING "THE ISLAND" AS AN OSCAR CONTENDER, BUT THE VITRIOL TOSSED THE MOVIE'S WAY WAS OUT OF PROPORTION. IMHO.
PLUS, THE CAST IS

SO

ATTRACTIVE!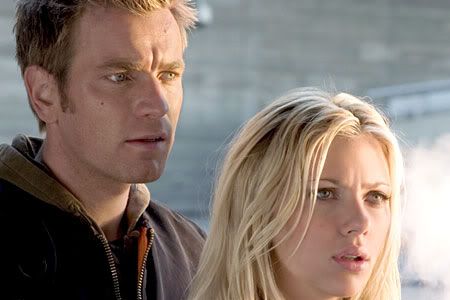 EDITOR'S NOTE: CASE IN POINT......
O'seas helping 'Island' forget domestic disaster
You might call Michael Bay's "The Island" the overseas comeback kid.
The big-budget futuristic thriller, a major domestic disappointment (only $34.1 million in 24 days) topped the international boxoffice over the weekend,
EDITOR'S NOTE: THIS WAS A COUPLE OF WEEKENDS AGO. (DELAYED POSTING, SORRY)
narrowly beating its Warner Bros. Pictures stablemate "Charlie and the Chocolate Factory," $13.95 million from 33 markets to $13.86 million from 30 territories.
"The Island," a DreamWorks-Warner Bros. co-production with Warners handling the offshore release, has reached an international gross of $63.2 million, benefiting from openings in the U.K., Mexico and Russia. "Chocolate," meanwhile moved it's cume to $91.5 million. "Mr. & Mrs. Smith," No. 1 in France for three weeks in a row, topped $200 million, with $143 million coming from markets controlled by 20th Century Fox and the rest from those handled by Summit Entertainment/New Regency Pictures
EDITOR'S NOTE: AND THIS ONE, MORE RECENTLY.....
'Island' floats to No. 1 at int'l b.o.
SYDNEY -- The Smiths conquered Spain, Charlie retained his crown in Britain and "The Island"
finally had its day in the sun as weekend estimates placed the film No. 1 at the international boxoffice.
"The Island" grossed an estimated $12.4 million from more than 4,800 screens for a cume-to-date of $84.8 million in 44 markets. A solid opening in France of $3.4 million from 640 prints earned the Michael Bay actioner the No. 1 spot -- 11% ahead of "Batman Begins"and on par with "Constantine" -- with admissions expected to be almost double the No. 2 debut of "The Hitchhiker's Guide to the Galaxy.
EDITOR'S NOTE: AND WHEN IT HITS THAT $10 BIN AT TARGET, I AM FIRST IN LINE, BABY! (MAYBE THE DVD WILL INCLUDE ALL THE EDITED SCENES THAT WOULD HAVE MADE IT A MORE COHERENT FILM!)