And a Few Odds-n-ends
FCC speeds up DTV deadline
WASHINGTON -- Federal regulators on Thursday moved up the deadlines for manufacturers to make popular, midsized television sets capable of receiving digital signals.
The next-generation technology provides sharper images and more programming options.
The FCC voted 4-0 to require that all medium-sized televisions, those with screens from 25 to 36 inches in diameter, be capable of receiving both digital and traditional analog signals by March 1, four months earlier than the commission had decreed three years ago.
Regulators also retained a requirement that half of all new midsize televisions must have digital receiving capability by July 1.
The commission also proposed moving the deadline for all small TVs to have digital tuners to the end of 2006, rather than the July 1, 2007, deadline the regulators set in 2002. That proposal will be voted on later after a period of public comment.
The lack of digital-capable television sets has been a major impediment to Congress' tentative deadline of December 2006 to complete the transition from traditional analog TV signals to digital.
The 1997 law setting that deadline permits it to be extended in any market until 85% of the homes have a digital TV.
"
We need to push the transition to its conclusion as expeditiously as possible
, said commissioner Kathleen Q. Abernathy.
The Consumer Electronics Association and Consumer Electronics Retailers Coalition argued that the transition to digital television has actually been slowed by having a July 1 deadline for half the medium-sized TVs to have digital capability.They said retailers, expecting consumers to buy more non-digital televisions because they're less expensive, have been ordering more of those increasingly scare models from manufacturers and less of the more expensive, digital-ready models.
Television manufacturers and retailers supported the petition, while broadcasters opposed it. The National Association of Broadcasters said eliminating the 50% requirement would delay the transition to digital TV by guaranteeing the sale of more televisions that receive only analog signals.
EDITOR'S NOTE: WOULDN'T IT BE NICE IF SOMEONE DID SOMETHING CAUSE IT WAS THE RIGHT THING TO DO FOR CONSUMERS? INSTEAD OF HAVING IT LEGISLATIVELY FORCED DOWN THEIR THROATS? I DREAM OF A BETTER PLACE.....
Reluctant actors OK game deal
Hollywood's actors tentatively agreed Wednesday to accept a new video game contract after failing to get enough member support for a strike over residuals.
Negotiators for Electronic Arts, Activision and other leading game companies sweetened their offer at the last minute to avoid a return to the bargaining table after months of on-again, off-again talks with SAG and AFTRA.
The new deal will boost wages for voice-over and other performers by 36% over the terms of the 3 1/2-year contract, beginning with an immediate 25% hike. The actors also got increases in benefits and greater work protection, though not the residuals that they had been demanding.
EDITORS'
NOTE
: Thanks to dweebpal Dino-John for this next item:
Hey! H. G. Wells made note of something like this. OOOOOOOOOOOOOOH!

John

MARS SPECTACULAR!
The Red Planet is about to be spectacular! July and August, Earth is catching up with Mars in an encounter that will culminate in the closest approach between the two planets in recorded history. The next time Mars may come this close is in 2287. Due to the way Jupiter's gravity tugs on Mars and perturbs its orbit, astronomers can only be certain that Mars has not come this close to Earth in the last 5,000 years, but it may be as long as 60,000 years before it happens again.
The encounter will culminate on August 27th when Mars comes to within 34,649,589 miles of Earth and will be (next to the moon) the brightest object in the night sky. It will attain a magnitude of -2.9 and will appear 25.11 arc seconds wide. At a modest 75-power magnification Mars will look as large as the full moon to the naked eye. Mars will be easy to spot. At the beginning of August it will rise in the east at 10p.m. and reach its zenith at about 3 a.m.
By the end of August when the two planets are closest, Mars will rise at nightfall and reach its highest point in the sky at 12:30a.m. That's pretty convenient to see something that no human being has seen in recorded history. So, mark your calendar at the beginning of August to see Mars grow progressively brighter and brighter throughout the month.
Share this with your children and grandchildren. NO ONE ALIVE TODAY WILL EVER SEE THIS AGAIN !

EDITOR'S NOTE: THANKS, JOHN! REAL-LIFE DWEEBING! (WE SHOULD TRY TO FIND A TIME AND NON-CITY-LIGHT PLACE TO DO A VIEWING SOME TIME IN AUGUST).



Charlie & The Chocolate Factory Willy Wonka 18-inch Figure
EDITOR'S NOTE: COME BACK FROM THAT BAD PLACE YOU WENT TO....JOEL...ODDBOB....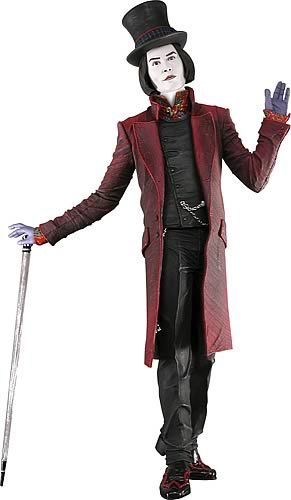 Estimated ArrivalAugust 2005
Although this item may arrive at anytime, NECA estimates this will be released in AUGUST 2005. Price: $44.99
Images of upcoming products may be prototypes and are subject to change before shipment.
CVS to sell disposable video cameras
For years, disposable cameras have been a magnet for last-minute photographic whimsy, encouraging all manner of embarrassing pictures from weddings and other social events.
Watch out: There's now a disposable video camera.
EDITOR'S NOTE: HOW COOL IS

THIS

!!??
The $29.99 pocket-sized digital video cameras are able to capture up to 20 minutes of video and sound.
CVS Corp. stores, which has exclusive rights to sell them, will process the camera for $12.99 and return a DVD; users also can e-mail video and video greeting cards.
Pure Digital Technologies Inc. developed and designed the camera with just three buttons. One starts and stops recording, another is used to play back video and the third deletes recorded segments.
Wal-Mart set to erase VHS, sources say
The world's biggest retailer is getting ready to say goodbye to VHS.
Industry sources said Wal-Mart Stores Inc. will be out of the videocassette business soon after the 2005 holiday season.
In the mega-chain's next September "reset" -- a thrice-yearly process in which video department planograms are redrawn and between 20%-40% of titles are replaced -- the company will realign its chainwide VHS inventory based on customer demand.
"In some markets, there will be more (VHS), in some markets there will be less
," according to one high-ranking studio source who asked not to be named.
At a subsequent reset in February, VHS most likely will be cut out, according to the source. After February, "
it is unlikely there will be any VHS left in any Wal-Mart store
," the source said. There are more than 3,600 Wal-Mart stores in the U.S.
Wal-Mart did not return calls seeking comment. However, calls to electronics departments at several Wal-Mart stores across the country seemed to confirm the flight from VHS. An employee in Oregon said his store recently had cut back inventory by 50% and said more reductions are on the way. An employee in Texas said the goal there was to eliminate VHS by year's end.
Last month, it was reported that Target Stores is joining the flight from VHS. Industry sources said the retailer is phasing out VHS and will complete the transition in all of its 1,330 locations by the beginning of September. Best Buy and Circuit City already have exited the VHS business.
Noting the decline of VHS in Target and other major chains, analyst Dennis McAlpine of McAlpine and Associates sees Wal-Mart's move as the latest and biggest nail in the videocassette coffin.
"
At some point you expect there would be a consolidation of the decline in the VHS business, and that's what you're seeing here,"
he said. Wal-Mart's actions will only precipitate greater flight from VHS, and the conversion from VHS to DVD "
will be over soon
," McAlpine said.
With the volume of DVD releases putting pressure on retail shelf space, getting rid of VHS to free up space for DVD is good for Wal-Mart and its customers, McAlpine said.
"There's no reason to have VHS out there anymore
," he said.
EDITOR'S NOTE: GOOD THING WE MADE MY DAD TAKE THAT DVD PLAYER FOR A GIFT A COUPLE OF YEARS AGO. (I HOPE THEY MEAN PRE-RECORDED DVD ONLY? I MEAN, WE'LL STILL BE ABLE TO BUY BLANK VHS CASSETTES, RIGHT?)
P.S. WALMART JUST ISSUED A STORY SAYING THERE WAS NO SET DATE FOR THIS CHANGE-OVER. THE EVIL EMPIRE WAFFLES....