HAPPY BIRTHDAY, UNCLE GEORGE!!!!
Editor's Note: When the king of the universe and CREATOR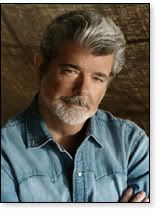 has a birthday,
you gets some balloons
bake a cake

and stop what you are doing and SING!

HAPPY BIRTHDAY DEAR UNCLE GEOOOOOOOORRRRRRGE!!!


Happy 63rd natal celebration to our lord and master and the originator of all goodness and joy in the universe.
umm....or SOMETHING like that.