Mid-Week Movie News
DIE HARD 4 May Be a Go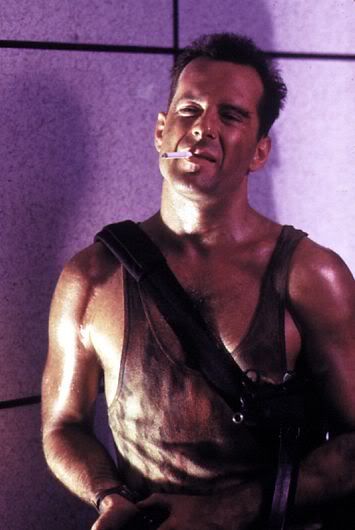 Bruce Willis has announced that shooting on a fourth
Die Hard
movie is as close to starting as ever.
"We're as close as we've ever got to getting Die Hard 4 started
," Willis said. "
It won't be called Die Hard 4 but that will be the story. Hopefully it will be out next summer."
EDITOR'S NOTE: YAY. (ALTHOUGH 'AS CLOSE AS EVER' IS SORT OF A HESITANT GREEN LIGHT, HUH?)
There had been rumors of script problems slowing development as it seems the script centered on a giant wave hitting New Orleans.
EDITOR'S NOTE: YEAH...I CAN SEE WHERE THAT MIGHT BE PROBLEMATIC....
A new script seems to have been created and the movie seems to be moving forward. A rumored working title was
Die Hard 4: Die Hardest
, but that will probably change in the near future if the project gets underway again.
The original
Die Hard
hit theaters in 1988.
Bryan Burk involved with STAR TREK
The team developing the 11th Star Trek movie is looking a lot like the team responsible for
Lost
. Bryan Burk, an executive producer for
Lost,
has announced that he will be involved with the project.
He will be joining
Lost'
s co-creators Damon Lindelof and J.J. Abrams, who will direct. Abrams' longtime writing colleagues Alex Kurtzman and Roberto Orci, who co-wrote Abrams'
Mission: Impossible III,
will also be involved.
EDITOR'S NOTE: THERE MIGHT BE LIFE LEFT IN THE TREK FRANCHISE YET! (IT CERTAINLY COULDN'T BE IN BETTER HANDS).
News on DA VINCI Sequel
Acting quickly on
The Da Vinci Code's
success at the box office, Sony Pictures has started development on a possible sequel.
ANGELS & DEMONS
is the likely choice for a sequel and Sony has signed Akiva Goldsman (
Da Vinci Code
) to pen the script.
No news as of yet regarding Ron Howard and his possible return, but it is expected he would be offered the project. Hanks would likely reprise his role as Robert Langdon.
Lee's future will include 'Lust,' WWII
CANNES -- Oscar winner Ang Lee is reuniting with longtime collaborator James Schamus and Focus Features to direct his follow-up to "Brokeback Mountain," the espionage thriller "Lust, Caution."
Set in World War II-era Shanghai, the Chinese-language film is expected to begin production this fall. The film will be exec produced by Focus CEO Schamus. The screenplay will be adapted from Eileen Chang's short story by Lee's "Crouching Tiger, Hidden Dragon" screenwriter Wang Hui-Ling. Bill Koning, who produced "Crouching Tiger" is reteaming with Lee to produce, and Schamus will serve as exec producer.
"Ang is going to be making a very exciting film that's unlike anything he's done before,"
EDITOR'S NOTE: SO...NO LANGUID SHOTS OF SCENERY AND WIND BLOWING THRU ICE/TREES/SAGEBRUSH? WELL, DRAT. (SMIRK....)
said Schamus, who's collaborated with Lee on nine features
." `Lust, Caution' is a uniquely Asian story which, in Ang's hands, will surprise and attract audiences around the world
."
Focus has worldwide rights to the film, excluding Asia. Focus Features International is handling overseas sales and distribution
Harryhausen, Mindfire meld
Seminal filmmaker Ray Harryhausen has joined forces with Mindfire Entertainment on a series of new movies, telefilms, video games and merchandising under the "Ray Harryhausen Presents" banner.
EDITOR'S NOTE: FIRST QUESTION....RAY HARRYHAUSEN IS STILL

ALIVE

?!
These projects will be based on unproduced material by Harryhausen.
Mindfire CEO Mark A. Altman said several scripts are in development -- one set in Greek mythology and another with an alien invasion theme -- with production on the first film set to begin in the fall. The plan is to release one movie in the $15 million range and three telefilms in the $4 million range every year, Altman said.
Harryhausen will be involved in the development of the projects and will oversee all visual effects, which will be done in CGI but will be in the spirit of the stop-motion special effects that he pioneered, Altman said
EDITOR'S NOTE: HAVE THEY ACTUALLY SEEN HIM FACE TO FACE? OR MAYBE THEY COMMUNICATE WITH A CLAY AVATAR?
Cillian Murphy Displays TelepathyStarring in a sci-fi drama
EDITOR'S NOTE: HE SURE IS PURTY,HUH?
Cillian Murphy can see the future. Or at least if he could, he'll see that in October, he'll see himself starring in a sci-fi thriller about Russian telepaths.
Telepathy,
which will also star Sam Neil and Miranda Richardson,
EDITOR'S NOTE: WHAT A YUMMY CAST!
focuses on identical twin brothers Josef and Viktor Zalenski in Russia who are recruited for a to-secret scientific program that hopes to use telepaths to communicate with aliens.
The script comes from Stephen Volk, who last penned ITV's drama
Afterlife,
starring Andrew Nichol, and Lesley Manning, who worked with Volk on 1995's spooky drama
Ghostwatch.

Cyrus 'The Virus' Grissom Vs. Forrest Gump
John Malkovich has joined the cast of "The Great Buck Howard", a new drama about magicians, headlined by Tom and Colin Hanks.
According to Variety, the "Con Air" star will play a magician who takes a young recruit (Colin Hanks, of "Roswell" fame) under his wing. Tom Hanks plays the young man's disapproving father.
Malkovich is said to have replaced original choice, Kevin Kline.
EDITOR'S NOTE: DRAT. KLINE COOL. MALKOVICH CREEPY. (AH WELL....)
Closer duo bite into Blueberry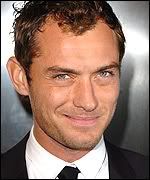 "Closer" duo Natalie Portman and Jude Law will reunite for "My Blueberry Nights", the English-language debut for director Wong Kar Wai ("2046").
Also starring Rachel Weisz and Norah Jones, the film tells of a young woman (Jones) who travels across America, looking for love, and encounters some weird and wonderful characters along the way.
EDITOR'S NOTE: NATALIE PORTMAN, RACHEL WEISZ, AND JUDE LAW? ALMOST TOO PRETTY TO WATCH WITHOUT

SUN GLASSES

OR SOMETHING.
Pre-production begins straight after Cannes – where Wong is jury president – with filming beginning next year
Broken Arrow 2 : Dancing Time!
"Broken Arrow" duo John Travolta and Christian Slater might be re-teaming for something that's, well, light years from the aforesaid 1996 actioner.
According to
Sky News
, Travolta and Slater are circling "On the Town", a musical remake of the old Frank Sinatra/Gene Kelly pic, about a trio of sailors on leave in New York.
Apparently Slater has a YEN for Musicals at the moment, thanks to the kudos he's getting for his performance in the stage version of "One Flew Over the Cuckoo's Nest", so wants to milk it why he's still hot…. or, lukewarm, or whatever he is these days.
EDITOR'S NOTE: I UNDERSTAND HAVING A YEN FOR MUSICALS...WE THESPDWEEBS ARE RIGHT THERE WITH YOU. BUT HOW DOES SLATER DOING "ONE FLEW OVER THE CUCKOO'S NEST" CONNECT TO DOING MUSICALS? PLEASE TELL ME IT ISN'T A MUSICAL VERSION? EEK.
Travolta's been looking for another musical – at one stage, it looked like it was going to be "Grease 3", but that idea was put to sleep pretty quickly.
EDITOR'S NOTE: PHEW. YOU 80'S FANS CAN RELIVE YOUR STINKYFEET, DECULTURED, MISSPENT YOUTHS ON YOUR OWN TIME.
Hilary Swank Says I Love You In a new drama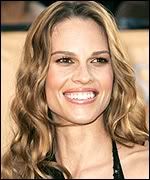 Hilary Swank will re-unite with director Richard LaGravenese, with whom she's just shot
Freedom Writers,
for
P.S. I Love You
.
The movie will adapt Celia Ahern's bestselling book about a widow whose life takes on new meaning when letters left by her dead hubby inspire her to go on a series of adventures.
Freedom Writers
will be released early next year, but if you can't wait that long for a Swank fix, she also stars in Brian De Palma's upcoming
Black Dahlia
, and Warner Bros' supernatural thriller
The Reaping
.
EDITOR'S NOTE: BUSY BUSY!
Spike Lee is SELLING TIME

Spike Lee has signed a deal to rewrite a script for
SELLING TIME
, a supernatural thriller for 20th Century Fox. Lee might sign on to direct the project as well.
The story follows a man who sells chunks of his life so that he can relive and change the worst day of his life.
The film will be produced by John Davis and Jennifer Klein.
EDITOR'S NOTE: AND SPEAKING OF FILM-SCHOOL TRENDOIDS.....
Tarantino to advise Weinstein Asian label
CANNES -- Bob and Harvey Weinstein unveiled a new label Tuesday called
Dragon Dynasty,
under which the Weinstein Co. will release Asian films.
Titles will include "Ong Bak 2," "The Protector" (aka "Tom Yum Goong"), "Born to Fight", "SPL," "Seven Swords" and "Dragon Squad." It will also encompass a package of 43 titles, which have been licensed from Fortune Star Entertainment, the distribution division of News Corp.'s STAR Group, which owns the world's largest contemporary Chinese language feature film library.
In addition, Dragon will also handle a collection of 50 movies from the Shaw Brothers including John Woo's "The Killer," "Hardboiled," "Bullet in the Head" and "A Better Tomorrow 1 & 2."
Quentin Tarantino, a longtime champion of Asian cinema, will actively work with the Weinsteins in all aspects of Dragon's brand development.
EDITOR'S NOTE: FOR A GUY WHO HAS ONLY MADE A SMALL HANDFUL OF FILMS, TARANTINO SURE DOES SELF-PROMOTE BRILLIANTLY, HUH?
Hatcher does double duty in 'Coraline'
Teri Hatcher will voice a dual role opposite Dakota Fanning in "Coraline," the first animated film from Laika Entertainment, Phil Knight's animation studio based in Portland, Ore.
Focus Features has worldwide sales distribution rights to director Henry Selick's adaptation of Neil Gaiman's 2002 international best-seller, which features songs from They Might Be Giants.
Hatcher plays both the mother of the title character (voiced by Fanning) and her other mother in a parallel universe. The young Coraline steps into a world that appears to be a much better version of her own reality, but when her artificial parents attempt to keep her there forever, she must escape the dangerous situation and take a brave journey to get back home.
Brokeback duo doing Dylan

Real-life duo, and "Brokeback Mountain" co-stars, Heath Ledger and Michelle Williams will reunite on "I'm not there", a new film about legendary musician Bob Dylan.
Ledger has stepped in at the 11th hour to replace originally cast Colin Farrell, says
Production Weekly
.
EDITOR'S NOTE: COLIN FARRELL

NOT

IN A MOVIE? USUALLY A GOOD THING.
Directed by Todd Haynes, it's essentially thoughts on the life of the man, where seven characters embody a different aspect of the musician's life and work. Christian Bale, Cate Blanchett, Richard Gere and Julianne Moore also star. Actress (!) Charlotte Gainsburg ("21 Grams") is also said to be playing Dylan, at one point in the film.
Interestingly, Ledger told us in January that he'd be taking this year off, so that his wife could work. Looks like a live-in babysitter is in need.
Also over at
Production Weekly
today, news on Sidney Lumet's new film "Before the Devil Knows You're Dead". It'll star Ethan Hawke, Albert Finney and Marisa Tomei, and tells of two brothers who plot to rob their parent's jewellery store.
EDITOR'S NOTE: THAT'S GONNA PLAY HECK WITH THANKSGIVING DINNER-TABLE CHIT CHAT, HUH?
Raising Caine
Yet another old TV series is headed to the big screen – and this one, doesn't really surprise me, it's almost aching for it.
Classic David Carradine starrer "Kung Fu" is getting the cinematic refurbish, with thanks to Warner Bros.-based Legendary Pictures and writers Ed Spielman (who also created the original TV show) & Howard Friedlander, says Variety.
The original series, co-created by Bruce Lee, fixed on a Shaolin monk who flees to China, after avenging the death of his teacher, to the American West and helps people while being pursued by bounty hunters.
It's unlikely Carradine will be involved.
EDITOR'S NOTE: WHY NOT?! (I MEAN, APART FROM THE FACT THAT HE'S NOT ASIAN. BUT,I MEAN, HE WASN'T ASIAN

BEFORE

, EITHER).
Stockwell helming Toy Rabbit movie
"Blue Crush" director (and one time 80's actor) John Stockwell has signed on to helm the film version of the kiddies' book "The Miraculous Journey of Edward Tulane" for New Line Cinema.
The children's book, written by Kate DiCamillo and published by Candlewick, received a rave review from the New York Times last week.
The book is a fable about a girl whose narcissistic porcelain toy rabbit,
EDITOR'S NOTE: LET'S PAUSE AND THINK ABOUT THAT FOR A MOMENT...... A 'NARCISSISTIC PORCELAIN TOY RABBIT'. THIS IS A ROCK BAND NAME WAITING TO HAPPEN, HUH?
named Edward Tulane, is swept overboard on a family trip and begins a journey to discover the true meaning of love, says The Hollywood Reporter.
Stockwell's next film is "Turistas", a thriller with Josh Duhamel and Melissa George. He recently announced his next project, "Chasing the Whale", about a casino-gambler named Kerry Packer.
Elisabeth Shue Scores Gracie/A football drama
With the World Cup just around the corner, it seems the right time to announce that Elisabeth Shue's football
EDITOR'S NOTE: FOOTBALL AS IN SOCCER, I PRESUME?
drama
Gracie
has found funding. Picturehouse will grab US rights to the film, which starts shooting this summer.
Davis Guggenheim will direct Shue, teen actress Carly Schroeder (Mean Creek) and brother Andrew Shue in a story inspired by her real-life family history.
The film focuses on a 16-year-old girl, who after her football star brother dies playing the game, dedicates her life to winning the right for girls everywhere to play the game competitively.
Guggenheim, who is currently promoting his documentary
An Inconvenient Truth
at Cannes, is also known for being Elisabeth's Shue's husband. Expect the rest of the family to provide the catering.
EDITOR'S NOTE: YUM!
Perry gets his 'Girl': it's Union
Gabrielle Union will star in Tyler Perry's latest Lionsgate film, "Daddy's Little Girl."
Written by Perry, the reverse-Cinderella tale centers on a successful attorney (Union) who falls in love with a janitor who is a single father of three children. This relationship causes a rift between the woman and her father, as he hoped she would marry wealthy.
The film is being produced by Reuben Cannon and will shoot in the summer in Atlanta. Union most recently starred in ABC's short-lived series "Night Stalker" and next appears in "Running With Scissors." Other feature credits include "The Honeymooners," "Bad Boys II" and "Deliver Us From Eva."
Taylor joins bridal party in Kwapis' 'Wed'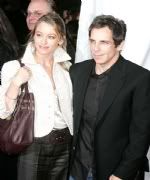 Christine Taylor has been cast in "License to Wed," a Warner Bros. Pictures/Village Roadshow Pictures comedy being directed by Ken Kwapis. She joins the already cast Robin Williams, Mandy Moore and John Krasinski.
EDITOR'S NOTE: PRETTY MUCH PEOPLE I DON'T CARE ABOUT. (EXCEPT FOR WILLIAMS, AND

HIS

TASTE IN MOVIE PROJECTS CAN'T REALLY BE COUNTED ON FOR HELP IN ALLOCATING MY ENTERTAINMENT DOLLARS).
The story revolves around a young couple (Moore, Krasinski) whose wedding plans are interrupted when the pushy minister (Williams) of the bride's family church orders the pair to complete a marriage preparation course. They must pass the class if they want to marry in his church. Taylor will play Moore's older sister. Vince DiMeglio and Tim Rasmussen did the latest rewrite of the script.
SPECIAL Finds a Home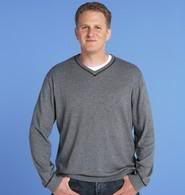 First Look Studios has grabbed the worldwide rights to the upcoming film
Special.

The movie stars Michael Rapaport as a comic book-loving meter maid who finds himself with amazing superpowers. After taking a mind-altering drug, he is sent into a world of defying gravity, reading minds, and walking through walls.
The movie is directed by first timers Hal Haberman and Jeremy Passmore.
Paul Giamatti is Dr. Satan
Paul Giamatti will lend his voice to the cast of
Rob Zombie Presents the Haunted World of El Superbeasto (Superbeasto).
Giamatti will voice Dr. Satan, the film's main villain.
EDITOR'S NOTE: WHAT WERE THIS CHARACTER'S PARENTS THINKING?! I MEAN, YOU NAME YOUR KID 'DR.SATAN', AND IT PRETTY MUCH GUARANTEES THEY ARE GOING TO BE A BAD EGG. POOR KID....Superbeasto
will be a 2-D animated comedy based on the Spookshow International comic book
The Haunted World of El Superbeasto
. It follows the exploits of a washed-up Mexican wrestler, El Superbeasto, in the mythic world of Monsterland.
Tom Papa will voice El Superbeasto. Sheri Moon Zombi and Brian Posehn will also voice characters.
EDITOR'S NOTE: WHO BE THEM?
Freeman and Kinnear in Love
The always dependable Greg Kinnear will re-team with his "Nurse Betty" co-star Morgan Freeman for the feature film adaptation of Charles Baxter's novel, "The Feast of Love", says The Hollywood Reporter.
EDITOR'S NOTE: SO A DARING SAMESEX/CROSSRACE DRAMA?
The film revolves around a community of friends in Oregon and is described as "
an exploration of the magical, mysterious and sometimes painful incarnations of love
".
EDITOR'S NOTE: WHICH DIFFERENTIATES IT FROM

OTHER

MOVIES ABOUT LOVE, HOW?
Kinnear will play Bradley Thomas, an all-around nice guy who owns a coffee shop and paints on the side. Unfortunately, Thomas can't catch a break with his love life, losing his first wife to a lesbian and a second wife to another man. His character shares a unique bond with Freeman's character, philosophy professor Harry Scott.
Oscar-winning helmer Robert Benton ("Kramer vs. Kramer") recently signed on to direct the film, scheduled to begin shooting in August in Portland.