Isn't it (FINALLY) time for some STAR WARS News?!
Entertainment Icon George Lucas to Be Inducted into Toy Industry Hall of Fame

Renowned storyteller and legendary filmmaker George Lucas has been named the

2007 Toy Industry Hall of Fame

inductee. The announcement was made today by Carter Keithley, President of Toy Industry Association, Inc. (TIA), sponsor of the event, and Robert Pasin, Toy Industry Hall of Fame Committee Chairman and CEO, Radio Flyer.
Established in 1984, the Toy Industry Hall of Fame recognizes individuals who have significantly contributed to the growth and success of the toy industry.

EDITOR'S NOTE: I WOULD SAY THAT SURELY APPLIES TO UNCLE G. SINGLEHANDEDLY.




From the time it premiered in 1977, George Lucas' "Star Wars" saga took the world by storm and created a cultural phenomenon that has touched generations of kids with its epic battles and legendary characters. In addition to winning eight Academy Awards, the "Star Wars" movies set new standards for sophistication in film visuals and sound, and revolutionized the toy industry at the same time.
The first "Star Wars" film inspired Kenner Products' creation of the 3-3/4-inch action figure scale, which remains an industry standard today. Designed, manufactured and marketed by Hasbro, Inc. since its purchase of Kenner in 1991, "Star Wars" toys and games are one of the best-selling toy lines in the industry's history.

"

George Lucas' devotion to timeless storytelling and cutting-edge innovation has resulted in some of the most successful and beloved films, and in turn, characters and toys of all time,"

said Pasin. "

Children and children-at-heart around the world have been enthralled and entertained, and will continue to be so through the classic toys and games based on his films."



The ceremony inducting Lucas will take place as part of the seventh annual T.O.T.Y. (Toy Of The Year) Awards event, set for the evening of Saturday, February 10, 2007, in New York City at the Marriott Marquis Times Square. Lucas, the 50th Hall of Fame inductee, will be present to accept the honor in person.

The Toy Industry Hall of Fame, created in 1984, honors individuals who have made a mark on the American toy industry. Nominees may be manufacturers, retailers, designers, inventors, wholesalers or other executives who have made a significant impact in the youth entertainment market. TIA's Board of Directors made an exception and unanimously selected Lucas as the sole inductee for 2007, the first time in T.O.T.Y. Awards history.

More information on the event and ticket sales will be available at
www.toy-tia.org
.
About the T.O.T.Y. Awards
The T.O.T.Y. Awards were conceived to honor the best toys developed by the international toy industry for consumers in North America. The Awards include eleven industry award categories, and one industry recognition category designed to recognize the best toys and children's entertainment, as well as outstanding individuals, companies and team achievements. Formal invitations to the event will be mailed in November. The T.O.T.Y. Awards ceremony also includes a fundraising campaign to benefit the Toy Industry Foundation (TIF), the philanthropic and educational organization representing the North American toy industry. The Foundation's mission is to make a difference in the lives of children in need, bringing them joy, happiness and comfort through the experience of toys and play.
SCULPTING A GALAXY
From the producers of the acclaimed Dressing a Galaxy: The Costumes of Star Wars comes an inside look at the secrets behind the saga's artful models and sculptures.
Lorne Peterson, model and sculpture designer for the entire Star Wars saga, takes us on a journey through the intricate process of crafting and sculptingthe models from sketch to screen, and the amazing artistry behind the dazzling results.

Sculpting a Galaxy: Inside the Star Wars Model Shop features more than three hundred full-color photgraphs and illustrations from the Lucasfilm archives, models from all six films, interviews, images, and text with concept sculptors, an overview of the Industrial Light & Magic (ILM) model shop from 1976 through today, and numerous gatefolds of the most-loved models.

ILM vitually redefined visual effects and blazed a trail into the digital realm.

Follow Peterson behind the cameras and into the rarely seen workshops with this amazing exploration of movie magic.

Sculpting a Galaxy: Inside the Star Wars Model Shop offers the first in-depth examination of these amazing models, as well as a penetrating behind-the-scenes view of their creation, punctuated by Lorne Peterson's exuberance and dedication to craft.

EDITOR'S NOTE: I HAD THE GREAT GOOD FORTUNE TO GO AROUND THE "MAGIC OF MYTH" MUSEUM EXHIBIT WITH LORNE PETERSON, AS HE POINTED OUT ALL SORTS OF LITTLE THINGS ON THE DIFFERENT SHIP MODELS.





THIS WAS ONLY A FEW YEARS AGO, AND HE WAS STILL AS ENTHUSIASTIC AS IF HE WERE WORKING ON HIS VERY FIRST STAR WARS PROJECT. IT IS ALWAYS SO NEAT WHEN THEY AREN'T JUST JOBBERS, BUT TRULY IN LOVE WITH WHAT THEY DO.



This unique visual treat is a must-have fior any Star Wars fan!
The Sith Rule Star Wars Insider #88
The dark side is strong with this one.

EDITOR'S NOTE: I THINK THEY ARE TALKING ABOUT OUR VERY OWN ODDBOB. (SEE THE 4TH MAGAZINE COVER, BELOW, OB).
The next issue of Star Wars Insider celebrates the ultimate revenge of the Sith Lords with an issue devoted to their evil ways.
Four separate covers contain the darkness within, stunningly illustrated by
ILM
artists. Aaron McBride illustrates the
Darth Vader
and
Count Dooku
covers, while Christian Alzman provides the art for the
Darth Sidious
and
Darth Maul
covers.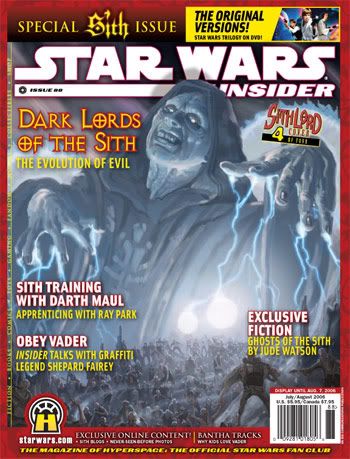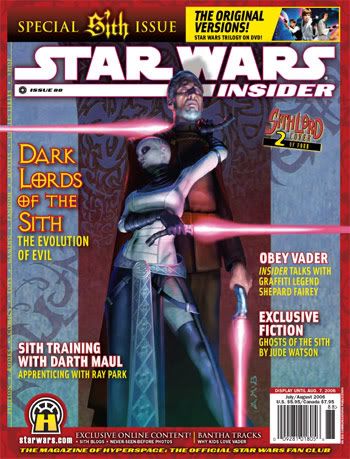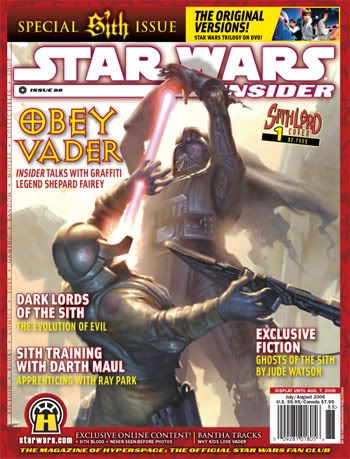 EDITOR'S NOTE: HERE YA GO, ODDBOB!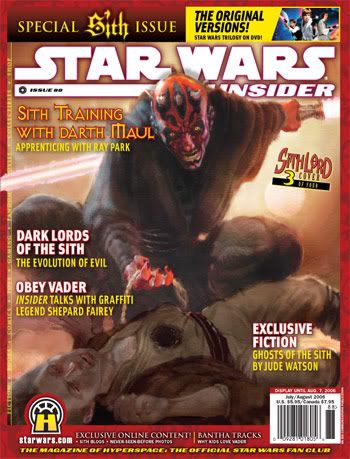 A feature article explores the evolution of these covers, including an inside look at the development of this amazing art.
Also in this issue is "Heritage of the
Sith
," an ancient tome of Sith lore discovered by author Drew Karpyshyn.
Jude Watson visits the Sith crypt world of Korriban

EDITOR'S NOTE: GAMEMASTER DAVE!!! KORRIBAN!!! (YOU'LL HAVE TO READ THIS, THEN TAKE OUR RAGTAG LITTLE BAND OF RPG'ERS BACK THERE!)

in a new short story, "Ghosts of the Sith," with illustrations by Linh Ngo.
And find out who's who in on the dark side of Star Wars: Legacy, the new comics series from Dark Horse Comics.
Did we mention that the Sith are back?

If that's not gloomy enough for you, explore the roster of digitized Darths with the article "Virtual Sith," which is a guide to Sith depicted in LucasArts videogames.

On the real world side of things, actor Ray Park describes what it's like to play a Sith Lord, complete with full-page step-by-step martial arts guide. Learn how to fight like a Sith!

EDITOR'S NOTE: LET'S PAUSE A SEC, WHILE ODDBOB LETS HIS EYES ROLL BACK INTO HIS HEAD....





OK THERE, OB?



And there's more -- the art of the dark side gets showcased with an exclusive interview with Shepard Fairey. The underground artist is known for his poster art for Walk the Line, but last year, he got to illustrate another famous
Man in Black
. Star Wars Insider also explores the making of Betrayal, the first novel of the Legacy of the Force series, and all the fan-favorite departments return, though they're looking rather dark this issue.
Even the brand kids new section, Padawan Corner, can't escape the Sith touch.

Star Wars Insider #88 starts shipping to subscribers around the beginning of June, and hits newsstands on June 13.

EDITOR'S NOTE: SAD CONFESSION TIME....I HAVEN'T READ #86 OR #87 YET. SOOOOOO FAR BEHIND!!!!



Around that time, check online for an online supplement of exclusive articles that continue the Sith theme.
EDITOR'S NOTE: WHICH I WILL TRY TO SNEAK (FROM MY LOFTY HYPERSPACE PERCH) TO MY FAITHFUL DWEEBPAL PADAWANS.
The Phantom Menace In 3D
Fan of TheForce.net "Jimmy" writes in with this news he recently discovered in Popular Science:
In the magazine Popular Science's June 2006 issue there's an article called "Return Of The 3D".
The article features the work of a couple of companies working on transforming 2D movies into high tech 3D films, without the "
distortions that cause your brain and stomach to revolt."
Specific quotes from the article include..."...
Lucas is expected to release a fully 3-D version of Star Wars: Episode I -
The Phantom Menace
next spring
."
EDITOR'S NOTE: OK, IT'S TPM, NOT ROTS OR ESB, BUT STILL.....SOMETHING TO LIVE FOR!!!
"
The staffers put on pairs of thick glasses and watched as clips from Star Wars were played. Suddenly the screen itself seemed to dissolve away, as scenes stretched out toward the audience. Anakin Skywalker and Obi-Wan Kenobi's faces grew closer EDITOR'S NOTE: OBI-WAN

CLOSER

?! SAY NO MORE! to viewers as the characters prepared to chase a would-be assassin. Pod cars buzzing in the background really appeared to be hundreds of feet away ... Soon, the Jedi Master himself came in. George Lucas sat down, put on the glasses and, within a few minutes, passed judgment: 'I'm sold! I'm sold!'"
There's a bit more, and the article highlights a couple other big-name directors, and some major companies (including ILM) and the technologies being used to turn many movies (not just Star Wars) into big-screen 3D films.
But yeah, seems like we can expect 3-D Star Wars in theaters next year!-Jimmy
Thanks for the news Jimmy!
EDITOR'S NOTE: INDEED. YAY JIMMY!
STAR WARS SHOPPING
StarWarsShop is offering the new
Star Wars Trilogy DVDs
(with bonus unaltered versions of the films as extras) for preorder in a specially-priced bundled set that includes an exclusive Topps collector card depicting the famous Han vs. Greedo scene from
A New Hope
!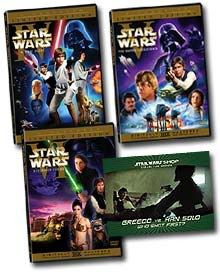 Because most fans who might want to pick up, say, the unaltered version of
A New Hope
will probably also want the original versions of
Empire
and
Jedi
, StarWarsShop is making all three of these releases available as a set for $59.99 -- that's about $30 off the suggested retail price if purchased separately.
In addition, fans will also be able to pick up the third exclusive Topps collector card offered by StarWarsShop, with more expected to be added to the expanding exclusive series this summer.
This DVD release of the trilogy will only be available through the end of the year, so make sure to get your pre-order in early at StarWarsShop, where you can get your exclusive Topps collector card while supplies last.
EDITOR'S NOTE: TRYING TO DECIDE IF I'M GOING TO BUY THIS. NON-SCIENTIFIC SAMPLING.....ARE YOU GUYS GOING TO BOTHER, OR WAIT FOR 3D/HIDEFDVD/WHATEVER'S NEXT?
ARE WE COMPLETISTS? WILL OCD WIN OUT?
Star Wars Original Trilogy DVD Set (Widescreen)
Our Price: $59.99
PRE-ORDER ITEM: Ships Sep 12
http://shop.starwars.com/catalog/product.xml?product_sku=SWFOXOTCW&rid=EMAILC-120
And for the first time ever, fans can now get an officially licensed
Lucasfilm-branded t-shirt
and hat
exclusively from StarWarsShop.com!
Previously available only to employees and guests of Skywalker Ranch and the Presidio, the new t-shirt and hat sport the classic Lucasfilm logo, which for many has become an iconic standard for state-of-the-art entertainment.
Lucasfilm Logo Adult Hat
Our Price: $15.99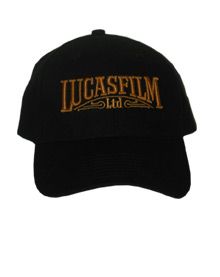 The exclusive new cap features a fully-embroidered logo in gold against black, making it easily recognizable across the room by fellow fans in-the-know.
Want to share your fandom of Lucasfilm's movies or just want to feel like an industry insider? Head on over to StarWarsShop now to grab this cool new exclusives today!
PRE-ORDER ITEM: Ships Jun 2006
http://shop.starwars.com/catalog/product.xml?product_sku=SWLFLHAT&rid=EMAILC-120
Lucasfilm Logo Adult T-Shirt
Our Price: $16.99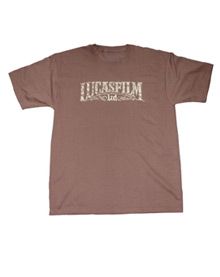 The exclusive new t-shirt exhibits the classic Lucasfilm logo with a relaxed distressed look, making it easily recognizable across the room by fellow fans in-the-know.
EDITOR'S NOTE: I THINK I NOW HAVE ENOUGH STAR WARS T-SHIRTS TO WEAR A DIFFERENT ONE EVERY DAY OF THE WEEK FOR AT LEAST 2 WEEKS. (AND MAYBE EVEN ALLOW FOR A CHANGE OF CLOTHES ON A COUPLE OF THOSE DAYS).
PRE-ORDER ITEM: Ships Jun 2006
http://shop.starwars.com/catalog/product.xml?product_sku=SWLFLLF&rid=EMAILC-120
EDITOR'S NOTE: DWEEBPAL SAMANTHA --- I THINK YOU NEED TO ADD THIS FLAG TO YOUR HOME-DECOR FLAG COLLECTION!!!!
Exclusive 3 x 5 Feet Trooper & Crossbones Nylon Flag

Our Price: $44.99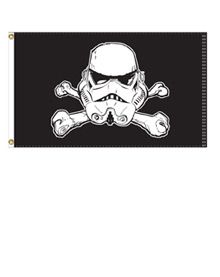 The season for flying patriotic colors has arrived, and StarWarsShop has the perfect flag to flaunt your Star Wars fandom this summer!
The classic skull and crossbones flag, which was originally flown to menacing effect on the high seas by cutthroats and thieves, takes on a new sinister edge by recasting the grinning skull with the Galactic Empire's own face of death -- a stormtrooper!
This one-sided 3'x5' nylon flag features quality stitching and a grommet-lined edge that allows you to proudly broadcast your allegiance to the Star Wars saga from your front porch or game room wall!
This StarWarsShop.com exclusive will be available in limited numbers so be sure to reserve yours today. Prototype pictured and subject to change.
PRE-ORDER ITEM: Ships Jun 2006
http://shop.starwars.com/catalog/product.xml?product_sku=SWLFLFTC&rid=EMAILC-120
EDITOR'S NOTE: VIS-A-VIS THE FALL DVD RELEASE, HERE'S SOME POTENTIALLY

BAD

NEWS ----
Classic OT DVDs: Don't Make Assumptions
On May 3 when
Starwars.com
announced Lucasfilm LTD and Twentieth Century Fox Home Entertainment would finally release the Original Trilogy, unaltered on DVD, fans rejoiced.
EDITOR'S NOTE: SOME DID. SOME YAWNED. BUT WE GET THE PONIT....
For good reason, as it seemed George Lucas has finally given in to the relentless pleading from countless fans for the original version of the movies on DVD.
Caught up in the excitement, few wondered out loud exactly what form these would take.
Certainly fans have become well used to amazing and pristine DVD releases of Star Wars movies with incredible soundtracks on DVD.
This, however, is not to be for this release of the movies.
This week, a number of details about the release have come out, and for many, the news is terrible.
I'm not going to go into this in much detail, as it is already well documented over at the fine DVD site,
TheDigitalBits.com
. Below are the key points, but if you really want some detail, do head over to The Digital Bits for much more.
DVD Release DetailsVideo source:
Same as used for the 1993 Definitive Collection Laserdisc.
Widescreen: Letterboxed, not anamorphic as the other Star Wars DVDs are. (IE, compared to most DVD releases which are anamorphic, these can't possibly look as good as they would if anamorphic.)
Note: These DVDs will apparently not include the amazing restoration seen in the Special Edition set. They will not look as good, nor will they sound as good as the Special Edition sets.
EDITOR'S NOTE: SO WHEN YOU WHINE TO UNCLE GEORGE, BE MORE

SPECIFIC

NEXT TIME. YOU SAID....YOU FANBOY KVETCHERS...THAT YOU WANTED THE ORIGINAL TRILOGY BACK. SANS ANY TINKERING. AND THAT IS WHAT UNCLE G APPARENTLY IS GIVING YOU. NO HAN-SHOOTS-SECOND. BUT ALSO NO RESTORED VISUALS OR 21ST CENTURY SOUND UPGRADES. (SO WHAT YOU

REALLY

WANTED....JUST TO BE CLEAR ON THIS.... WAS ALL THE CAKE AND EATING IT TOO? ALL HIS TECHNICAL KNOW-HOW, BUT NONE OF HIS ARTISTIC INPUT. SHAME ON YOU. YOU DESERVE A NEW SET OF

VHS

).
MORE OF THAT 2007 SNEAK PEAK FROM HYPERSPACE: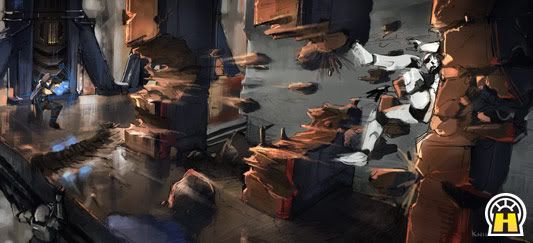 EDITOR'S NOTE: STILL DON'T KNOW WHAT THIS IS ALL ABOUT, BUT IT IS GENERATING SOME COOL PICS!
AND THE REST OF THE PICS FOR THE WEEK: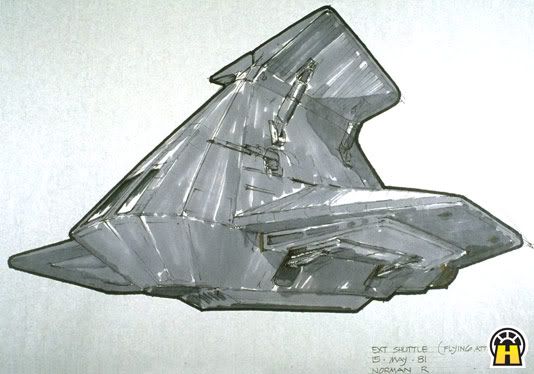 An early iteration of the Imperial shuttle, courtesy of Production Designer Norman Reynolds.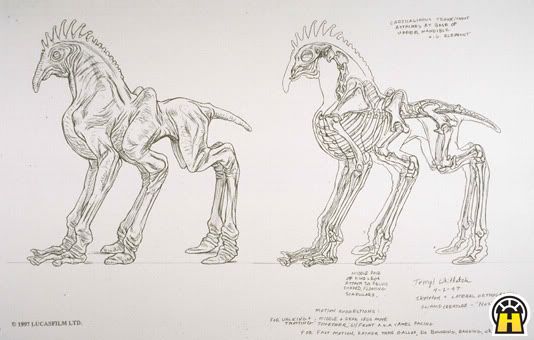 Terry Whitlatch studies the skeletal systems of an imaginary Naboo beast.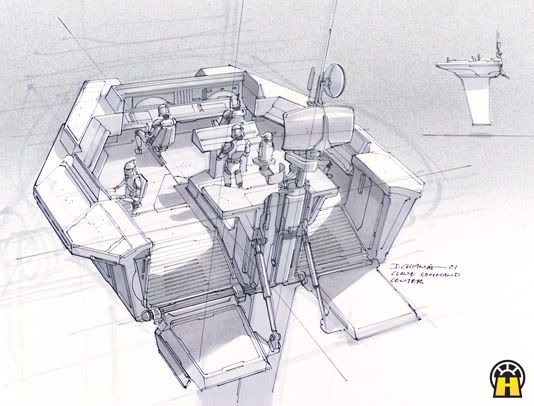 Doug Chiang illustrates a mobile clone trooper command center for the Battle of Geonosis.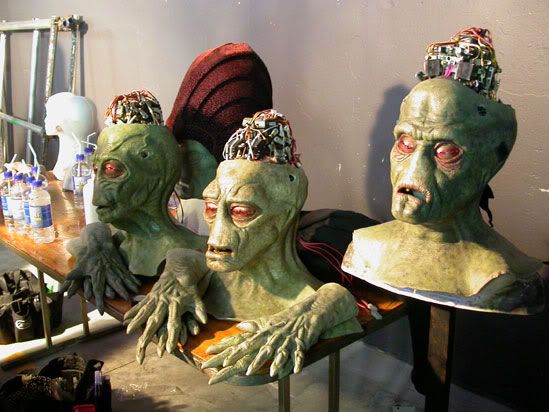 The animatronic Neimoidian masks used for the Separatist slaughter scene in the Mustafar control room.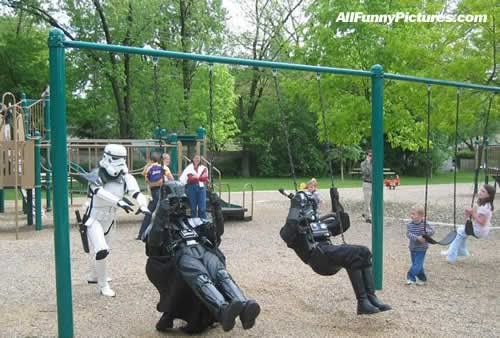 AND LAST.....a funny from DWEEBPAL SeattleDenise (THANKS, Denise!)