Wednesday Dweebing 7 - MORE Star Wars, by golly!
EDITOR'S NOTE: A DAY WITHOUT STAR WARS IS....UMM...LIKE A DAY WITHOUT ORANGE JUICE?
STUFF TO BUY, STUFF TO BUY, STUFF TO BUY!!!!


The Simpsons Bart Wars
Our Price: $14.98



All new Featurette; "The Making of Bart Wars"Four Simpsons Episodes
Ships May 17

Ever since Bart Simpson mentioned the original Star Wars Trilogy as recommended viewing during The Simpsons' first season, Star Wars references have abounded throughout the show's sixteen-season run.
One of the most celebrated Star Wars-referenced episodes, "Mayored to the Mob", featured Mark Hamill and a slew of hokey references to our favorite galaxy far, far away.
"Mayored to the Mob" is one of four episodes available on the new Bart Wars DVD, three of which have never before been available in this format.
Additional episodes include "Marge Be Not Proud", "Dog of Death", and "The Secret War of Lisa Simpson". Also included is an all-new featurette called "The Making of Bart Wars: The Simpsons Strike Back".
Enjoy this great tribute to Star Wars spun in the uniquely entertaining Simpsons-style.


Star Wars Darth Vader Sprinkler
Our Price: $18.99

Stands 10" tallSpins around with water spraying action
In Stock Now


Let the Dark Side defend your lawn from the ravages of summer heat or cool you off on a hot day with this Darth Vader sprinkler! Standing 10" tall, this great new Vader sprinkler spins around with water spraying action, wielding his lightsaber in a furious battle to save your lawn! Let Darth Vader be the center of your backyard universe today with this very cool garden accessory.

EDITOR'S NOTE: I'M SEEING A WELL-KEPT LAWN IN MY FUTURE.



EDITOR'S NOTE: DROOL WITH ME OVER THESE BABIES, IF YOU WILL. (I'VE ALREADY EMAILED MY FLORIDA FAMILY WITH PURCHASE INSTRUCTIONS, PICTURES, AND MY CREDIT CARD NUMBER)
Star Wars Weekends 2005 Collectibles

Visitors to Disney-MGM Studios in Florida between May 20 and June 12 this year will be treated to a great lineup of special Star Wars Weekends merchandise created exclusively for this eagerly anticipated annual event.
In addition to the planned activities, events, and celebrities
, guests will have the opportunity to shop for exclusive pins, posters, t-shirts, coins, and other collectibles in the whimsical Disney/Star Wars crossover tradition.

To many, that tradition is defined by the exclusive pin sets available at each Star Wars Weekends event, and Pin USA delivers a fantastic array for 2005. Some available only in limited edition sets, collectors can look forward to at least 20 all new designs this year.



Here's the rundown:



Set of five jumbo pin on pins (a feature which gives a pin added dimension) will exhibit the artwork used on each Star Wars Weekends poster between 2000-2005. The 2005 edition pin, which uses the stunning Vader in flames graphic, includes Mickey's hand "brushing" the ears on with a paint brush.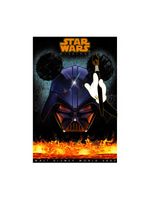 Limited edition framed set of nine pin on pins featuring eight scenes from Episode III plus the
Darth Vader
/Mickey Star Wars Weekends pin.

Limited edition set of four Darth Vader pins that come in a special Darth Vader
Sith
Lord box.

Three pin paper box
Anakin
transformation set which depicts the evolution of Darth Vader
Limited edition Episode III opening day pin
The Star Wars Weekends collectible coins, which have become a traditional event exclusive since 2001, will all be recast for a limited edition set of 250. Collectors of these popular coins from the past need not worry -- the 2005 Star Wars Weekends logo will appear on the obverse of each coin, distinguishing them from the past years' originals. Collectors will also note the addition of a year 2000 coin, which will finally be made available for the first time exclusively in this set.
Additionally, the 2005 coin featuring the Darth Vader/Mickey graphic will be available in four finishes: gold plate, silver plate, bronze oxide, and brushed nickel. These will be limited to 1000 each.
Bean bag collectors will be pleased to find Mickey clad in the famous Sith Lord's armor for this year's event, nicely complementing the "Jedi Mickey" bean bag from the 2004 Star Wars Weekends.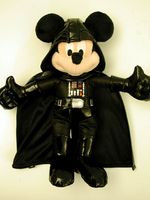 EDITOR'S NOTE: MUSTHAVEMUSTHAVEMUSTHAVE!!!(AND WHAT JEDI MICKEY?!)

In addition to these limited editions and other collectibles, fans will be able to find a whole bunch of other great items featuring the Star Wars Weekends 2005 artwork.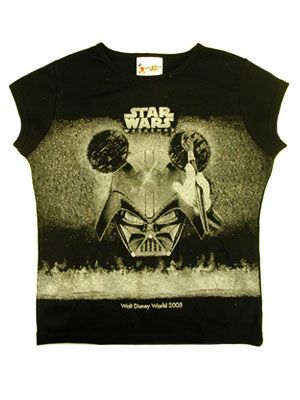 Keychains, mugs, t-shirts, caps, posters, magnets, and a special watch will all be available to guests at Disney MGM's Star Wars Weekends event, with some items also slated to appear at California's Disneyland theme park as well.

Clone Wars Volume II Exclusive Poster



Fans awaiting Volume II of Cartoon Network's Star Wars: Clone Wars this March can now celebrate the return of this groundbreaking series with an exclusive new poster available to the public only from StarWarsShop.com.
Obi-Wan and Anakin, whose bristling relationship will turn to blows in Revenge of the Sith, feature prominently in this third poster to promote the series, noticeably darker than its predecessors to suggest the sinister themes leading into Episode III. Fans fortunate enough to get the first two (the second was offered by StarWarsShop.com last year) can now display the entire set alongside the Star Wars saga series, recently completed with the addition of the Episode III poster.
Make sure to grab what may be the last Clone Wars poster created for this award-winning series. Look for it exclusively at StarWarsShop.com on March 14.