SWSWSW-SHOPPING
EDITOR'S NOTE: AND LEST WE THINK IT'S SOMEHOW ALL ABOUT

ART

(WHOEVER

THAT

IS....)
April 2 Launches Star Wars Promotions
On April 2, Revenge of the Sith's family of promo partners will launch some of the coolest merchandising tie-in promotions ever conceived for a Star Wars film.
EDITOR'S NOTE: JUMPING UP AND DOWN, COUNTING MY PENNIES, ROBBING SMALL CHILDREN, BREAKING PIGGY BANKS LEFT AND RIGHT!!!!!
Breakfast cereals, kids meals, candies, soft drinks, ringtones, and much more stand ready to be received by fans, families and collectors.
Here's a look at some of the activity that will start soon in the U.S.
Burger King
Burger King rejoins Star Wars for the first time since 1983's Return of the Jedi collectible glass promotion.
This time, collectors will have a go at a wild array of "super deformed" Star Wars character and vehicle toys spanning the entire saga. Their adult-targeted campaign
EDITOR'S NOTE: RE-READ THIS SENTENCE WITH ME, SHALL WE? NOT ONLY IS THIS BLATANTLY NOT FOR KIDS (WE'RE NOT EVEN PRETENDING ANY MORE), BUT IT SOUNDS LIKE STAR WARS/BURGER KING PORN! LIFE IS GOOOOOOOD!!!!
will include a scratcher card game that allows players to "Choose Your Destiny" in which every card is a potential winner--you must simply make the right choice to win!
Masterfoods
Masterfoods, whose brands include M&M's, Kudos, Skittles, and Lucas, are giving fans a plethora of packaging
EDITOR'S NOTE: A 'PLETHORA OF PACKAGING'!!! OOOOO!!!!
designs to collect across their candy and snack brand lines.
The M&M's brand will launch the Star Wars M-pire campaign which will debut the new dark chocolate M&M's and feature several new M&M's characterizations of Star Wars characters.
Pepsi
Pepsi's activities will include unique Episode III packaging designs on their 12-packs, 24-packs, and 2-liter soft drink products including Diet Pepsi, Pepsi, Caffeine Free Pepsi, Mountain Dew, Diet Dew and Slice.
Also, Pepsi is launching a Darth Dew Slurpee, in collectible cups at 7-Eleven stores nationwide.
EDITOR'S NOTE: I HAVE NOTHING TO SAY. I'M TOO BUSY JUMPING UP AND DOWN IN A PRE-SUGAR-SHOCK HYSTERIA. OH BLISS!!!
Cingular
Cingular is offering exclusive mobile content consisting of ringtones, screensavers, wallpapers, and games.
Frito Lay
Fans can expect Star Wars-themed packaging for LAY'S® Classic and LAY'S® Wavy potato chips, including an in-bag surprise consisting of 1 of 12 exclusive sticker designs and in-store displays picturing scenes and characters from across the saga.
EDITOR'S NOTE: WHO VOLUNTEERS TO EAT LOTS OF CHIPS AND SEND ME STICKERS? (PONY UP DWEEBPALS, THIS IS YOUR QOTD ASKING...UMM...

BEGGING

).
Also new this year, for a limited time only, Frito-Lay will feature a Star Wars-inspired CHEETOS® snack.
Kellogg's
Kellogg's "Fuel the Force" campaign will include their breakfast cereal, toaster pastry, waffle, cracker, and fruit snack brands with features such as Star Wars-themed packaging, game card boxes, light-up "saberspoon"
EDITOR'S NOTE: SABERSPOONS? LIFE IS JUST

SO

DARN GOOD.
premiums, cookie jars, plates, and snack bowls.
Star Wars even get its own licensed cereal!
Keep checking starwars.com as the Episode III excitement heats up for more details about these exciting promotions, contests and premiums.
EDITOR'S NOTE: BUT WAIT...THERE'S MORE!
iPod Skins, Commando Maquette & More StarWarsShop.com Exclusives
Starting today, StarWarsShop.com is offering several products that will be available nowhere else, including a new
Darth Vader
iPod skin and Republic Commando maquette.
Make sure to head on over to see what's in store:
Darth Vader iPod Skin
For fans who take their music on the move, we have an exclusive new Episode III iPod skin, featuring a seething red image of the man in black himself. Trendsetting fans can show off their Star Wars fashion savvy with this great new
Sith
accessory, available only at StarWarsShop.com. Get these while they're hot!
Republic Commando Maquette
Originally conceived as an in-house exclusive for LucasArts employees, this extremely limited Republic Commando maquette, depicting the heroic squad from the newly released Star Wars Republic Commando videogame, is now available for a limited time only at StarWarsShop.com. From an edition size of just 400, StarWarsShop.com is offering the remainder of those not distributed to LucasArts insiders, making shoppers and in-house employees the only people able to own one of these stunning sculptures.
Attention Hyperspace members: The Republic Commando Maquette will be offered exclusively first to Hyperspace members for 24 hours before being opened up to other shoppers. If you're not yet a member,
sign up today!
Republic Commando T-shirt
Show your excitement for Star Wars Republic Commando videogame with this exclusive new t-shirt available only from StarWarsShop.com. The front displays the Republic insignia with "Who's Watching Your Back?" on the reverse. Cool, understated, edgy.
EDITOR'S NOTE: NOT TO MENTION GROOVY!
EDITOR'S NOTE: DID I MENTION THE WORD 'GROOVY'? LET'S TALK

SERIOUSLY

GROOVY NOW:
First Look: New Hasbro Game
Trivial Pursuit DVD Star Wars Saga Edition Game:Trivial Pursuit DVD Star Wars Saga Edition Game combines traditional game play, modern DVD technology, and 2,500 questions from all six Star Wars movies in six new categories: The Cantina; The Force; Heroes, Villains & Scoundrels; The Saga; A Galaxy Far, Far Away...; and Hyperspace.
With 1,800 card questions, 600 interactive questions on two DVDs and 100 special cards on screen, this game is sure to bring Star Wars fans on a trip down memory lane. Special to this game will be up to 20 DVD questions that will feature selected Star Wars fans acting out various scenes from the saga.
As previously reported
, many fans who attended last year's San Diego International Comic-Con convention auditioned to be filmed for this edition. This game is recommended for ages 10 and older.
Fans who think they know every tiny detail regarding
Boba Fett
's ship to
Darth Vader
's helmet may find themselves in a challenge of the wits thanks to Hasbro's upcoming Trivial Pursuit DVD Star Wars Saga Edition Game.
The extensive game will include two DVDs with 700 video questions (including those featuring
lucky fans who were chosen during the auditions
held at last year's San Diego Comic-Con International), 1,800 card questions, four brand new metallic pawn movers, game board, scoring wedges and instructions.
The questions -- ranging from beginner to uber-expert -- will cover material from all six Star Wars movies in six new categories:
The Cantina
: This section contains questions that pertain to all the scenes, aliens, cameos, and more that give the films atmosphere. This includes locations that are merely passed through and characters that are on screen for a very short time.
The Force
: This section contains questions about the cause and effect of major events in the saga, like who caused a memorable action or what happened at a specific location.
Heroes, Villains & Scoundrels
: This section contains questions that pertain to all main characters including leading characters such as
Anakin
Skywalker,
Obi-Wan
Kenobi,
Luke Skywalker
, and Darth Vader, as well as key supporting roles such as
C-3PO
,
Darth Maul
,
Leia
,
Jabba
, etc.
The Saga:
This section contains questions that pertain to plot. For example, players will be asked questions like "Who says this line?" or "Who is missing from this scene?"
A Galaxy Far, Far Away:
This section contains questions that pertain to significant locations including planets, cities, specific buildings and features within them.
Hyperspace:
This is the wild card category where anything about Star Wars could be asked.
It's no surprise that Star Wars fans like to try and stump one another with the minutest of trivia, and Hasbro promises to deliver challenging questions for all types of fans.
"
We not only test player's knowledge with our brand new Trivial Pursuit card questions, our DVD provides an entirely new type of experience, allowing us to challenge fans in many new ways,"
Hasbro Games Senior Game Designer Scott Clark says. "
For example, a player may be asked to identify a line a character didn't say, or an image that is slowly revealed onscreen, or an element in an image that doesn't belong, or even, what happens next? They'll have some time to consider the question and review hints we provide. But once that timer hits the 5 second mark, everyone else they're playing with will have a chance to jump in and answer."
Not only does the game have a unique style of game play, but the trivia doesn't stop at the usual "who said what" type of questions.
In fact, many fans who are more skilled at solving puzzles than remembering obscure facts may find themselves in the winners circle more often than not.
EDITOR'S NOTE: THIS SOUNDS LIKE MY IDEA OF GAME-HECK, BUT I STILL HAVE TO HAVE TO HAVE TO HAVE THIS GAME. (YOU SHOULD SEE THE DVD/VIDEO ELEMENTS OF IT.

SUPER

COOL!)
"
Every aspect of this game is brand new, from the game board to the unique metal movers, to the cards and, of course, the DVD,
" Clark reveals. "
To ensure the most enjoyable experience for novices and fanatics alike, we've focused specifically on the six movies, balanced the card questions between both ends of the spectrum, and our DVD questions are structured in such a way that players are actually solving puzzles over time more than being tested exclusively on their factual knowledge. We don't really call our DVD questions, but we rather refer to them as puzzles due to how we deliver the information. For example, we may ask players to identify a ship or vehicle from a progression of still images at different zoom levels, or ask them to descramble of word, or identify a distorted vocal or obscure sound. These are all questions that can only be asked through the multimedia presentation available on a DVD."
Of course, beyond the mere fun of solving puzzles in the game, players will also be thrilled to see other fans -- and not just actors and film clips -- featured in the game. Thanks to the overwhelming outpouring of fans auditioning to be included in the game during the 2004 San Diego International Comic-Con, the game features clips of fans in the act of asking questions about all six movies on the DVD.
"
The highlight of these unique elements is the inclusion of some of the most dedicated Star Wars fans we've come across, specifically the 21 finalists from our Comic-Con 2004 event,"
Clark says. "
This was huge success for us, and we're proud and honored to be able to feature the fans that have added such dimension to Star Wars over the decades."
The game is available April 2nd.
Star Wars Pin Panache
Continuing a Star Wars tradition that began with Attack of the Clones and Disney Star Wars Weekends exclusives, Pin USA launches 24 all new pins just in time for Revenge of the Sith.
Among the array of Episode III images are new anime-inspired characterizations from the original trilogy as well as some flaming Vader graphics that really heat up the look of this great collection.
img src="http://img.photobucket.com/albums/v200/txkarenr/GroovyHanpin.jpg" alt="Image hosted by Photobucket.com"> EDITOR'S NOTE: MUSTHAVEMUSTHAVEMUSTHAVE!
EDITOR'S NOTE: DIGGIN THE GIRL WITH THE GUN!
EDITOR'S NOTE: CHECK OUT THE PIN WITH THE 70'S HAIR!
Meanwhile, you can get your collection started with three bundled sets of select pins being offered now:
Anakin and Vader Stylized Art Pin Set
Jedi Emblem Pin Set
Darth Vader Emblem Pin Set
Wear them or display them--either way, these are a great way to exhibit some Star Wars fashion in time for this summer's hottest movie!
Vader Takes the Cake: New from DecoPac
No birthday would be complete without a special Star Wars cake decorated with products from DecoPac.
Coming to a bakery near you this April, new Star Wars: Episode III Revenge of the Sith cake and cupcake decor featuring Anakin Skywalker, Darth Vader, Yoda, and more!
"Everyone loves a party, and where there's a party, there's got to be cake," DecoPac Sr. Marketing/Licensing Manager John Gardner says. "And what better reason for fans to celebrate than the release of Revenge of the Sith!"
And there are plenty of cool Revenge of the Sith cake and cupcake decorations and add-ons coming from DecoPac this Spring. Authorized bakeries will be able to use such decorating sets as Revenge of the Sith backdrops, edible film images, and a Yoda figure with light-up lightsaber.
Other fun additions to the cakes include Darth Vader backpack tags with a voice changer and Darth Vader spinning keychains.
"You can make your voice sound downright galactic when you speak through Darth Vader's helmet," Gardner explains. "Plus, you can clip him to your backpack along with the Spinner Key Tag featured on the same cake!"
There's also something special in store for those fans who love cupcakes as much as larger cakes.
"Cupcakes are a special treat and great to snack on when a cake is too much," Gardner says. "Fans will find Star Wars character rings on cupcakes featuring Darth Vader, R2-D2 and C-3PO."
If you want to be part of the Star Wars edible universe yourself, then bring a photo of yourself to authorized bakeries to become part of the cake decoration.
"For a personalized touch, don't forget to ask your local bakery about their Star Wars PhotoCake images," Gardner suggests. "Bakeries that have the DecoPac scan to print PhotoCake systems can put your picture inside of a Star Wars frame or write a personalized message next to a Star Wars: Episode III image!"
Fans can find cakes decorated with their favorite Star Wars characters at grocery stores and retail bakeries authorized to carry Episode III products.
In March, fans can find the nearest bakery carrying Star Wars cakes and cupcakes by going to Cakes.com and entering in the keywords: "Star Wars." EDITOR'S NOTE: I DON'T EVEN LIKE CAKE, AND THIS IS SOUNDING GOOD TO ME!
A Closer Look at a Mashing Success: Darth Tater
Not even Mr. Potato Head can resist the power of the dark side. Meet Darth Tater.

This Sith spud comes with a red lightsaber, black cape, and helmet, shoes, eyes, nose, teeth, and more! EDITOR'S NOTE: AND NOTE THE LOVELY DERRIERE STORAGE AREA! (I USE MINE TO STORE COOKIES).
Darth Tater will be available for purchase this April at a toy store near you.
"Mr. Potato Head is one of the most fun and versatile products because he's all about changing and rearranging," Todd Rywolt, Playskool Vice President of Marketing says. "A Star Wars Mr. Potato Head is always something we wanted to do and a couple of years back, we did an employee design contest for just for fun. Several submissions were Star Wars-related which reminded us of the concept. With Episode III focusing so much on Darth Vader, the time was right. Lucasfilm agreed and Darth Tater was born!"
The Playskool design team created the product, which took about nine months. Of course, the team had a feeling kids wouldn't be the only ones excited about meeting the terrifying tuber. EDITOR'S NOTE: "TERRIFYING TUBER" LOL!!!!
"Darth Tater brings together two popular icons in a very fun way," Rywolt says. "Everyone has had a Mr. Potato Head, just as everyone knows the infamous villain, Darth Vader. The reaction from both kids and adults has been tremendous!"
This also marks the first time Mr. Potato Head has been dressed to pay tribute to a film as epic as Star Wars.
"Mr. Potato Head has been Santa Claus and the Easter Bunny," Rywolt says. "But he has never played another movie character, other than himself in the Disney/Pixar's Toy Story movies."

With his new-found stardom, one has to wonder if Darth Tater could easily take over the galaxy.
"Why not, Mr. Potato Head's got widespread appeal and eyes everywhere," Rywolt jokes.
Of course, most fans are simply curious about the outcome of a lightsaber duel if Darth Vader and Mr. Potato Head were to come face to removable face.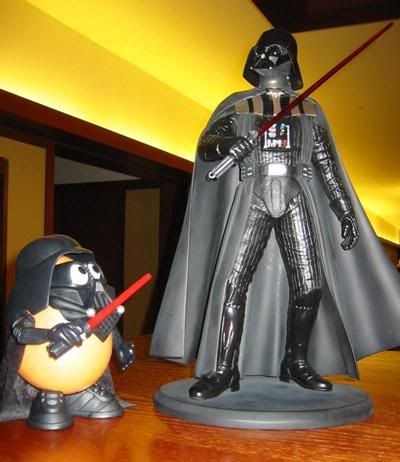 "Mr. Potato Head, of course," Rywolt answers. "Even Darth Vader couldn't resist smiling at America's favorite spud!"
EDITOR'S NOTE: AND NOW LET'S TALK ABOUT SOMETHING ALMOST AS NEAR AND DEAR TO MY HEART AS IS STAR WARS....POPCORN!

Snappy Crackle POP! Star Wars Popcorn Machines
Snappy brings the theater-going experience one step closer to home with a series of all new Star Wars popcorn machines coming this April.
Theme out your home theater or simply take it out on the porch for a backyard barbeque--these Star Wars poppers bring the cinematic experience to you.
Made of stainless steel, aluminum, powder-coated steel, and tempered glass, these commercial grade poppers feature conveniences like a kernel-catcher drawer and presentation lamp. Easy to clean and operate, each machine can be purchased alone or with coordinating cart for taking the fun outside.
There are two models themed out for Revenge of the Sith, another with droid duo R2-D2 and C-3PO, and two more sporting the sinister Vader visage (Episode III artwork version or sand-blasted look). The two Vader versions feature cool flaming graphics that really heat up their designs.
img src="http://img.photobucket.com/albums/v200/txkarenr/ROTSDarthPopcornmachine.jpg" alt="Image hosted by Photobucket.com">
Look for these to be available in time for pool parties and home movie nights this summer!
Limited Edition Clone Wars Watch
Our Price: $105.00


Features the animated incarnations of Mace Windu, Obi-Wan Kenobi, Anakin Skywalker, and Yoda Includes a collectible case and certificate of authenticity Worldwide edition size of 2,000

Ships May 2005

The Clone Wars Animated Series returns this March, and Fossil has a fantastic new watch to commemorate the event. This highly stylized timepiece, which features the animated incarnations of Mace Windu, Obi-Wan Kenobi, Anakin Skywalker, and Yoda, has a brushed metal finish and sports an adjustable leather band studded with four polished rivets.
Fans of animation will appreciate the way the face has been designed within the bezel--the images of Mace, Obi-Wan/Anakin, and Yoda appear to "float" on three separate plains within the bezel, simulating the look of an animation cel and background setup. Keep up to the minute with this Forceful animated foursome from the highly collectible Fossil series of watches.