STARWARSSTARWARSSTARWARS
EDITOR'S NOTE: TOO MUCH STAR WARS STUFF AND NOT NEARLY ENOUGH TIME. (AND DON'T GET ME STARTED ON ALL THE NON-SW STUFF I HAVEN'T YET POSTED...EEEEEEEKKKKK!!)
DEEP, CLEANSING BREATHS.......
FIRST UP, A REMINDER ABOUT TONIGHT'S TRAILER APPEARANCE ON THE FOX SHOW "THE OC":
More Info On O.C. Trailer
What is new is that Fox is being so protective of it, that none of the press showings of
Robots
will have it and that the trailer will not be attached to the prints of
Robots
until Wednesday or Thursday for the films Friday release.
The intent is to make the debut on the
O.C.
the focal point and get the media to watch the show and write about it instead of seeing the trailer early. As a bonus, the
Ice Age 2
trailer will be included.
BEFORE WE SHOW YOU THAT VERY GROOVY NEW SW POSTER, THANKS TO CHEWYANDY IN DALLAS FOR BEING THE FIRST TO GIVE ME THE HEADS-UP THAT THE POSTER HAD ARRIVED!
Very BIG E3 Poster From FOX
From FOX:Attached is the much-anticipated "official" poster for Star Wars: Episode III Revenge of the Sith.
The poster is scheduled to hit theaters this week along with the all-new Star Wars launch trailer, which will debut on "ROBOTS" in theaters worldwide.
The poster was painted by artist Drew Struzan, completing the "family" of posters that began with the 1997 release of the Original Trilogy and continued with Episodes I, II and now, III.
Revenge of the Sith hits theaters worldwide on May 19, 2005.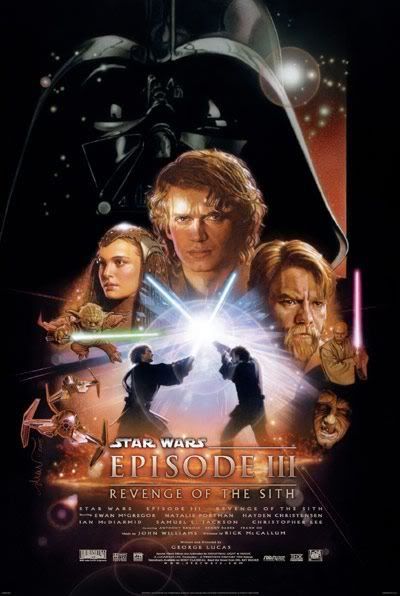 Drew Struzan Talks ROTS Poster

The unofficial
Dutch Star Wars fan site
sends in the following news regarding the new 'Revenge of the Sith' poster:
Many people think the new Drew Struzan Revenge of the Poster has been altered by Lucasfilm. We contacted Mr. Struzan and asked him about this.
This is his reply:"
The original design did go through the normal incarnations. The finish is two paintings combined as I designed them. Someday the drawings and paintings will be seen but this is the poster and the design approved by Lucasfilm."
More ROTS Cast Additions
Although it has been confirmed on several carded ROTS toy images, the
official site
has updated with the news that Wayne Pygram will play Governor Tarkin in 'Revenge of the Sith'.
Best known to sci-fi fans as Scorpious in Farscape, it was reported back in January 2004 that he may be playing Tarkin.
EDITOR'S NOTE: I AM IN FULL-FRONTAL DWEEB DROOL. NEVER HAS EVIL....AND SCARY, SLIMEY EVIL AT THAT....BEEN SO VERY SEXY. I THINK I AM LIKELY TO DEVELOP A CRUSH ON YOUNG GOVERNOR TARKIN.
(DISTURBING, BUT THERE YOU ARE.....)
Lucas to be ShoWest's Galactic guy
George Lucas, whose final "Star Wars" movie, "Star Wars: Episode III -- Revenge of the Sith," arrives in theaters May 19, will be honored at next week's ShoWest convention in Las Vegas with a newly invented award, the
ShoWest Galactic Achievement Award
.
EDITOR'S NOTE: UNCLE G GETS HIS VERY OWN SPECIAL AWARD!
Lucas will be recognized March 17 as part of the closing-night ceremonies at the Paris hotel, said Mitch Neuhauser, co-managing director of the event. "
This unique award celebrates the enduring popularity of the 'Star Wars' movies and the enormous impact and influence they have had on audiences and popular culture,"
Neuhauser said Tuesday. "
'Star Wars: Episode III -- Revenge of the Sith' may be the final movie of the saga,

EDITOR'S NOTE: SNIFFLE....(I DO SO HATE THE WORD 'FINAL')

but the appeal and adventure of 'Star Wars' will live on for decades to come."
EDITOR'S NOTE: YES. YES IT WILL.
Revenge Of The Lotto
California appears to be cashing in on the Revenge of the Sith hype.
There's going to be a scratch off lotto game coming in late March that has 12 different scenes!
EDITOR'S NOTE: AND FOR OUR CALIFORNIA DWEEB CONTINGENT….MARGARET, ROY, GEOFF, ETC…..PLEASE NOTE THAT I WILL GLADLY SEND YOU CRISP DOLLAR BILLS FOR A COMPLETE SET OF THESE SW LOTTO DEALIOS, AND ANY OTHER CALIFORNIA SW ITEMS YOU COME ACROSS. (I STILL HAVE MY EUROPEAN SW AND INDIANA JONES LOTTO TIX..SOMEWHERE…FROM FRENCH DWEEB LOTTERIES. TREASURES).

I ALSO STILL HAVE THE LBS FROM FRENCH CHEESE, CHOCOLATE, AND PATE….WHICH WILL NO DOUBT BE WITH ME EVEN LONGER THAN THE DWEEB COLLECTIBLES. BUT NOT IN NEARLY AS BELOVED A WAY.
New Clone Wars Ad on US TV
A new commercial for the Clone Wars cartoon has aired on Cartoon Network in the US. Highlights include:
· a flashback of Qui-Gon and Anakin, with Anakin saying "I'm scared Master."
· a scene with General Grievous slicing through clone troopers.
· someone on the Jedi Council saying, "In this time of great trouble, why should the chosen one be held back", while Mace Windu replies, "whether or not he's the chosen one has yet to be seen."
· a shot of (what looks like) Padme with a lightsaber at her throat.
EDITOR'S NOTE: AND GO TO THE LINK BELOW TO SEE THESE GROOVY ADS:

Clone Wars Cartoon Season 3 Promos
You can download the two US TV spots for Volume 2 of the Clone Wars cartoon in the link below:
·
Clone Wars Season 3 - US TV Spot 1
(DivX, 1.5mb, 10 seconds, 352x176)
·
Clone Wars Season 3 - US TV Spot 2
(DivX, 3.1mb, 20 seconds, 352x176)
EDITOR'S NOTE: AND FOR THOSE WHO MISS THE CARTOON NET SHOWINGS…..:
Clone Wars Volume II Coming to Hyperspace
The explosive finale of The Cartoon Network's Star Wars: Clone Wars micro-series is coming, and once again Hyperspace will be your online destination to catch all the stylish animated action.
Since 2003, Hyperspace has been posting the Star Wars: Clone Wars series, providing members with the online debut for all 20 chapters of Volume I of the series.
With Volume II, the episodes are much longer in length -- 12 minutes each. The new series will air daily starting on March 21st. The night it airs on Cartoon Network, it will appear on starwars.com Hyperspace for download. A smaller version of it will appear the next day in the Clone Wars section of starwars.com, available to all viewers for a limited time.
The five episodes of Star Wars: Clone Wars Volume II picks up right where Volume I left off -- with a team of Jedi trapped in a wrecked starship on
Hypori
, being hunted maliciously by
General Grievous
. As the series progresses, it jumps forward in time, to see
Anakin
Skywalker as a heroic
Jedi Knight
, fighting alongside
Obi-Wan
Kenobi on different battlefronts of the Clone Wars.
The legendary pair is assigned to the distant Outer Rim world of Koobi to root out Separatist activity. Instead, they find a tribal culture steeped in ancient traditions, and Anakin must pass a dangerous trial to survive.
Elsewhere, the action explodes on
Coruscant
as General Grievous leads a lightning strike on the capital word to capture Chancellor
Palpatine
, and the Jedi rush to intercept. This story arc serves as the lead-in to Episode III -- where Star Wars: Clone Wars ends,
Revenge of the Sith
begins.
Star Wars: Clone Wars Volume II is helmed by the same creative team as the first volume -- featuring the artist talents of
Genndy Tartakovsky
and
Paul Rudish
.
Episode III on International Newsstands
Around the world, people will be reading about Revenge of the Sith in movie and special interest magazines, with cover stories and feature articles exploring Episode III. Already, several prominent issues have hit newsstands, but more are on the way each week.
Here's a look at just a handful.
The April issue of Total Film magazine in the UK features a lenticular cover that morphs between
Hayden Christensen
as
Anakin
and the helmeted
Darth Vader
. The Chosen One also graces the cover of CUT magazine in Japan, while the ultimate duel between master and apprentice graces the cover of Japanese Premiere. Also in Japan, the teaser poster leaps out from the cover of DVD Video Date. Back in Europe, the wicked
Darth Sidious
brandishes a
lightsaber
on the UK's Hot Dog magazine, while Anakin is spotlighted on the cover of Lucasfilm Magazine #52, the official magazine of the French Star Wars Fan Club.
Star Wars Artist Series: Brian Ching
Penciling In an Empire
Comic book collectors are no strangers to the work of Star Wars illustrator Brian Ching.
His illustrations of
Darth Vader
,
Obi-Wan
Kenobi,
Anakin
Skywalker and
Asajj
Ventress can be seen on numerous comic book covers and in the pages of Star Wars: Republic, Star Wars: Obsession and Star Wars:
Empire
, as well as in the highly-collectible Topps Artists Series.
However, unlike many Star Wars comic book artists, it was Return of the Jedi, as opposed to A New Hope which drew him into the strange world of
Jedi
,
Sith
, bounty hunters,
Wookiee
s,
Ewok
s and droids.
"
The original Star Wars came out when I was four years old so I don't even remember seeing that in the theater,"
Ching admits. "
Return of the Jedi was the one that had a huge impact on me. I think it was just the right age for me and really blew me away, especially the first 20 minutes where Luke does all his acrobatics on
Jabba
's barge. Man, I still get excited about that sequence!"
Even though the Star Wars universe triggered Ching's imagination as a child, it wasn't until he was in college that he decided to pursue a career in art.
"Around my second year of college I was biology major at University of California at Irvine and not really enjoying my time at school,"
Ching explains. "
I tried an art class or two and was hooked. I collected comics for most of my life up to that point and in that second year at school, I started to realize I could do this for a living."
After receiving his Fine Arts degree from UC Irvine, he went on to work as an assistant at a small California-based comic book studio called
Top Cow
.
"
This is the place where I learned most of what I know about anatomy and layouts,"
Ching says. His first published art piece was a cover for an independent comic about a female samurai called Hari-Kari.
Soon, Star Wars was back on Ching's radar as he traveled to San Diego Comic-Con International in 2002 to show around his portfolio.
"I met my editor at Dark Horse Comics, Randy Stradley, at the Comic-Con in 2002 and we talked briefly,"
EDITOR'S NOTE: FOR THOSE WHO SCOFF AT COMIC-CON AS JUST A FRIVOLOUS DWEEB THANG....
Ching says. "He
remembered me from some of the samples I had sent him earlier in the year. A month or two later he called and offered me some covers for Star Wars: Empire. Fortunately for me, Randy liked the covers and I've been working on the Star Wars comics ever since."
The James Bond of Star Wars
In addition to the Empire series, Ching also found himself working on the Star Wars: Republic series, as well as the Star Wars: Obsession mini-series. Ching also impressed fans with his portraits of various Star Wars characters in Topps' popular Artist Sketch Cards.
"Topps contacted me about doing the Clone Wars series cards and although I was dying to do it I just couldn't fit it into my schedule,"
Ching recalls. "
That was something I really felt like I missed out on so when they called again about the Heritage cards I jumped on it. It was really a lot of fun, getting the chance to draw the classic movie characters. I think it's great for the collectors to own an original piece of art and to see their favorite characters through the eyes of different artists."

As each of the Topps Artist Sketch Cards tend to focus on one character at a time, Ching quickly realized which character was his favorite to draw.
"
The one I sketch the most but have never actually drawn in the comics is
Boba Fett
,"
Ching says. "
He is just, visually, the most exciting character to draw in the Star Wars universe. He's got tons of great gear and gadgets to draw. He feels like the James Bond of Star Wars. The helmet hides his expression so that creates this feel that he is some cold unfeeling gunslinger."

Portraying everything from beloved bounty hunters to intricate vehicles isn't easy. As with all artists, Ching finds himself facing challenges that some fans might not even realize.
"
Drawing technical things like the ships and weapons is a real challenge for me
," Ching admits. "
I am so impatient with rulers and ellipse templates that drawing that stuff some times drives me nuts. I much prefer to do everything freehand but I am working on my patience. However it's extremely rewarding drawing a page that I'm really satisfied with. I do a bit of planning with layouts and roughs but sometimes I just don't know how the page will turn out until I am done. Sometimes you're able to be spontaneous and go in a direction where every line you put down seems to work -- it's quite exhilarating. There is no feeling like it when a page comes out okay."
To help keep him motivated, Ching looks at other artists for inspiration, many of them being Star Wars artists as well.
"
I am in awe of Doug Wheatley right now,"
Ching says. "
People are going to be blown away by his Episode III adaptation. Also, Brad Anderson is the cover colorist I've been working with for the past two years now and his work is just incredible. He really makes my covers look like I know what I'm doing. And of course, Drew Struzan is remarkable! I have all of his Star Wars and
Indiana Jones
posters hanging in my studio and they are a constant source of inspiration."
Since his success illustrating various Star Wars comics, Ching has found that he has become somewhat of an inspiration to budding artists as well.
"
Star Wars fans are so supportive of the comics
," Ching smiles. "
A father and his 6-year-old kid came up to me at a convention and told me how his son likes to read our comics every night before bed and that he keeps the comics on his nightstand. It was just the greatest feeling."