Harry Potter'ing on Tuesday
EDITOR'S NOTE: TIPTOE'ING BACK INTO THE DWEEBING MODE. HERE'S SOME HP HODGEPODGING.
HP editor reveals tidbits
Earlier today, Arthur Levine (an editor at Scholastic) spoke about the sixth Harry Potter book on the Today Show.
Spoiler warning!---->
There is to be a new Minister for Magic. We learn much more about Voldemort. No information revealed on whether Snape will be the Half-Blood Prince. HBP will be an intense book, but with light-hearted moments.
END SPOILER

Half-Blood Prince book covers released!
Scholastic (US publisher) and Bloomsbury (UK publisher) both released their respective covers for Harry Potter and the Half-Blood Prince today!
the American cover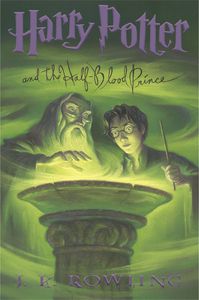 the UK children's cover
and the UK adult version
The American cover was designed by Mary Grandpre, EDITOR'S NOTE: SEE ARTICLE BELOW, who has done all of the covers to date, the UK children's was drawn by Jason Cockraft, who also did the Order of the Phoenix cover. The UK adult version features a photograph by Michael Wildsmith.
Harry Potter illustrator puts a little bit of herself in wizard boy
Mary GrandPre sounds just like a parent when she talks about Harry. She sees herself in him — a little bit in the eyes, something in the line of his jaw. But that lightning bolt-shaped scar? Hey, that's not from her side of the family.
The Harry in question? Harry Potter, of course. GrandPre is the artist behind the images of Harry seen on the American versions of the books by author J.K. Rowling. Her latest cover, for Harry Potter and the Half-Blood Prince, was released today. The book, sixth in the series of seven, comes out July 16.
Of course, it's Rowlings' imagination that conjured up young wizard Harry's description — black, unruly hair; green eyes behind glasses, and, don't forget, that scar on his forehead, courtesy of You-Know-Who. (If you Don't-Know-Who, you probably won't be reading this article anyway.)
But it was GrandPre, 51, of Sarasota, Fla.,EDITOR'S NOTE: CHECK IT OUT!!! SARASOTA FLORIDA!!! (JOEL IS TRYING TO GET ME TO STALK HER WHEN WE ARE THERE IN APRIL) who has been drawing him for the cover of each blockbuster book, as well as creating the illustrations that come at the start of each chapter. She's drawn him from a boy of 11 in book one to age 16 in book six.
"It's a challenge to take a character ... and make sure he ages correctly and make sure he looks like he would look if he were to get a year older," she told The Associated Press. "I feel like I'm his mom, I comb his hair or I mess it up, I make sure he looks good before he goes out the door."
GrandPre, who has been illustrating books for 15 years and working as an artist for 25 years, had no idea what she was getting into when she got the call from Scholastic, Rowlings' American publishers, about creating the art for the first book. She asked to read the work, to see if would be a good fit. (She still gets to read each book before creating the art, making her one of the few people in the world who has actually read book 6 already! Don't bother asking her what happens, she won't tell you.)
GrandPre loved what she read. "It's like a candy store for an illustrator," she said. "I connected with Harry pretty quickly and loved the way J.K. described everything; she's such a visually thinking person. You can't pass that up."
GrandPre created the art the way she has for each subsequent book — going through the story with a highlighter, picking out descriptions. Then comes the sketches, different ideas for the cover and chapter art. "I go through a lot of tracing paper," she said. "I re-draw and re-draw." GrandPre calls her style "soft geometry" and uses a combination of straight lines, sharp angles and curves to create her colorful images.
Working with layers of pastels on paper, GrandPre creates the artwork she wants and send it off to the publishers. She's careful not to create anything that's too obvious — she just wants to drop some hints to the reader, not tell them what happens next. "I get to show the reader the essence of the book without giving anything away," she said. "I kind of tempt the reader to keep moving on through the book." As the books have changed, getting darker in tone, so has her palette, from a lighter combination of colors in book one to shades of blue for book five.
One thing she doesn't do is discuss anything with Rowling. Scholastic would show Rowling the images as they were being created, but the two never collaborated. GrandPre did get to meet her, during a visit Rowling made to the United States. "She was really great and showed a lot of appreciation for my work," GrandPre said.
The Harry Potter series has been a global publishing phenomenon, and boy, does GrandPre know it.
"It takes a lot of focus to work on this project, it's a bit high pressure," she admits. "I don't know that I would want to work on another one of this magnitude."
But she's also loved it, and is bittersweet about the cover for the final book 7.
"I will be sad. I've gotten very attached to Harry and all that goes on in his world," she said. "I guess I'll just be kind of tasting every bit of it because it will be the last one."
EDITOR'S NOTE: HER AND US BOTH.
———
On the Net:
Mary GrandPre:

J.K. Rowling:
www.jkrowling.com

EDITOR'S NOTE: AND HERE'S THE OFFICIAL SCHOLASTIC PRESS RELEASE WITH A BIT MORE INFO ON HP6.
Press Release
Source: Scholastic Corporation
Scholastic Releases Cover of Highly Anticipated Harry Potter and the Half-Blood PrinceTuesday

- Deluxe Edition to Be Published Simultaneously With Special 32-Page Illustration Insert
NEW YORK, March 8 /PRNewswire-FirstCall/ -- Scholastic, the global children's publishing and media company, today released the cover of the highly anticipated Harry Potter and the Half-Blood Prince, J.K. Rowling's sixth Harry Potter book due in stores on July 16th. Once again, the stunning cover art was created by Mary GrandPre, the acclaimed illustrator of all five previous U.S. editions of the Harry Potter books.

The cover of Harry Potter and the Half-Blood Prince is drawn in tones of eerie greens with purple shadows incorporated into the background. It depicts 16-year-old Harry looking very attentive and Dumbledore with his hand extended as they look into a basin from which a mysterious green light is emanating.
"In creating the Harry Potter artwork, I try to bring a certain amount of realism and believability to the characters and setting, but still add an element of wonder and the unknown," said Mary GrandPre. "For the cover of Harry Potter and the Half-Blood Prince, the mood of the art is truly eerie. I wanted the colors to be strong and I chose upward lighting and dramatic shadows to convey a kind of surreal place and time. It is an honor to illustrate for such an amazing writer as J.K. Rowling. She gives me, as an illustrator, so much to work with."
"With each new cover image, Mary beautifully captures both the essence of Harry's journey and the changes he is going through," said Arthur Levine, Vice President, Arthur A. Levine Books, Scholastic and editor of the Harry Potter books. "Individually, each jacket is like a concentrated visual taste of the book inside, and collectively they form a portrait gallery of a boy growing up very much in the public eye."
Scholastic also announced the simultaneous July 16th release of a deluxe edition of Harry Potter and the Half-Blood Prince. The edition will include a 32-page insert on special paper at the end of the book featuring near scale reproductions of Mary GrandPre's interior art, as well as a never- before-seen piece of full-color-art for the frontispiece. The book, which comes in a foil-stamped cardboard slipcase printed with the Harry Potter and the Half-Blood Prince cover image, will also include a blind-stamped cloth case, full-color endpapers printed with the jacket art from the regular edition, luxurious foil, and a wraparound jacket featuring exclusive, suitable-for-framing art from Mary GrandPre. The deluxe edition will be a total of 704 pages and have a retail value of $60.00.
Bloomsbury Publishing Plc also today released the cover images for Harry Potter and the Half-Blood Prince, which will appear on editions distributed in Britain, Canada, Australia, New Zealand, South Africa and many other countries throughout the world.
Harry Potter and the Order of the Phoenix, J.K. Rowling's fifth Harry Potter book, was released on June 21, 2003, and was the fastest-selling book in history on the first weekend of its publication. All five Harry Potter books, Harry Potter and the Sorcerer's Stone, Harry Potter and the Chamber of Secrets, Harry Potter and the Prisoner of Azkaban, Harry Potter and the Goblet of Fire, as well as Harry Potter and the Order of the Phoenix, have been number one bestsellers in the United States, Britain, and around the world. The American editions of the Harry Potter books are published under Scholastic's Arthur A. Levine imprint.
Scholastic Corporation (Nasdaq: SCHL - News) is the world's largest publisher and distributor of children's books and a leader in educational technology. Scholastic creates quality educational and entertaining materials and products for use in school and at home, including children's books, magazines, technology-based products, teacher materials, television programming, film, videos and toys. The Company distributes its products and services through a variety of channels, including proprietary school-based book clubs, school- based book fairs, and school-based and direct-to-home continuity programs; retail stores, schools, libraries and television networks; and the Company's Internet site, http://www.scholastic.com/.
Birthday wishes for Ron and new Wizard of the Month
JK Rowling has updated her official site to wish Ronald Weasley a Happy Birthday!
Assuming all goes well in HBP and Book 7, EDITOR'S NOTE: PLEASE PLEASE PLEASE he will be turning 25 today.
And as usual, Jo has updated the Wizard of the Month portion of her site.
Mungo Bonham(1560 – 1659) Famous wizard healer. Founded St. Mungo's Hospital for Magical Maladies and Injuries.

Real-life invisibility cloak in production
A relatively new invention called the "plasmonic cover", similar to the invisibility cloak used in the Harry Potter books, is being developed by researchers and engineers at the University of Pennsylvania. The shield works by scattering light and preventing objects from reflecting. It is believed that this new development could prove very useful in the military for stealth operations. EDITOR'S NOTE: AND AT THE OFFICE WHEN YOU'RE TRYING TO HIDE FROM YOUR EVIL BOSS. (PERSONAL EXPERIENCE.....)


New picture of Hungarian Horntail


EDITOR'S NOTE: AND LAST ON THE HP FRONT, ANOTHER AGE-INNAPROPRIATE FELLOW FOR US TO DROOL OVER.
First look at Roger Davies & new casting call info
CBBC Newsround has posted a picture of the Ravenclaw Quidditch captain (Henry Lloyd-Hughes) and a response to a news story that we recently ran detailing the possibility of open casting calls. Warner Bros. has supplied them with this information:"We don't automatically do open casting calls. We only do them when it's particularly challenging to find the correct person for a particular part." EDITOR'S NOTE: SO, SHALL WE POP OVER TO ENGLAND FOR AN AUDITION?
EDITOR'S NOTE: PURTY, EH?!