A wee little Star Wars mishmash
EDITOR'S NOTE: JUST A FEW MISHYMASHY STAR WARS ITEMS TO GET OFF THE PLATE (OR

ON

IT?) BEFORE I MOVE ON TO TONS OF OTHER STUFF.
'Armed robber' was really a Stormtrooper at JVL-CON


By Danielle LetenyeiGazette Staff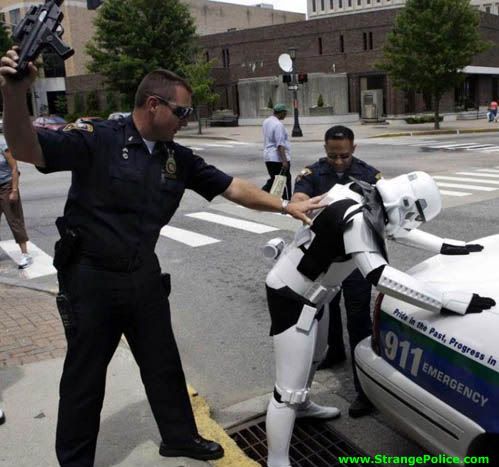 The Force wasn't with a Stormtrooper-clad attendee of the JVL-CON science fiction convention on Friday at the Ramada Inn in Janesville. Instead, it had him surrounded.
Janesville police got a surprise when they responded to a report of an armed robbery at the Ramada Inn, 3431 Milton Ave. The alleged suspect was dressed as a Stormtrooper, a soldier for the Galactic Empire in the science fiction movie series "Star Wars."
EDITOR'S NOTE: THE 'SCIENCE FICTION MOVIE STAR WARS'? AS OPPOSED TO SOME

OTHER

MOVIE CALLED "STAR WARS"? JANESVILLE IS THE HIND-QUARTER OF

WHAT

PODUNK REGION, EXACTLY?
"
Apparently some people who saw him felt there was a threat
," said Sgt. Kay Nikolaus of the Janesville Police Department.
EDITOR'S NOTE: UNLIKE HOW THEY FEEL WHEN THEY SEE MEN IN UNIFORM WHO ARE TOTALLY CLUELESS AND CARRYING

REAL

GUNS.
The Stormtrooper was really a vendor participating in the weekend convention, held annually at the Ramada Inn, said Joann Lewandowski, who lives with event organizer Ray Norton.
"
It was kind of silly but kind of understandable
," Lewandowski said.
EDITOR'S NOTE: I BET IN JANESVILLE

'SILLY BUT UNDERSTANDABLE'

IS A SUMMER FESTIVAL IN THE TOWN SQUARE.
Whoever called police must have missed the Ramada's marquee out front, which announces the convention being held there, Lewandowski said.
The Stormtrooper got a warning from police-leave the plastic laser gun inside.
So, if you're passing the Ramada this weekend and you see a little green guy with pointy ears and wearing a robe, it shouldn't be an alien concept.
EDITOR'S NOTE: OUCH. I'M GUESSING THE JANESVILLE PAPER ISN'T A STEPPING-STONE TO THE NEW YORK TIMES.
Sideshow Collectibles Star Wars Collector's Choice Polls
Choose the Star Wars Expanded Universe character you'd like to see Sideshow Collectibles create as a 12-inch figure by voting in their new poll.
This poll will be running from August 19 to November 4, allowing you, the collectors, to choose your favorite from the following pre-selected Expanded Universe characters: Kir Kanos, Grand Admiral Thrawn, Mara Jade, Padmé Amidala (Clone Wars arctic suit), Asajj Ventress, and Quinlan Vos.
EDITOR'S NOTE: VERY TOUGH CHOICE. I ADORE THRAWN AND QUINLAN VOS. BUT IF I ONLY GET ONE VOTE....AND I DO...I GOTTA GO WITH THE KICK-BUTT-MOTHER-OF-LUKE'S-CHILD-CHICK THOUGH. MARA JADE GETS MY VOTE!
http://www.sideshowtoy.com/php/081905sweu.php?&source=swpoll
Exclusive STAR WARS Bounty Hunter Figure Gift Set
Diamond Comics will be offering in November/December an exclusive STAR WARS Bounty Hunter Figure Gift Set.
The figures will be a limited edition collector's set. The window-boxed set features Lord Vader addressing the galaxy's greatest 3 ¾" mercenaries: Zuckuss, 4-LOM, Dengar, IG-88, Bossk, and Boba Fett.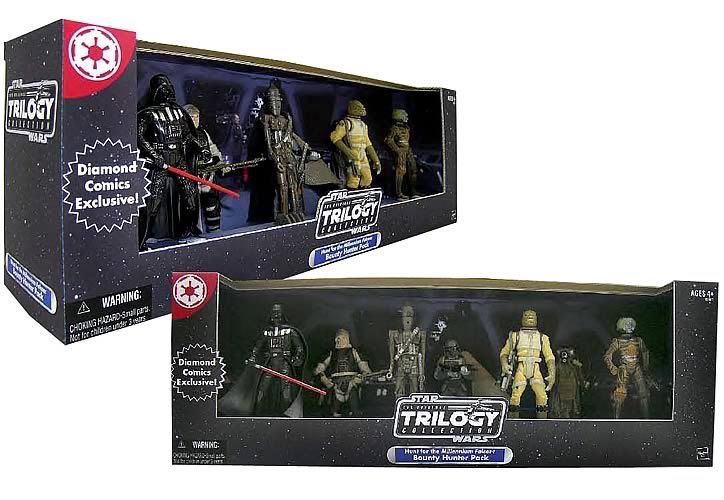 Click here for more info on the $34.99 set.
http://previews.diamondcomics.com/default.asp?t=1&m=1&c=23&s=132&ai=21502