Harry Potter, so much, so little time
Potter casts a spell on Brown
GORDON BROWN today revealed one of his plans for his first few weeks as Prime Minister - to read the next Harry Potter book.
Mr Brown arrives in 10 Downing Street less than three weeks before
Harry Potter and the Half-Blood Prince
is published on July 16. And the next Prime Minister, a personal friend of Capital author JK Rowling, named the book as one he hopes to get through over the summer.
Editor's Note: Good thing ruling ENGLAND doesn't take much TIME....
Don't Spoil the Story, Pleads J.K. Rowling
Author of Potter series hits back at websites posting spoilers for seventh novel.
As the release date for the final Harry Potter book looms, speculation and rumors abound. But sprinkled into the mix are also spoilers for the book's plot.
The problem has prompted a response from author J.K. Rowling, who is denouncing the websites posting spoilers. She states that the spoilers will only ruin the pleasure of reading the final installment.
Rowling maintains that she is not worried about profits, that the people will buy the book regardless, but she wants those who have grown up with Harry to take this last adventure step-by-step with him.
Rowling also praised the webmaster of website
The Leaky Cauldron
, who posted an editorial denouncing spoilers and stated that the website would not post any spoilers submitted.
Anticipation is high for this final novel in the series, and Rowling has said that she will never write another Harry Potter book, though she hinted that she might be persuaded to do a companion encyclopedia for charity at a later date.
Harry Potter and the Deathly Hallows
will be released on July 21.
Editor's Note: Here's a question, though....how are these miscreants GETTING the spoilers?
And speaking of the spoilers and such...
Harry Potter and the last instalment
WORD is that there are spoilsports out there who have been sending emails to a leading Harry Potter fan site (
http://www.the-leaky-cauldron.org/
), hinting at the content and ending of
Harry Potter and the Deathly Hallows
.
An AP wire service report quoted Leaky Cauldron webmaster Melissa Anelli, writing on her site, "
If Harry dies, we don't want to know about it until J. K. Rowling decides to tell us."
Most fans would agree that, as much as the suspense is killing them, they would rather wait to read the book to know what Harry Potter will face next.
There is little less than a month before the final instalment of Rowling's series is published on July 21. Fans have already started placing orders for the book, fearing that copies will be sold out on the day and they will have to (gasp!) wait a couple of weeks to find out the fate of their hero.
Nicholas Wong of Sungai Buloh, Selangor, has placed an order for the Bloomsbury children's edition of
Deathly Hallows
. He regrets it but only because he doesn't think much of the cover art:
"
I am disgusted. Is that Harry, Ron and Hermione? They look completely different. It's horrible, and, in my humble opinion, a bit too colourful. I was expecting something darker, something better fitting for the final book.
"I am disappointed. How could the artist mess up this huge task?"
Editor's Note: Just to show that no one bites the hand the feeds quite like a dweebfan!
Still, Wong feels that "
life goes on. The book will come out, millions will buy it, and the story itself will not change no matter what the cover looks like. It just goes to show that you can't judge a book by its cover."
Editor's Note: Actually, I was thinking it just goes to show that reading and comprehension aren't the same thing....
Another fan, Usha, doesn't think the cover is so bad: "
Harry Potter and the Deathly Hallows has the most interesting cover among all the seven books. Harry, Hermione and Ron look in desperate need of a makeover – they look like they have been through a dreadful ordeal – but I am sure that there is a reason for this."
Editor's Note: It's only a month or so away, gang. We have to review the book cover, we're so absent things to discuss?
Usha too has pre-ordered the book: "
Knowing that this the last time I'll be able to wear a HP tee and line up in front of a bookstore as it opens devastates me deeply."
She is "
dying to read Harry Potter and the Deathly Hallows. With a title like that, who wouldn't be? I have so many questions as well as several hunches about what will happens next."
But ... "
Knowing J. K. Rowling, she will just shock readers with a totally unexpected ending,"
says Kervindran Mohanasundaram from Batu Caves, Kuala Lumpur. "
Let's just face it – how many of us expected Dumbledore's death in Harry Potter and the Half-Blood Prince?"

Editor's Note: Umm...me.
Kervindran isn't optimistic about Harry's chances of survival in Death Hallows, "
I do think that misfortune will befall Harry in his final battle against Voldemort. Either he dies with his nemesis, or he loses his loved ones. After all, absolute victory cannot be gained without huge loses, although I do acknowledge the fact that Harry has already suffered those loses.
"It is even possible that the death of another loved one would be the factor that pushes Harry to his limits and allows him to successfully annihilate his enemy. No matter what the ending is, the books have given me a great time. I must thank Rowling for the wonderful moments she has given me."
HARRY POTTER BOOK MADE IN "TOTAL DARKNESS"
The seventh and final book in the Harry Potter series is apparently being printed in "total darkness" in a bid to avoid leaks about the novel's plot.
Editor's Note: So look for a bunch of bruised printing guys, blinking at bright lights.
According to reports security is so tight for
Harry Potter and the Deathly Hallows
that German workers at the GGP print factory in the small town of Poessneck are being forced to work in pitch black conditions so that they cannot read any of the books.
The Cold War-style security measures follow high-profile leaks of information in the run-up to the publication of the previous three books.
Other failsafe schemes in place see workers' bags and cars searched as they arrive and leave, while GGP employees have already been told they will be sacked if they are found to have smuggled copies out or placed bets on the novel's ending.
Harry Potter author JK Rowling has already revealed that one, possible two or three, major characters will die in the final literary instalment of her best-selling series.
Editor's note: Which I gather is one less than she initially PLANNED to kill. (Didn't she say that she had spared someone that originally was slated to die?)
Harry Potter under lock and key
J. K. Rowling's seventh and final book in the Harry Potter series will hit bookstores July 21.
But until then, "Harry Potter and the Deathly Hallows" is under wraps.
Judy Dewey, director for the Madison Library District, has planned ahead to meet the demands on the popular book series. When the books arrive they will be processed, but no one will be able to crack open the first page until the release date. The director and her assistants have all signed disclosures they would not.
Dewey has the competitive edge. She knows Wal-Mart will be open and selling
Deathly Hallows
just after midnight. She is ready to satisfy the library district's patrons.
"The books will be ready (to check out) on the release date
," Dewey said, "
at 10 a.m. when the library opens."
Editor's Note: And there will be no talking above a whisper, and no eating in the main hall!
"
We have 33 holds on volume seven. I suspect as we get closer to the release (date) we'll get more and more
," she said.
Judy Dewey has been the director for over five years and through her leadership circulation has increased 66 percent.
"We've purchased 10 to 15 copies and we may have more. We'd like to satisfy the holds as quickly as possible
," Dewey said.
Her competitive edge is that she has also purchased and will have the audio versions of Harry Potter. The library will have both books-on-tape and the CD.
It isn't unusual for Wal-Mart to be open and selling the hottest items on their release dates, but Deseret Book also has plans to be opened to accommodate their customers. Both stores are taking pre-orders and have discounts to do so.
Merchants and the library director are eager to satisfy their customers' reading interest. The merchants will keep their shelves stocked and the librarian plans to place some phone calls.
The library has an automated phone call system to notify patrons when the book they've requested is available. But because there is a seven-day hold on any item, Dewey plans to make some personal phone calls.
"
With 'Harry Potter and the Deathly Hallows,' we won't rely upon it. I mean the system will place the call, but we'll also call personally, to see if the interest is still there,
" she said. "
If they've already purchased it because they decided not to wait, we want to move people up on the list."
Dewey expects 1,300 people will come through the doors the first day of the summer programs and 1,000 every day for the rest of the week.
The library will be giving away copies of "Harry Potter and the Deathly Hallows" as part of its prize drawing.
The end is near
How will the Harry Potter series conclude?
The last word is "scar."
J.K. Rowling's Harry Potter and the Deathly Hallows won't be released till July 21, but the author has said the final word of the seventh and concluding book will be "scar."
Editor's Note: Anyone besides me just get MAJOR goosebumps???!!!

Plenty of Pottering to do before new book, film arrive
J.K. Rowling's Harry Potter and the Deathly Hallows
won't be out until July 21, and the film version of
Harry Potter and the Order of the Phoenix
isn't due until July 13, but here are six tips for preparing for what promises to be a very Harry summer:
1. Laugh: Some Massachusetts teens have reduced the Potter characters to hand-puppet silliness. Videos, T-shirts and more are on
http://www.potterpuppetpals.com/
.
2. Play: With every movie comes a new video game. Explore Hogwarts in
Harry Potter and the Order of the Phoenix
, debuting June 25 for most platforms.
3. Browse: Explore fan sites (
http://www.mugglenet.com/
, www. the-leaky-cauldron.org, www. sugarquill.net,
http://www.hp-lexicon.org/
); the publisher's site (www. scholastic.com/harrypotter); the movie http://harrypotter. warnerbros.com); or the creator (
http://www.jkrowling.com/
).
4. Analyze: The books have spawned a cottage industry of Potter predictions and punditry. Try mugglenet.com's What Will Happen in Harry Potter 7.
5. Listen: The fund-raiser CD Wizards and Muggles Rock for Social Justice is due out next month with bands such as Harry and the Potters (
www.eskimolabs.com/hp
) and Draco and the Malfoys (
http://www.evilwizardrock.com/
).
6. Reread: The ambitious can dive into Books 1 through 6 again. Don't have time? Get by with only Book 6 (
Half-Blood Prince
) and the Phoenix film. Or for your summer vacation, try the audio versions, masterfully told by Jim Dale.
Editor's Note: At the risk of repeating myself, these books on tape are FABULOUS. Jim Dale does an amazing job of it and it is a wonderful way to experience/re-experience the books. FYI...
'Wisdom of Harry Potter' author to offer fall college course

Students at Lawrence University in Appleton, Wisconsin, will be able to enroll in a course titled "Thinking about Harry Potter" during their fall term next year.
The course's instructor, Edmund M. Kern, is the author of
The Wisdom of Harry Potter: What Our Favorite Hero Teaches Us About Moral Choices
(Prometheus Books, 2003).
"Today's college students are like no others in history
," said Kern. "
They had the chance to grow up right along with Harry Potter. I'd be foolish to pass up the teaching opportunities that those circumstances offer me."
Following closely upon the publication of the finale of JK Rowling's series, the course will be interdisciplinary in nature and focus upon Harry not only as a literary phenomenon but as the biggest pop-cultural event of the era. It will explore Rowling's stories in terms of their relation to history, legend, and myth, take up debates about their contested aesthetic merit and ethical values, and take stock of their broader social and political implications.
Enrollment in the course will be by consent of the instructor only.
"I had to find a way to keep things manageable and in line with the small class sizes typical of Lawrence courses,"
said Kern. For this reason, only students who have already mastered all seven books of the Harry Potter series will participate.
Kern has never demanded over four thousand pages of text as a prerequisite for a course before, and he can't imagine other circumstances that would allow him to do so again. "
I'm not going to assign Rowling's books. I'm simply going to assume that my students have a copious knowledge of them,"
he said.
Editor's Note: oooooo...pick me, pick ME!
Interested students will have to write brief explanations of why they should be in the course. Kern hopes this requirement will allow students to "
select themselves
," but he is afraid that he might have to turn some students away. The course will involve serious scholarship, but Kern insisted it will also be fun. "
I
want to make sure I end up with the most dedicated fans of Harry Potter,
" he adds.
In keeping with the academic demands of the course, students will complete short research projects of their own design. "
We might get a book of essays out of all this
," Kern offered, "
but ultimately, I just want my students to apply the skills they have developed in a wide variety of college courses to something that they've enjoyed, witnessed, and really been a part of. "
A member of Lawrence's Department of History, Kern first heard about Harry Potter from his students. "
Back in '98 or '99, they began to ask me about the books, because I teach a course on the history of religion, magic, and witchcraft. Little did I know then, how things would turn out
."
Britain to issue Harry Potter stamps


THEY'LL DEPICT U.K. BOOK COVERS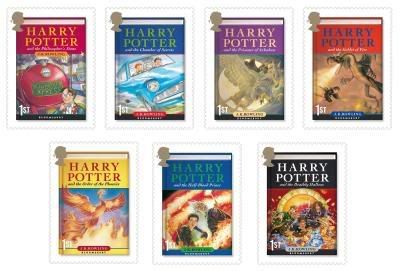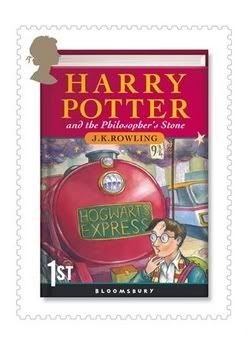 LONDON - Britain's Royal Mail is issuing a series of seven stamps depicting the covers of the best-selling Harry Potter books just before the final volume goes on sale.
Millions of the stamps will be issued on July 17 as part of the post office's tradition of celebrating "
social themes and important occasions central to our way of life
," said Julietta Edgar, who is in charge of special stamps at Royal Mail.
"Harry Potter and the Deathly Hallows" goes on sale July 21.
"
There's no doubt that J.K. Rowling's Harry Potter novels, published in dozens of languages worldwide, have made a phenomenal impact on our reading habits
," Edgar said.
Rowling's fantasy series has sold more than 325 million copies worldwide. She has said two major characters will die in the final book, which is being released under tight security.
'Order of the Phoenix' 138 minutes long

Harry Potter and the Order of the Phoenix will have a running time of 138 minutes and 4 seconds (2 hours, 18 minutes and 4 seconds), according to the British Board of Film Classification .
Editor's Note: YAY!! Longer is better!! (don't go to a bad place...OddBob, Joel, Dave....this means YOU).
The book is so durned long, I'm surprised the movie isn't THREE hours!
The BBFC recently rated
Order of the Phoenix
12A, meaning no one under 12 years old may see the movie without an accompanying adult. The Motion Picture Association of America (MPAA) rated the film PG-13 in the U.S. which places kids under 13 under the same restriction.
'Lucius Malfoy' too superstitious to attend Harry Potter premiere
Jason Isaacs
Editor's Note: Yummy Yummy Yummy!
, famously known to "Harry Potter" fans as Lucius Malfoy will not be present at the July premiere of "Harry Potter and the Order of the Phoenix".
And Isaacs apparently seems to have no regret and guilt over the fact that he won't make it to the first screening of the fifth instalment of the blockbuster series.
Isaacs recently confessed that his absence in all the previous Harry Potter premieres has made him superstitious, and hence he doesn't want to mess up with things.
"
I haven't been able to go to any of the premieres, and you know how superstitious actors can be. It's best this way, so I don't mess things up,"
the National Ledger quoted him, as saying.
Meanwhile Isaacs is busy shooting for his "Good" feature film in Budapest, Hungary, with Viggo Mortensen.
Editor's Note: oh my golly....Viggo Mortensen and Jason Isaacs on the same screen!? That's almost too much loveliness for any one projector.
Isaacs is also occupied with the second season shooting of his Peabody Award-winning Showtime "Brotherhood" series in Providence, R.I.
Magic, Mayhem And Dumbledore's Army
'Order Of The Phoenix' movie conjures up the dark side of Harry Potter
"Harry Potter and the Order of the Phoenix" will be bigger and more complex than its predecessors, according to Daniel Radcliffe, who has virtually grown up as the star of the movies based on the J.K. Rowling books.
"On an emotional level, there's much bigger stuff than I had to do in the fourth film,"
Radcliffe told SciFi Wire.
In "Order of the Phoenix," Harry returns for his fifth year of study at Hogwarts and discovers that much of the wizarding community has been denied the truth about the teenager's recent encounter with the evil Lord Voldemort (Ralph Fiennes). As Voldemort returns, Hogwarts has become the wizard world's version of a police state, and the new Defense Against the Dark Arts teacher, Dolores Umbridge (Imelda Staunton), refuses to teach students any practical defense methods, leaving them unprepared to fight Voldemort. As a result, Harry and his friends Hermione (Emma Watson) and Ron (Rupert Grint) form "Dumbledore's Army" to train Hogwarts students to defend themselves.
"Order of the Phoenix" will have darker, more mature themes in it than in previous Harry Potter movies. According to Radcliffe, the film is more about political intrigue and the search for the truth.
"
There's no major physical action set pieces, other than, of course, the final standoff between Voldemort and Harry and Harry and Voldemort and all the Death Eaters and the Order of the Phoenix."
Radcliffe added "
That's going to be pretty spectacular, I think."
On top of all the pandemonium at Hogwarts and the intrigue both at the school and the outside world,
"Harry goes through what every teenager goes through, in a way. He feels angry. And, of course, Harry's feelings are exacerbated by the fact that he has had all of these troubles in his life, and has had people trying to kill him at numerous times, really,"
Radcliff stated.
Harry's relationship with his godfather, Sirius Black (Gary Oldman), figures prominently in the story, as Harry's attitude and demeanor become increasingly conflicted and angry. "
There's a lot going on inside of Harry's head that makes him more interesting to do,"
Radcliffe said. "
And I think, for an audience, he becomes a more charismatic sort of character to watch, because he is so of two different sides."
"Harry Potter and the Order of the Phoenix" opens in theatres on Friday, July 13.
6 Harry Potter 5 TV Spots!
Editor's Note: If you can't WAIT for the movie....watch the ads!
Warner Bros. Pictures has provided ComingSoon.net with no less than six TV spots from the highly-anticipated
Harry Potter and the Order of the Phoenix
, opening in conventional theaters and IMAX on July 13.
You can watch the spots
here
!
http://www.comingsoon.net/films.php?id=4661